12 Ways To Use Instagram Carousel Posts To Market Your Brand
post
Instagram is a key part of many marketing plans in today's world.
Businesses, brands, and influencers use the app to build their following, promote their brands and connect with their audience. Instagram is a uniquely impactful social media platform because of the wide variety of content types you can create and post within the Instagram app.
There are short videos like Reels, long videos, live posts, single image posts, and brief Instagram Stories that disappear within 24 hours, just to name a few.
But one type of post is the carousel post, and it can be a meaningful piece of any Instagram marketing strategy if done correctly.
What's An Instagram Carousel?
A carousel post on Instagram is a feed post with multiple videos or pictures.
Users swipe left through a slideshow to see the various images or clips, and it's an easy way to share a few different shots. Many times, individual users will use carousel posts to be able to share a photo dump from the same event without needing to create multiple posts on their profile.
It helps keep their grid clean while still allowing them to showcase whatever they want their friends and followers to see.
Reasons Why You Should Use Instagram Carousel Posts
Now, for brands using Instagram, there are other reasons to use carousel posts. Sure, you can do so to share multiple videos or pictures from the same event or photo shoot to keep things organized, but there are other important reasons to add carousels to your Instagram content strategy.
Engagement
Carousel posts can increase your engagement rate because they make users want to look through them. The more time they spend on your post, the more likely they'll be to engage with it by liking, saving, sharing, or commenting.
It's easy to make carousel posts inviting by teasing what you might have included in the later slides. If you want to make this a text post, you can easily start with a title graphic and then add an arrow to make it even more appealing to start swiping.
Storytelling
Speaking of wanting to make people swipe through, carousel posts can be an excellent medium for social media storytelling. A good story has a beginning, middle, and end, and by including at least three photos or videos, you can achieve that fairly easily.
Tease or introduce your story in your caption and encourage people to swipe through to see the rest. It likely won't be a hard sell.
Increase Conversion Rates
Many brands that are marketing on Instagram are showing off a product they're selling.
Instagram carousel posts can showcase your product in a different way. The most basic way is by using your carousel to showcase three different shots of your product, from a variety of angles.
Or, you can use them to show user reactions or reviews as well as tout the product benefits. No matter how exactly you use them, carousel posts can help you turn more followers into customers.
Instagram Carousel Sizes & Specs
As with anything that uses creativity, you need to know what size and specs you should be using on Instagram carousels. This will ensure that your post has the best chance of performing well since it'll look the way Instagram wants it to look. All images should be jpg or png files, and all videos should be mp4.
Carousels allow anywhere between 2 and 10 images, graphics, or videos per post.
Portrait
Portrait photos on Instagram should be 1080 x 1350 pixels. This isn't the most common type of image on Instagram, but if you want to use this style, you certainly can.
Square
Square posts are what Instagram's known for. You'll want your image to be 1080 x 1080 pixels.
Landscape
If you decide to post a landscape photo, aim for 1080 x 566 pixels. Like a portrait, this isn't a super common style on Instagram, so your post might stand out.
Aspect Ratio
Portrait images should have an aspect ratio of 4:5. Square posts should have an aspect ratio of 1:1. Landscape photos should have an aspect ratio of 1.91:1.
Video
Videos have a minimum resolution of 600 x 600 pixels and a maximum resolution of 1080 x 1080. Their aspect ratio is 1:1, and the maximum video length is 60 seconds.
How To Create An Instagram Carousel Post: Step-By-Step Guide
Creating a carousel post is very similar to creating a normal post.
Begin by pressing the plus button to create a new post, and choose the image or video that'll be the first slide of your carousel.
This should be an eye-catching, exciting image or graphic. Then, hit the button with squares stacked on top of each other. It's in the middle of the screen on the right, next to the camera icon.
Then, choose the other images or videos you want to have in your post. You'll want to choose them in the order you want them to appear.
Once you've chosen all of your imagery, hit the "Next" icon and then edit your photos and create your caption like normal.
The only difference between creating a carousel post and creating a basic post is that you're choosing more content in a carousel post.
Otherwise, you simply follow the same process you use all the time.
How To Create Instagram Carousel Ads
As with so many types of content on Instagram, you can also create carousel ads.
These Instagram ads are a great way to get your brand and products in front of other people who might not know about your brand yet. Businesses can easily take advantage of this and showcase multiple images or videos of their products in an ad post.
To create one, simply go into your Instagram Ads Manager and set up a new campaign, choosing your goals and target audience.
Then, when you reach the format, choose Carousel.
From there, follow the prompts and upload the images and videos you want to have in your ad. Write your copy and launch your ad as you usually do.
Brands can very easily and successfully run ad campaigns using Instagram carousel posts, but organic carousel posts can be effective, too.
12 Instagram Carousel Examples To Inspire You
There are many different ways to create carousel posts and use them to promote your brand.
We're going to look at 12 different creative ways you can add carousel posts to your social media marketing.
1. Charity Water: Brand Storytelling
Charity Water has a great example of brand storytelling through a carousel post. The first image, as we mentioned earlier, has an interesting line that makes people want to learn more and an inviting arrow showing them how to find out the rest. Each of the subsequent images tells a story through both photos and text, creating a compelling story that people find worth reading.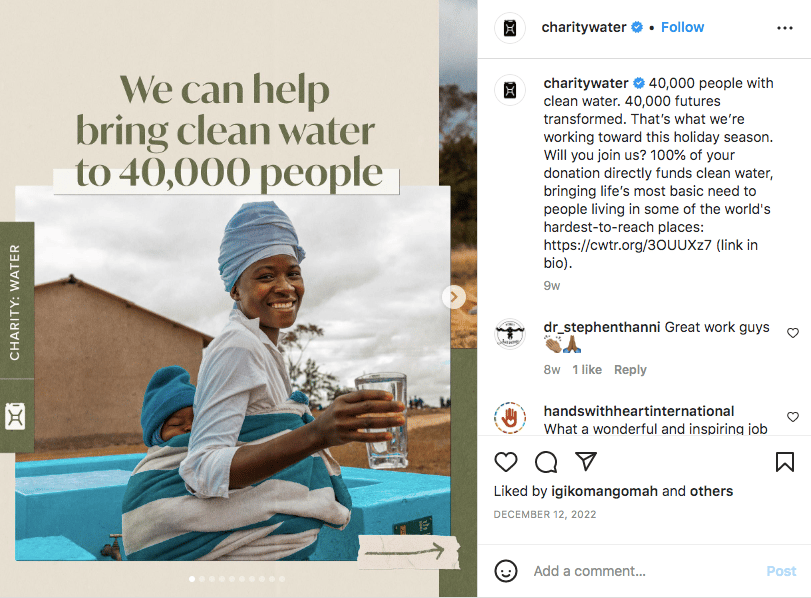 2. Pandora: Product Promotion
While Charity Water had a carousel with many slides, Pandora's carousel only has two images. It's highly effective, though.
The first image shows their product in a natural, "real life" environment that potential customers can relate to easily. Then, when they swipe to the next image, they're able to see the product itself up close.
This is a great way of using carousels to highlight products.
3. Canva: Step-by-Step Tutorial
Product-based businesses aren't the only ones who can showcase their paid offerings. Canva is a software program that doesn't outright show its service, but it teaches through its carousel. Its seven steps teach something important for brands on Instagram, and their steps can all be implemented on Canva.
As a bonus, because their carousel is titled "Keep Your Instagram On Brand," they know they're reaching the right people. If they created a TikTok, LinkedIn, or Facebook tutorial, they might have less success as not everyone on Instagram might use the other platforms.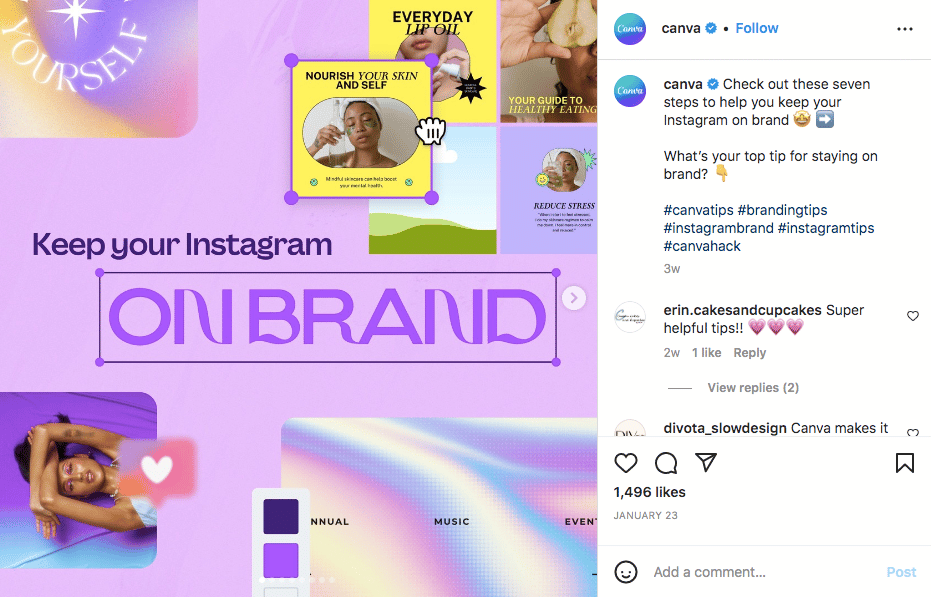 4. Hubspot: Share Important Information
Speaking of sharing information, Hubspot uses its carousel to share information that isn't obviously connected to its business.
The carousel is a text-based post discussing workplace trends that are slowing business growth. While it doesn't promote Hubspot's product or service, it does share valuable information that its audience will likely be interested in learning.
By creating a carousel like this, Hubspot is building trust with its audience and proving that it can and does share important facts for its audience to see right in its Instagram feed.
5. Kicksta: Blog Promotion
One great way to use Instagram, or any social media platform, is to promote your blog and content on your website.
Kicksta creates posts that share important information from their blog posts. Just like Hubspot's post, this helps Kicksta establish itself as an authority for its audience. Beyond that, though, promoting their blog sends people back to Kicksta's website to learn more, which can lead to conversions into customers.
6. Zapier: Add Humor
Instagram, and social media in general, should be fun.
Yes, you need to remain professional and stay aligned with your brand's values, but you should have fun. This isn't meant to be a business meeting with your lawyer, after all. Zapier shows a great way to do that by incorporating humor into their carousel.
Whether these are real tweets or just comments that they've stylized as tweets for the post doesn't matter, but they add some real levity to their post. This dose of humor can be enough to help compel people to scroll through.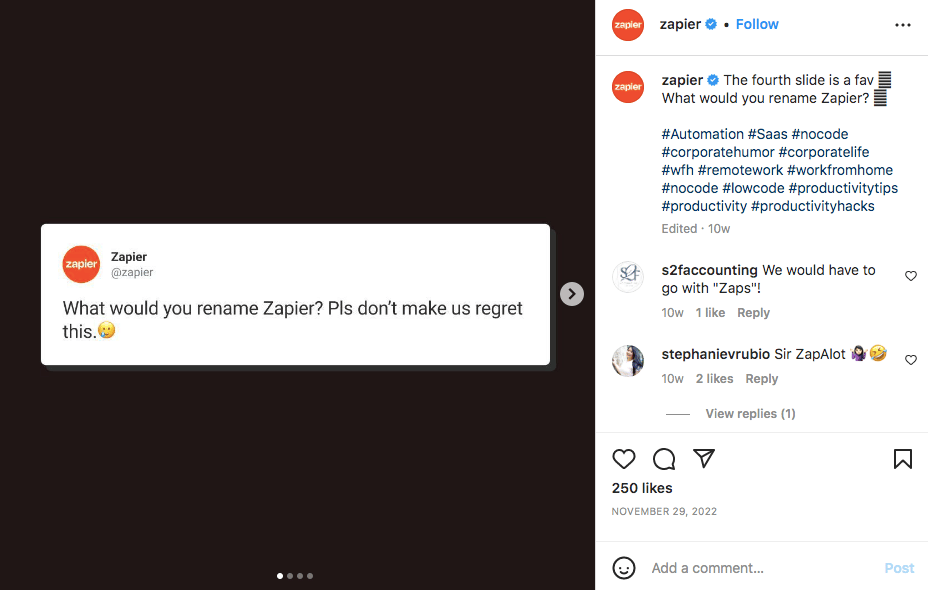 7. FIFA World Cup: Event Highlights
We mentioned earlier that carousels are great for everyday users to showcase a variety of images from a single event to keep their feeds clear. In this case, the FIFA World Cup took that idea to heart. They posted a variety of event highlights from the entire World Cup in one post.
All of the images are similar but different, and they all display the same excitement and joyful feeling.
8. Nike: Product Reveal
Certainly one of the most obvious ways to use a carousel post is to promote your product.
Nike used it to launch one of their new products, and they do so in an interesting way. Their overall campaign for this new shoe is to show that it feels like running on marshmallows, so their first image actually shows marshmallows in the shoe.
This is such a surprising image that it really encourages people to swipe through and see the rest of the post if only to see if that's really what the shoe is like!
Join 100k+ savvy Instagram marketers
If you are struggling to get the attention you deserve on Instagram, sign up for Kicksta today and start attracting more followers who are interested in your brand.
9. Marie Kondo: Before & After Results
People love to see a good before and after, and the swipeable carousel format makes for an easy way to share the transformation. Marie Kondo, famous for her ideas around tidying and organizing, shares a transformation of a children's playroom.
Technically she does an after-and-before, starting off with a clean and tidy finished product. Such a beautiful space inspires Instagram users to swipe through and see what the room looked like in the first place.
10. Sundance: Share Testimonials
User-generated content and reviews and testimonials fit well into the carousel format.
Sundance created a compelling carousel by showcasing a variety of films from their festival with people's reviews and testimonials superimposed on top. This is a visually interesting way to share people's words and thoughts. It also keeps your feed clean by compressing those testimonials into a single post.
11. HuffPost: Answer Burning Questions
Everyone loves a good Q&A session.
HuffPost took on a very solemn question for this post, but it's one that many people have likely asked themselves. Even if you take on a lighter topic, creating a carousel that's a question-and-answer format is a great idea.
Pose the question on the first slide, and then answer it in the subsequent images. You'll have people swiping through in no time.
12. Refinery29: Make A Powerful Statement
Whether they agree with them or not, many people enjoy reading "hot takes" or powerful statements.
Refinery29 does this, making a bold statement on the first image and then adding a quote to expand upon it once you slide through. People like to read controversial statements and opinions, too, so if there are any that you can make without straying too far from your brand guidelines, you might consider trying that.
Get Started
Now you know why Instagram carousel posts are important and how to create them, and we've covered a dozen different examples of posts and how you can use them. It's time for you to try your hand at creating a carousel post.
As you've seen, they can be made up entirely of photos or videos, entirely of text-based graphics, or a mixture of the two. Whatever you do, have fun with it and enjoy the creative process that goes into creating an involved social media post like this.
This can be an exciting addition to your social media marketing strategy if you let it.
Instagram Growth Hacks
Join over 100k+ marketers and influencers who get the latest Instagram tips & tricks sent to their inbox every week