6 Essential Components for an Instagram Business Profile
post
Have you been keeping up with all of Instagram's latest features? In terms of marketing your Instagram business profile, these newly added features have some cutting-edge potential.
Instagram has added a ton of new features this year, which is great to keep the app evolving while enhancing the user experience.
But as a marketer, it also makes it tough to stay up to date on all the new features for your Instagram business profile.
Between collaborating with influencers and creating content for your feed, how are you expected to know how to best use IGTV for your brand?
To make it easy, we compiled a list of the 6 must-have features for any Instagram business profile below…
#1: IGTV For Business
You've probably heard about Instagram's Newest Craze, IGTV, but if you haven't, we'll fill you in.
IGTV is a brand new vertical video platform where Instagram creators, brands, and influencers, can entertain, market, and share the inside scoop on what they're up to.
Buzzfeed Tasty is a brand that has taken IG by storm.
Known for their concise and addicting cooking tutorials, their feed can make anyone feel like a chef.

One of our favorite ways they have been using IGTV so far is their "Behind Tasty" segments.
They use this segment to connect with their followers by deviating from their traditional tutorials and providing a much more intimate and hands-on approach to cooking with a Tasty chef or special guest describing each step.
How can your brand incorporate creative segments such as this to give your viewers an exclusive look into your brand that they can only get on IGTV?
Show your followers the funny, informative, and candid behind-the-scenes footage of your brand to create an unmatched personal touch.
#2: Use Insta Stories to Elevate Your Brand
Stories have by far undergone the biggest changes of late and if you're not using stories as part of your strategy for your Instagram Business Profile – now is the time to start.
Instagram stories are quickly becoming just as important as regular posts to your profile and are in rising popularity among users–in fact, they have become twice as popular as Snapchat stories.
Here are the newest features that have been added to IG Stories that will specifically increase your engagement:
Poll Sticker:

Juxtapose two options for your followers, and have them decide which is better!
Questions Sticker: Now you can ask your followers anything — whether it be their thoughts on your newest product, their input on what they'd like to see you post, or simply an engaging question about some behind-the-scenes work you are doing.
Emoji slider poll:

Emoji sliders

are a great way to interact with your followers, and see how they're feeling about a specific subject. For example, you could select a heart-eye emoji for the slider to gauge how much they like a new design you're working on, or what they think of a special discount you're offering.
Add music: Some brands have a playlist that defines them, so why not play a clip from what your followers would hear in your store?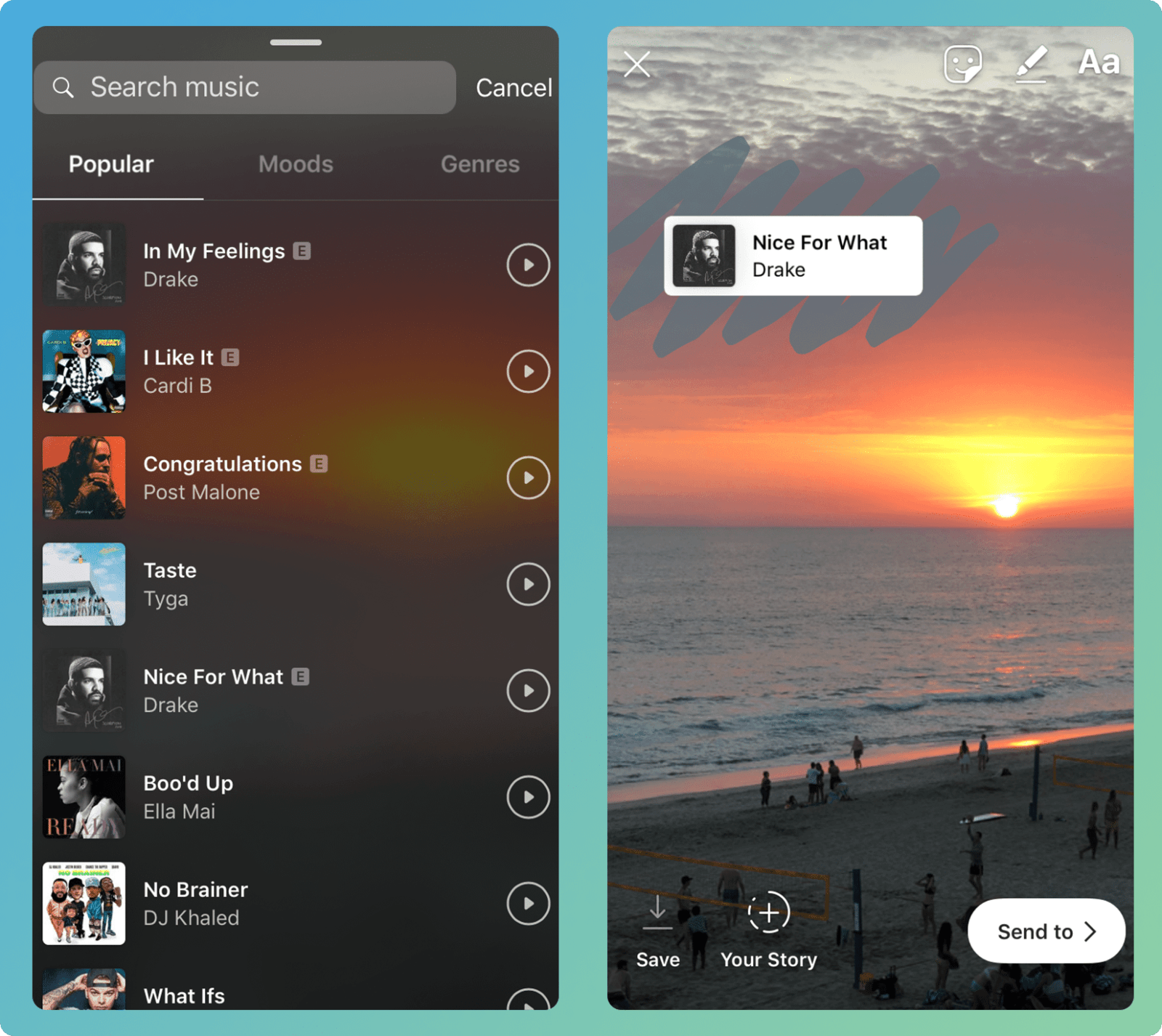 #3: Lend a Helping Hand in a Video Call
Let's say you run a trendy boutique, and often get style advice questions from your customers. Why not allow them to call you on Instagram for on-demand style expertise?
To use the new video chat feature on Instagram, tap on the top right of your feed, select the plus button and add up to three people to chat. Then, tap in the top right corner to notify the person or group of your incoming call.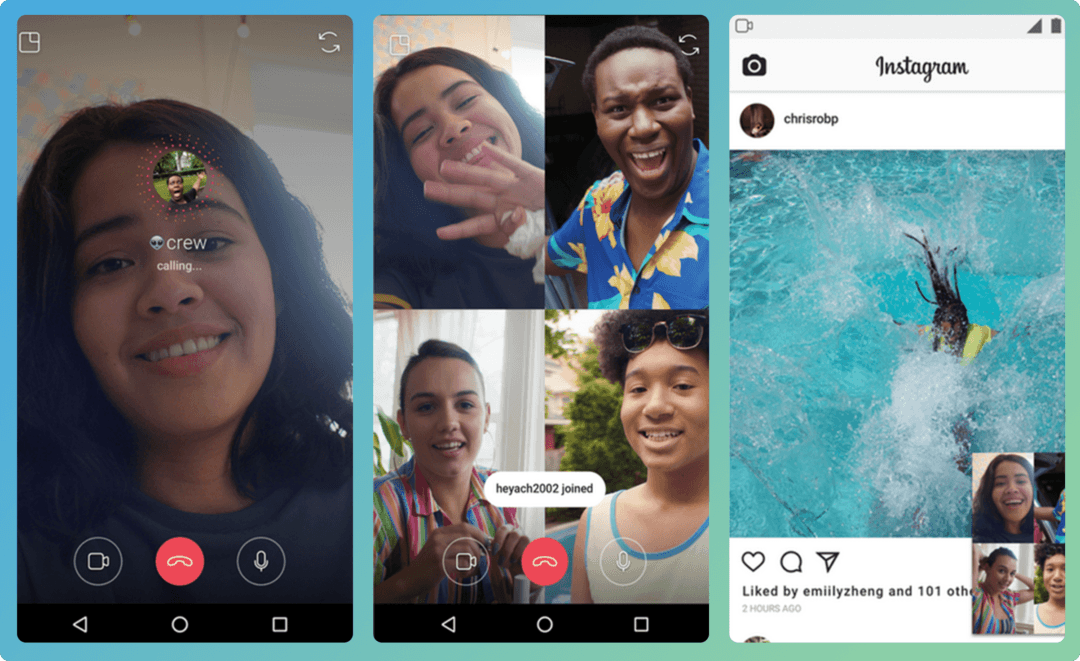 Likewise, you can encourage your customers to give you a call on Instagram. If they need style, technical, or other advice from your brand, now you are easier to reach than ever.
#4: Link a Hashtag or Username in Your Bio
Hashtags, hashtags, hashtags. We can't stress them enough.
They are a great tool to use if you want to expand your reach to audiences that look at specific keywords and buzzing topics.
Similarly, you can increase your Instagram engagement with your followers by encouraging them to use your brand's specific hashtag.
Topshop is a clothing brand that knows who's doing this right.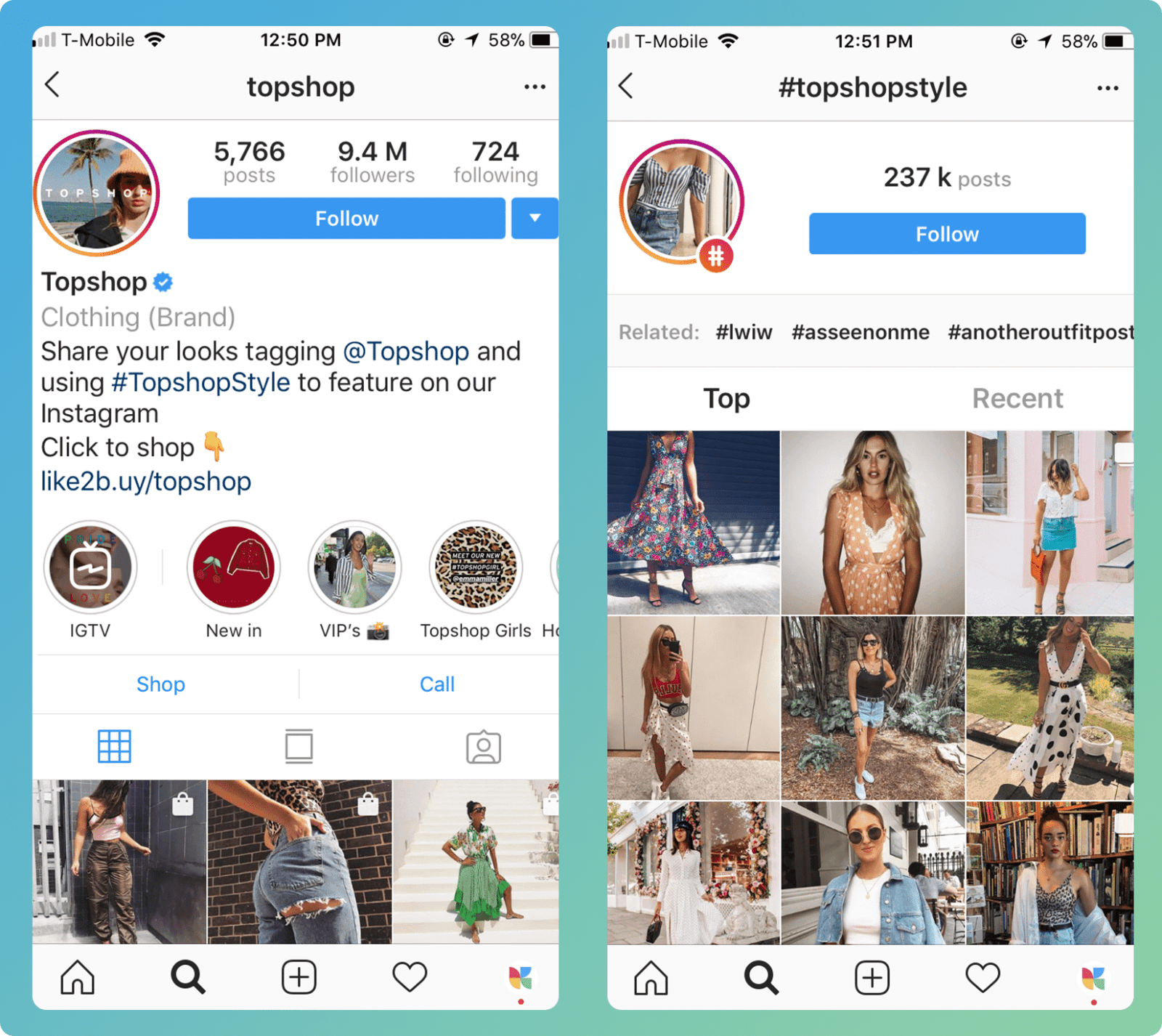 We checked out the #TopShopStyle hashtag in their bio and found tons of posts—upwards of 400k—from their fans around the world.
What's best, is that they included an extremely enticing call to action with their hashtag: "Share your looks tagging @Topshop and using #TopshopStyle to feature on our Instagram"
Who wouldn't want 10.1 million people to see their trendiest photo?
Join 100k+ savvy Instagram marketers
If you are struggling to get the attention you deserve on Instagram, sign up for Kicksta today and start attracting more followers who are interested in your brand.
On top of hashtag links, Instagram now allows users to include a link to another profile in their bio.
@sandiegozoo does it best: they tag their buddies over at @sdzsafaripark and @zookeeperrick, creating an opportunity to streamline followers to their pages. Likewise, these pages tag @sandiegozoo—a love triangle that keeps on giving.
Next time you collaborate with another brand on Instagram, try to implement this method and share the love!
6. Repurpose Content to Instagram Stories
Share Existing Posts on Your Story:

See that share button?
IG is testing a new feature where you can not only use it to send posts to people through direct message but also add them directly to your story.
From a business standpoint, this could come in handy if you want to engage with your followers.
Perhaps you'll put on a contest or giveaway where followers need to repost your photo on their story for a chance to be featured on your IG or win a prize.
Repost stories you're mentioned in:

Let's say a follower gives you a shout out on their story. Now, you can return the favor and probably make their day.
Who knows what Instagram will roll out with next!
What features are you using to grow your Instagram business profile? Let us know and we can feature it in our next blog post!
Instagram Growth Hacks
Join over 100k+ marketers and influencers who get the latest Instagram tips & tricks sent to their inbox every week