How To Get Sponsored On Instagram (2022 Tips)
post
Want to know how to get sponsored on Instagram?
You've come to the right place.
Sponsorship is one of the best ways to monetize your Instagram followers. In fact, the average price for a sponsored post can range anywhere from a few hundred dollars, to tens of thousands.
The great thing about getting sponsored on Instagram is you don't need any specialist skills to do it. If you can reach the right audience and build a connection with your followers, there are companies out there that will want to hire you.
After all, today's brands know that they can't rely on old-fashioned marketing campaigns to reach their audience anymore. Today's customers are in search of authentic, genuine experiences, delivered by people they know and trust.
Even micro influencers can be extremely beneficial to any company's reputation.
So, how do you monetize your Instagram following with sponsorships?
Here's what you need to know.
What Is An Instagram Sponsored Post?
A sponsored post on Instagram is a piece of content a company pays for.
These posts are all about gaining exposure for a brand and reaching the right audience. For instance, if you're an influencer on social media for healthy and beauty products, then you might have thousands of interested customers following you, looking for the next big item. A company would sponsor you to showcase their product or talk about their service so they can reach your customers.
Because your audience already trusts you, they're more likely to take your advice to heart and check out what the sponsoring company has to offer.
Here's an example of a sponsored video by @AmandaCerny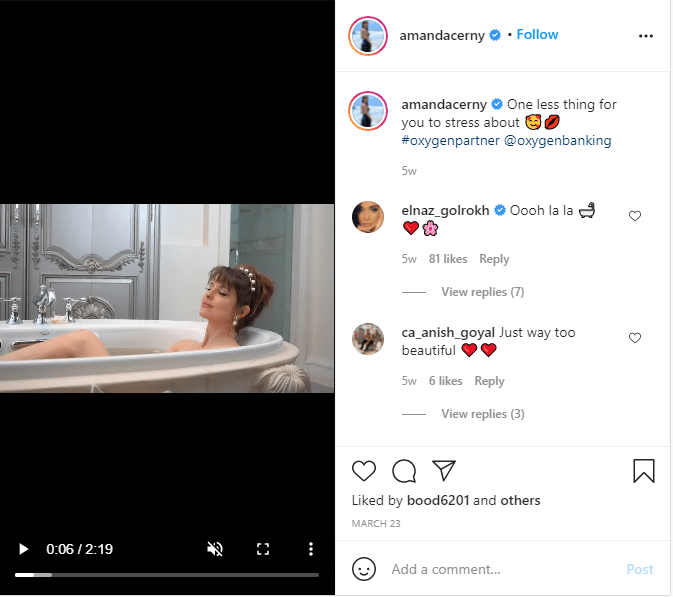 What's The Average Price of a Sponsored Post?
The average price you can earn for a sponsored post depends on many factors.
Most experts say fees start at around $300, and rates go up from there. There are people out there who earn hundreds of thousands, or even millions of dollars for their posts.
If you're a micro influencer (with thousands, rather than millions of followers), you won't earn the most cash, but you can get a decent income from this kind of content.
What Are Promoted Posts And Ads?
Promoted posts and ads are slightly different to sponsored content.
While learning how to get sponsored on Instagram means discovering how to create custom content about a specific brand or product, promoted posts are designed and published by the advertising brand. Some companies will work with micro influencers and thought leaders on promoted posts, but they create and publish that content themselves.
With a sponsored post, you create and publish the content, often with guidance and specific requests from the company you're trying to promote.
A promoted post costs around $1-3 per click. Your brand can also pay you for an image you create for them to use in a promoted post. Again, prices here can vary between $10 and $100,000 depending on your skills, and how much of a major influencer you are.
Notably, Instagram requires all sponsored posts and paid partnerships to be advertised as such.
To maintain your image as an authentic, credible influencer, you'll need to ensure that you're only connecting with companies that you're keen to lend your name to. The right brands will be relevant to your audience and should share the same values as you.
How To Get Sponsored On Instagram
Learning how to get sponsored on Instagram isn't as complicated as it seems.
All you need to do is build a dedicated following so you can convince your target companies that you'll be able to help them attract the right people.
Here are some steps to get you started.
1. Define Your Brand And Personality
The first step in getting sponsored on Instagram, is to design a brand that people are going to remember. The most effective influencers on Instagram are the people who maintain a constant image and personality on their profiles.
Start by choosing a niche. What do you want to talk about and share with your audience? Are you going to be a health and fitness guru, or can you talk people through amazing makeup and hair tutorials? Once you've got your niche, ask yourself how you're going to make yourself stand out.
@BailySarian, an influencer with more than 2 million followers, isn't just a makeup tutorial creator, she also stands out for her unique murder, mystery, and makeup series. Adding something unique to her makeup sessions makes Bailey more appealing to a wider audience.
Once you have a niche, you can start partnering with brands that support that style.
2. Make Your Profile Stickier
The more time people spend on your Instagram profile, the more likely they are to fall in love with your brand, and the unique products you're advertising. You can only do so much with an Instagram profile, but if you want to know how to get sponsored on Instagram, make sure you're taking advantage of all the available filters.
Create Instagram Highlights where you can showcase some of the products you're promoting right now, and keep people updated with your most popular Instagram Stories. Design videos for your IGTV page, so people have more ways to find you, and make sure you're constantly experimenting with things like Reels too.
World-famous influencer, Zach King, doesn't just have a huge selection of Instagram photos to browse through, he also takes full advantage of other features that will make his profile more appealing to a wider audience, like Reels:
3. Get to Know Your Audience
Sponsored ads and influencer marketing are effective on Instagram because they allow companies to build relationships with their target audience. Companies looking for successful sponsorship partnerships aren't just searching for influencers with the highest number of followers; they're also looking for people who know how to connect with their fans.
Before you start publishing any content on Instagram, get to know your target niche. What sort of content do they already like on Instagram? What sort of age are they, and where abouts in the world are they likely to be located?
Create a complete customer profile that matches the kind of customers your target sponsor partners will be looking for. From, there, you can start creating content that's custom-made for the right people. For instance, Liza Koshy knows she's speaking to a huge range of diverse women, so she aligns herself frequently with social movements, and concepts like BLM.
4. Grow Your Audience
The number of followers you have as an Instagram influencer doesn't matter as much as the engagement you get from your fans. However, a higher follower count will make you more appealing to companies in search of sponsorships.
The faster you can grow your audience, the easier it is to find people who can really advocate for you as an influencer and help to support your growth. Growing your audience is something that will happen naturally over the course of your career. The more high-quality posts you create, the more people will want to follow you.
You can also give yourself an initial boost by leveraging an Instagram growth service. Authentic growth solutions like Kicksta help you to grow safely, by targeting the kind of people who are most likely to be engaged by your content.
5. Post Regularly
As mentioned above, the most crucial way to ensure your company's long-term growth on Instagram, is to post amazing content regularly. The more you publish great visual content for your audience, the more they'll keep coming back to your profile to see more of whatever you have to offer. Experts recommend posting on Instagram at least once a day.
Of course, the reality is that every company and their followers are different. Take the time to find out when your audience likes to engage with you, and how often they expect you to be active online. You can use tools like Instagram Insights to help with this.
Once you know when your audience is likely to be online, you can even schedule your posts in advance to ensure you never miss a chance to connect with them. This should even ensure that you can get your sponsored content posts out at the perfect time to align with company sales and deadlines.
6. Engage With Your Audience
As mentioned above, an engaged audience is a must-have if you're keen to learn how to get sponsored on Instagram. You can't just have thousands of dedicated followers; those people also need to interact with your posts. If you're producing content that's custom-made for your clients, then you should get a decent amount of engagement naturally.
A great way to improve your chances of engagement is to have some fun through different kinds of Instagram posts. For instance, you could host a live Q&A session through Instagram's video service or connect with your customers through polls on Instagram Stories.
Instagram competitions are a particularly effective way to gain engagement. Consider partnering with some of your favorite companies to offer clients the chance to win some great products if they like your post, comment on your content, or @mention their friends.
7. Leverage Hashtags And Geotags
Companies sponsor content from influencers or work with them on promoted posts because they want to gain more reach and exposure for their brand. This means you need to know how to reach as many people as possible with your own content.
Hashtags and geotags make your content far more discoverable, making them a must-have for growing your audience. Although you can use up to 30 hashtags per post, the best number tends to be somewhere between 9 and 11.
Remember to experiment with hashtags to see which ones generate the best results. In general, it's best to focus on hashtags that aren't too overused if you don't want to fight against too much extra competition. For instance, #HealthyLivingTips will be easier to rank for than #Healthy.
Choose specific hashtags that appeal to your niche and remember to use geotags for the audience you want to reach too. You should have a decent idea of where your audience or target customers might be.
8. Tag The Brands You Want to Work With
As your presence as an influencer grows, you should naturally begin to earn the attention of your target sponsors. However, it always helps to give them a little nudge from time to time too. For instance, a fashion influencer might tag the creator of the clothing they're wearing in their Instagram story to both become more searchable and connect with the brand.
It's much easier to start with some simple, smaller companies when you're looking for sponsorships. When learning how to get sponsored on Instagram, a fashion influencer might not tag Gucci straight away and expect a partnership.
Begin with smaller companies, local creators, and people who actually would consider working with you. As you develop your reputation, you can begin to target bigger fish.
Join 100k+ savvy Instagram marketers
If you are struggling to get the attention you deserve on Instagram, sign up for Kicksta today and start attracting more followers who are interested in your brand.
9. Make It Easy To Contact You
If you do earn the attention of your target sponsor, how do you expect them to contact you?
Have you got a contact button on Instagram because you're using a Business account? Great, but don't limit yourself to this option only. Ensure that you have plenty of information about where to reach you in your Instagram bio.
A phone number may be a good option if you have a dedicated business phone. Alternatively, you can use a link in your Instagram bio to take people to a contact page on your website.
When you're creating content for Instagram, be sure to advise anyone who views your content to check out your site if they want to get in touch. You can add "check the bio" and similar CTA content to your Instagram captions.
10. Pitch Yourself to Brands
Finally, aside from @mentioning brands in your photos and Instagram content, why not directly pitch your services to them? Before you jump in with any requests to work together, it's a good idea to build a rapport through comments on their photos and regular interactions through direct messaging.
Don't just get in touch through DM, find the details for the company you want to work with and email them with a full description of what you can offer. Make sure you pull attention to the kind of results you might be able to offer. For instance, you can:
·Reach out on social media: Connect on social media with a link to some of your most popular posts. Mention the people you've worked with before and offer some suggestions on how you can collaborate going forward.
Connect on LinkedIn: You can often find Marketing professionals and experts working with a specific company on LinkedIn. Try connecting there and offering some insights into how you can be useful. Don't demand free things, let your sponsor see what they can do for you.
Use email or calls: You can also take the old-fashioned route to connect with a sponsor, by getting in touch via email, or through a phone call. You may need to be persistent here and send a few messages before you get a response.
Here's an example of what a pitch might look like:
Hi
My name is , and I am responsible for the account on Instagram. My account is all about , and I've currently managed to earn who love seeing my insights into .
I'm reaching out because your brand is one I'm personally very familiar with and know my audience would love. I've noticed on your Instagram before and think we have a very strong set of shared values between us.
I've worked with before, and have achieved some great engagement as a result. I think that working together could be beneficial for both of us.
Would you be interested in discussing this opportunity further?
You can go into greater detail about Instagram sponsored posts and Instagram promoted posts you might be able to work on together in a later email.
Getting Sponsored on Instagram
Learning how to get sponsored on Instagram can be a daunting concept at first. There are so many influencers out there all trying to get their piece of this amazing market. The good news is that with the tips above, you should have what it takes to start building a name for yourself online.
Commit to finding the kind of companies that are most likely to benefit your followers, and invest in developing relationships with these companies. Over time, your position as an influencer will grow more valuable. Good luck bringing your Instagram sponsorships to life.
Instagram Growth Hacks
Join over 100k+ marketers and influencers who get the latest Instagram tips & tricks sent to their inbox every week