How To Create Killer Instagram Highlight Covers (Plus 100 Sample Covers To Inspire You)
post
Let's chat about Instagram highlight covers. In recent years, Instagram developed a story feature, which allows users to post snapshots of their lives for 24-hour windows. What's even better now though, is that Instagrammers can turn their story posts into story highlights, eternalizing the photos and videos on their home pages.
Most successful Instagram accounts have at least a few different story highlights adorning the space between their bio and their posts. But, as the Insta game continues to increase in competition, it has become important to make sure that your highlight covers are appealing to the eye.
Not sure how to create and follow a highlight cover aesthetic? You're in the right place. Let's talk about how to make the most of your Instagram highlight covers!
What Is An Instagram Highlight?
Instagram highlights appear as "bubbles" on an Instagram profile. When users click on a particular highlight, they're able to see any story posts that have been added to that particular highlight.
Highlights are typically used for keeping story posts organized into specific categories, which can vary greatly depending on what type of account you're running. You can create a highlight for any type of post, but make sure that your categories are not so broad that they become filled with an overwhelming amount of posts. You also want to make sure that your highlights are not so specific that you have a high volume of highlights with only a couple of posts in each.
How Do I Create An Instagram Highlight?
Starting From Scratch
Any time you post on your Instagram story, that post is automatically saved to your "Story Archives," which can be accessed by clicking the three horizontal lines in the top right corner of your Instagram profile, and then clicking "Archive" and selecting "Stories."
After accessing your story archive, you can select any photo/video that is saved here and choose to add it to a highlight. To do this, simply click on a post, then hit "Highlight" in the bottom right corner.
You will be presented with the option to create a new highlight or add to an existing highlight if you already have some created. If you choose to create a new highlight, you will be prompted to name it, then simply hit the "add" bar, and you're all set – you have a new highlight! From here, you can continue to add to this highlight as you post stories that fit into its category.
Creating A Highlight From Your Profile
For a shortcut, you can also go to your profile, and click the circle with a plus sign in it, labeled "New" beneath the "Edit Profile" bar. This will take you directly to your story archive, and from here you can select multiple photos to add to a new highlight.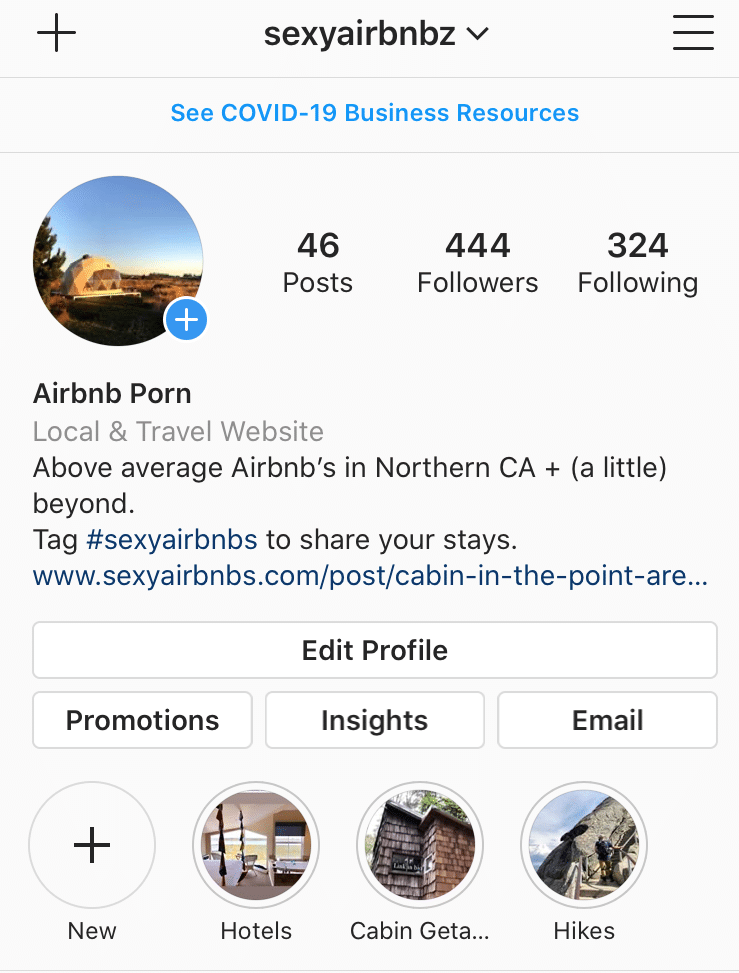 Why Are Highlights So Important?
Highlights are one of the first things people see when they visit your profile, so it's important to make sure that they're an accurate representation of your brand. Highlights provide an excellent opportunity to showcase a few things that sum up you or your company.
You can use highlights to take a stand on current events, showcase products/services that you sell, advertise deals that you're running, display customer reviews, save account takeovers for future reference, and so much more.
Essentially, highlights give you a chance to sum up your brand at a glance for users.
Let's Talk About Instagram Highlight Covers
Highlight covers are also a very important aspect of your Instagram profile. Instagram highlight icons can be as important as the words that label the highlights.
Using specific highlight covers, as opposed to random pictures, can seriously elevate your profile. Having consistency within your highlight covers will make your page look clean and professional, and it's an easy way to show users that you know what you're doing when it comes to Instagram!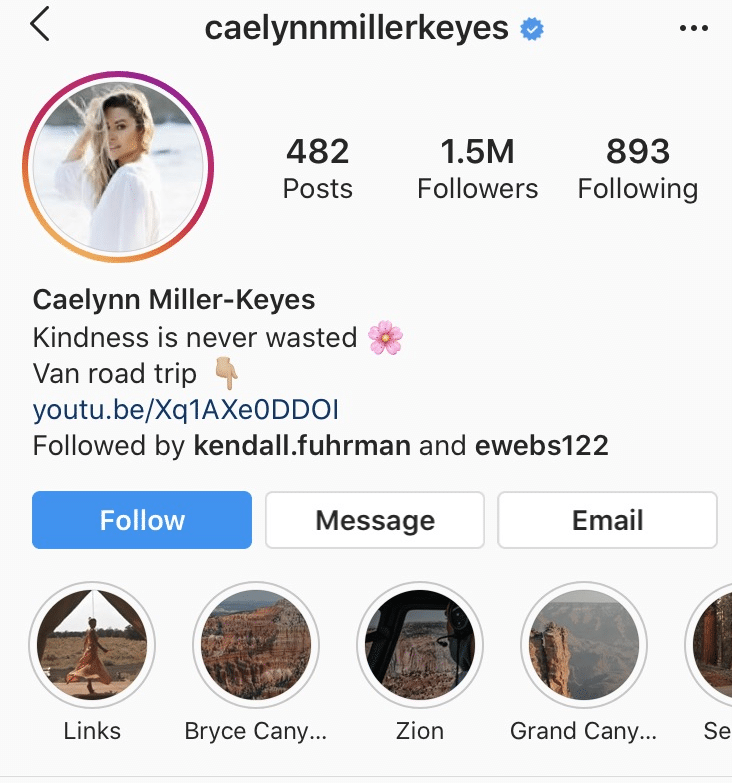 How Do I Create These Highlight Covers?
Using templates for your highlight covers is a great idea! We get it, you may not be a graphic designer with enough time on your hands to create a beautiful cover from scratch for each of your Instagram story highlights.
Where Can I Find Templates?
If you need an assist when it comes to creating highlights, here are a few of the best apps to help you out on iOS and Andriod:
The Top 3 Apps For iOS
1. Story Highlight Cover Maker
This app allows you to choose from a multitude of colors, backgrounds, icons and shapes to create the perfect highlight covers for your brand. And, with so many options for mixing and matching, your highlight covers are sure to look unique without requiring extensive effort on your part!
Available for download in the app store.
2. Highlight Story Cover Maker!
Don't be fooled by the similarity in names…these apps are actually different. Highlight Story Cover Maker! will help you seriously level up your Insta story game by providing pre-made highlight cover templates, as well as backgrounds and text options for your story posts.
Click here to download Highlight Story Cover Maker!
3. Highlight Cover to Instagram
With a lack of watermark, over 1000 templates, and a wide variety of options to help you improve your Instagram story highlights and covers, this app has it all! Highly ranked and easy to use, Highlight Cover to Instagram is a great app to help you out as you improve your profile.
Click here to download Highlight Cover to Instagram
The Top 3 Apps For Android
1. Highlight Cover for Instagram Story
Highly customizable, this app allows you to choose from a wide variety of colors, templates, backgrounds, cartoons, styles and more. Highlight Cover for Instagram Story even includes a collage creation feature, as well as option to upload your own photos.
Click here to download Highlight Cover for Instagram Story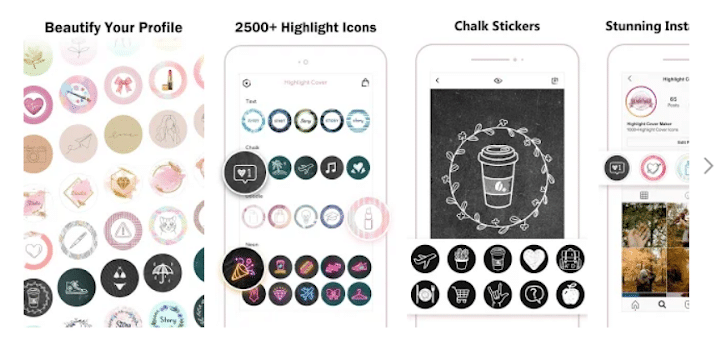 2. Highlight Cover Maker For Instagram
Yet another multi-faceted app that will allow you to create Instagram story highlight covers that show the true nature and style of your brand, this app also gives you room for a little creative flair by providing the opportunity to include borders, icons and stickers, along with a wide variety of backgrounds and fonts.
Click here to download Highlight Cover Maker for Instagram
3. Highlight Cover Maker – Covers For Instagram Story
This app is ready to take a weight off your shoulders by providing Instagram highlight covers in a variety of themes such as floral and travel, along with a variety of colors. Also boasting of fonts, stickers, frames and backgrounds, this app is ready to help you make your Instagram story highlights shine.
Highlight Cover Maker – Covers For Instagram Story
Join 100k+ savvy Instagram marketers
If you are struggling to get the attention you deserve on Instagram, sign up for Kicksta today and start attracting more followers who are interested in your brand.
What If I Want To Purchase Pre-Made Sets Of Covers?
If you're looking to purchase Instagram story highlight covers in beautiful, pre-made sets, then we have you covered in that arena, too. Here are a few of the best resources:
1. Graphic River
Graphic River is great for affordable, aesthetically pleasing Instagram highlight covers. Starting at $7, these sets are choc-full of options and will blow you away with the beautiful designs!
Click Here to Visit Graphic River
2. Etsy
Just about everyone knows that Etsy is the place to look if you want eye-catching, unique DIY pieces. But did you know that you can also purchase virtual materials from Etsy, such as Instagram highlight icons? Click the link and take a look at all they have to offer – you won't be disappointed.
How Do I Create My Own Highlight Covers?
Option 1: Canva
Canva is a widely popular graphic design website. Creating an account on Canva is free, and no downloads are required. All you need to set up your account is an email address, and you're ready to start designing.
Once you have created your account, type "Instagram Story Highlight Cover" into the template search bar. Canva will provide you with a myriad of template options that you can customize to your liking, changing fonts and colors, adding shapes and stickers, and doing just about anything else you desire. Canva even gives you the option to upload your own photos.
The best part about these templates is that they're created to be Instagram highlight covers, so they will fit perfectly in your Instagram highlight icons.
Option 2: PicMonkey
PicMonkey is another online graphic design tool where you can create an account or try things out with a free trial. This website also has a user-friendly process for creating Instagram highlight covers.
Simply select the blank template labeled "Instagram Story Highlight Cover" (also created with the perfect dimensions), then apply a background by choosing any color with a dropper or even entering your own hex code. You can then insert and customize an icon of your choosing, and then export your design, and you're good to go – highlight cover ready.
Instagram Highlight Cover Examples By Industry
Let's take a look at some of the best examples of Instagram highlight covers from 20 different industries. Every brand is different, and each niche on Instagram lends itself to a different style of highlight covers. These 100 examples should provide the inspo you're looking for and get you ready to hit the ground running with your Instagram highlight icons.
Marketing
Marketing lies at the intersection of business and creativity, so notice how that appears in the Instagram highlight covers of each of these accounts. Some of the accounts follow a strict template with their story highlight covers, while others are more loose and creative. However, they all follow a theme and fit a particular aesthetic. If you're running a marketing account, make sure your Instagram story highlight covers are visually appealing while looking professional.
Retail
Notice that, on retail accounts, the Instagram highlight covers are simply and chic. The account owners do not want to distract attention from the photos of products that are posted just beneath these Instagram highlight icons. So, the highlight covers are simple and informative; pleasing to look at, yet not distracting.
Education
Education is all about engaging your audience, which is why there is a wide variety available of Instagram highlight cover examples in the field of education. Some accounts shown above are geared toward educating children, which is why their Instagram highlight icons take on a colorful aesthetic and follow a loose theme. Others are geared toward a broader audience, which includes high school students and adults, so their Instagram story highlight covers take on a more organized feel.
Hospitality/Restaurants
The primary goal in the hospitality/restaurant industry is to entice customers. Whether this is by making Instagram highlight covers look fun and exciting, or by giving them an upscale feeling, it's important that their Instagram accounts look clean and appealing. Each establishment interprets this differently and tailors their highlight covers to their individual clientele, but it's easy to see that every account in this section of the list has created a visually appealing set of Instagram highlight covers.
Fashion
Fashion is all about being creative and different, and Instagram story highlights are no exception to that rule. Some fashion Instagram accounts use story highlight covers to showcase a preview of what is included in the highlight, while others use a matching template for every highlight icon. Every brand is different, depending on the purpose of the page.
Beauty
Simplicity is all the rage right now, and the Instagram highlight covers on these beauty accounts are here to prove it. Some of the top names in beauty are taking it way back to the basics for a chic, simplified look. Their ages appear clean and not at all cluttered, raising them to the height of sophistication.
Real Estate
As seen above, many real estate agents use their Instagram story highlights to showcase properties that they have sold, as well as current listings. Other agents dedicate Instagram story highlights to the regions in which they represent clients. Often, real estate agents choose to include elements of their personal lives as well, which helps them to seem accessible to potential clients. Agents will typically use photos from the highlights as the highlight covers, since they're promoting specific properties or areas. 
Entertainment
As with many industries, entertainment is all about catching the attention of your target audience. With Instagram highlight icons, this typically translates to bright colors with easily recognizable symbols, or photos that offer a preview of what is in the story highlight. Each entertainment company takes a different route, largely based on the nature of the brand and the target audience.
Life/Relationship Coaching
All life and relationship coaches have one common goal: helping clients reach their full potential. Each coach works to fulfill that goal in a different way, based on their specialties and areas of expertise, but the end goal is essentially the same across the board. That's why, if you take a look at all of these Instagram samples, you will find that their highlight covers have a lot in common. These Instagram highlight covers have simple icons and/or subdued colors, making the accounts look calm and uncluttered. This helps viewers to feel organized, rather than overwhelmed.
Travel
It's fairly easy to see what all of these travel accounts have in common when it comes to Instagram highlights: each highlight is a destination to which the account owners have traveled. As far as highlight covers go, each one is a favorite photo from the trip in question.
Fitness
There are various styles of fitness Instagram accounts, and that translates into the Instagram story highlight covers that the account owners choose. Some accounts are more geared toward hard work and intensity and focus less on the stylistic aspect of Instagram, while others promote products and post photos that are more posed and stylized. In the same way, some account owners choose to use photos from within their highlights as the cover photos, while other account owners stick to a specific theme or template for their Instagram highlight covers.
Lifestyle
Lifestyle influencers typically like to keep their pages looking organized and aesthetically pleasing. Some will choose to use a specific template for their Instagram story highlight covers, while others opt to use various photos that are all edited to fit a common theme.
Join 100k+ savvy Instagram marketers
If you are struggling to get the attention you deserve on Instagram, sign up for Kicksta today and start attracting more followers who are interested in your brand.
Veterinary
These veterinary accounts showcase a wide range of Instagram highlight covers. Some vet accounts are more business or influence oriented, so they make sure to closely follow a specific theme for their Instagram highlight icons. Other vets who are more focused on sharing their individual veterinary journeys will stick with using photos from within the highlight.
Gaming
Instagrammers of the gaming niche are often known for being unique and fun in style, which is why they typically opt to use photos that accurately represent the highlight, instead of designing a new cover. Popular gamers who have amassed a certain amount of fame often use highlights to advertise merchandise and live appearances.
Caregivers
Caregiving can take on many forms, including caring for the elderly or your own children. Everyone does it differently, and everyone has a different style on Instagram. From edited photos to multicolored templates, these caregivers should serve as inspiration in more ways than one.
Food
What do foodies use as covers for their Instagram highlight covers? You guessed it…pictures of food! This is a great marketing strategy to draw users' interest immediately when they open your page.
Photography
True to form, all of these photographers use samples of their own impressive work as their Instagram highlight covers. If you were a photographer with these kinds of skills, you'd probably do the same.
Science & Tech
These science and technology accounts represent a wide range of Instagram cover highlight ideas. From natural themes to futuristic tones to solid templates, the options are endless for Instagram highlight icons when you run a science/technology account.
Health
These trendy health accounts provide a good mix of showcasing story posts and following a consistent theme or template on their Instagram story highlight covers. Both options are visually appealing to users and generate interest. There is also enough diversity to spark curiosity and inspire users to click on the story highlights to learn more.
Art & Design
Some of these art and design Instagram accounts have simplistic, subdued highlight covers that fit a tight theme, while others are colorful and abstract. The beautiful thing about this is that the highlight covers on each account accurately portray the artistic style of each designer and artist. The most important thing to remember when designing an Instagram account is that it must represent our brand and be true to your business.
Implementing These Tips Into Your Own Account
Now that you're stocked up on information and tips on how to design the best possible highlight covers for your Instagram, what are you waiting for?
Take some time to think about your brand and what Instagram story highlight covers will best represent it, using these examples as inspiration. Then, download or create the perfect highlight covers for you.
Instagram Growth Hacks
Join over 100k+ marketers and influencers who get the latest Instagram tips & tricks sent to their inbox every week