How to Tag Products on Instagram to Increase Sales by 20%
post
If you're an e-commerce business, you already know that before you were able to tag products on Instagram, selling on the app was hard.
With the lack of ability to put clickable links in captions and only space for one link in your bio, increasing your sales via Instagram was a struggle.

People are lazy, and it can be difficult to get them from Instagram to your website, where the real shopping occurs.
But that all changed when they announced that businesses could tag products on Instagram. Now, you can create shoppable posts and maximize your brand's Instagram potential.
Why Instagram is The Best Platform for Ecommerce
With one billion users, Instagram's popularity among consumers speaks for itself.
But with this new shoppable feature, you can harness the power of this social platform like never before.
According to Instagram, 90 million accounts on Instagram tap on a shoppable post each month. Getting in on even a small percentage of that statistic can help your business grow.
Thanks to product tags, companies are seeing big results. One company saw a 20% increase in revenue from Instagram. Another company saw a whopping 100% increase in Instagram revenue.
It's clear that if your brand doesn't jump on top of Instagram product tags, you're going to be left behind.
But technology is confusing sometimes, and if you've never tried to create shoppable posts, you might not know where to start.
Don't worry! In this article, you'll find everything you need to know about how to tag products on Instagram and increase your sales.
Who knows? You might see a 100% increase in revenue, too.
What Are Instagram Product Tags?
Product tags are a new feature Instagram rolled out to help e-commerce companies get more results from their Instagram posts.
These shoppable tags contain both the name and the price of the product.
When you post a photo with a product tag, you allow anyone who views that photo to go directly to your website and view the product with just two clicks — no need to go through the whole rigamarole of visiting your profile and finding the link in your bio.
Since Instagram doesn't allow clickable links in captions, this is a great way to get more website traffic and more purchases by letting people do the least amount of work possible.
Shoppable Instagram tags are a big win. Before product tags, selling products on Instagram was a challenge; beyond the one link you're allowed in your bio or the swipe-up feature on Instagram stories, there weren't many ways to get sales through Instagram.
But now, all of that has changed. More and more businesses are beginning to leverage the power of shoppable tags, and you'll want to get on board now if you haven't already.
Wondering just how to use these mysterious product tags? We've got all the details. But first, let's take a step back and talk about why Instagram product tags are such a gold mine for your business.
Why You Need Instagram Product Tags
80% of Instagram's 500 million daily active users follow a business account. 60% of Instagram users find new products on Instagram, and even better, 75% of users take action after viewing a post.
Instagram product tags are quickly becoming an essential marketing tool to help you increase sales and grow your business.
But do they really work? In a word — yes!
According to BigCommerce, some Instagram accounts are seeing as much as a 1,416% growth in both traffic and sales after harnessing the power of Instagram shopping.
Magnolia Boutique has seen a 20% increase in Instagram revenue. Native Union has had a 2,666% increase in traffic. And Natori's Instagram traffic jumped by 1,416%, the article says.

High-end fashion company Natori felt that Instagram's shopping features were a great way to authentically display their products. At the time of the BigCommerce article, Natori had 61 posts with tagged products — and in addition to the huge increase in traffic, the brand also enjoyed a 100% increase in revenue from Instagram.

If that's not proof that Instagram product tags work, we don't know what is.

But why do product tags work so well?

1. The Convenience Factor
Remember, people are lazy. They will almost always choose the route that requires the least amount of effort from them.
If you're trying to persuade someone to do something, one of the best ways to convince them is to make what you're asking easy and painless. And as you know, you're trying to convince your Instagram followers to head to your website, where they can click the "purchase" button.
When faced with a choice of either a) visiting your Instagram profile, finding your website, and digging through to search for a certain product or b) simply jumping straight to that product page with a couple of clicks, guess which one your followers are going to choose?
Instagram product tags are effective because they remove the guesswork and the elbow grease. Instead, they present your followers with exactly what you want them to see and do — no hard work necessary.
2. The Native Advertisement
The beauty of using product tags on Instagram is that they blend in seamlessly with little distraction.
Savvy marketers create product pictures that mirror the types of images that are already being shared on Instagram- such as flat lays & lifestyle images with real people.
This makes the product look more natural and it doesn't disrupt the user experience, so people are more open to seeing products in their newsfeed.
How To Tag Products on Instagram
Before you can tag products on Instagram, you'll have to make sure your business is based in one of the countries listed here and that your business primarily sells physical goods.

Once your Instagram account is connected to a Facebook catalog and your account has been reviewed, you'll be good to go.
Adding a post with a shoppable tag isn't hard. In fact, you can create a shoppable post in just a few easy steps.
Step 1: Upload Your Product Image
Begin by creating a new post as you normally would. Choose a photo and tap through the screen with filters; then select "Tag Products" on the screen where you write a caption just before sharing a post.
Step 2: Tag Your Products
From there, you can look through your catalog and choose which product you want to tag. Tagging products is just like tagging people, except you choose the tag from your list of products instead of your list of followers.
Instagram allows you to tag up to five products on a single image post, or tag a maximum of 20 products if you post multiple images at a time.
We recommend tagging less rather than more, however, to simplify things for your followers. Remember, people want to do the least amount of work possible, and too many choices can be overwhelming.
Choosing just one or two products to highlight per post will give you a better chance of people visiting your site.
Pro tip: You can also add a product sticker on your Instagram story.
Step 3: Make Sales from Instagram
Once you've tagged the products in your photo, hit publish. Congratulations — you've just created your first shoppable post.
After you've created the first shoppable post in your feed, a "Shop" button will appear on your business profile (right under your story highlights and above your feed). Your profile visitors can click on this button and view all shoppable posts from your account.
Even better, you aren't limited to only tagging new posts — you can also go back and add shoppable tags to old posts on your profile in order to be ready for anyone who has time on their hands and decides to go way back.
There are a few different ways people can view your shoppable posts (equaling sales). First, your followers will see your new posts in their feed. Second, users can find you through hashtags (stay tuned for more advice on hashtags).
And third, Instagram recently added a new feature to its Explore page — topic channels. If you tap into the Explore page (the magnifying glass icon at the bottom of the Instagram app), you'll see a row of choices along the top of the page.
Depending on the type of accounts somebody follows, these choices might be things like "style," "art," or "fitness." Users can select a category and browse through the posts (both shoppable posts and regular posts).
If you can get your posts on relevant channel pages by using hashtags and getting more engagement, you'll have more eyes on your posts and you'll end up making more sales — which is what Instagram product tags are all about.
The following Infographic by Sharelov shows how easy it is to tag products on Instagram.

How to Use Product Tags on Instagram to Increase Sales
Like all things on Instagram, there is just simply using the feature, and then there's optimizing it to get the most return for your business.
Here are the best practices to follow when you tag products on Instagram in order to get more sales.
1. Utilize Instagram Insights
Instagram's Insights allow you to view the engagement you're getting on both shoppable posts and shoppable stories. Figuring out how your posts are performing can help you tweak your strategy so future posts will perform even better.
For best results, post products that appeal to your followers. Keep an eye on your audience — where they live, what age range they fall into, and their gender (Instagram shows you this information in your insights under the "Audience" tab). This can help you decide which products to feature.
2. Optimize Captions
Don't forget to also include a well-written, catchy caption.
Writing a caption that helps sell your products can be tricky. You don't want to sound too salesy, but you also don't want to completely ignore the fact that the point of your photo is, well, the products you're selling!
For best results, write an engaging caption — it can be fun or heartfelt, depending on your brand — that still includes a CTA (call to action).
For example, Letterfolk is a brand that sells handcrafted felt letter boards. In a recent Instagram post, they shared a user-generated photo — it shared the exciting news that one of their followers had a baby.
But instead of just posting the photo, saying congratulations, and leaving it at that, Letterfolk took the opportunity to tag the specific letterboard in the photo and mention the letterboard's name in the caption.
This allowed Letterfolk's followers to see the board in action, learn more about the product, and purchase one of their own if they felt so inclined.
3. Add Hashtags
Choosing hashtags to include in your caption can help more users find your shoppable posts, and more people make purchases on your website.
When people click on a hashtag, they can see all of the posts that include that hashtag. So even people who don't currently follow your account can find you and your product tags, thanks to hashtags.
Try to get on top of a niche hashtag, something that's specific to your industry or sub-industry that not everyone is using. (Think #plussizeshirts, which has 4,470 posts compared to #plussizefashion's 5.3 million posts, and #plussize's 10.9 million posts.) Using specific hashtags in addition to general ones, will give you a better chance of more eyes on your posts.
How do you choose the best hashtags for your business? Think of brands that are comparable to yours and look at the kind of hashtags they're using and how well their posts are performing.
You can also look at influencers in your industry. Maybe your business sells athletic wear. Find a few personal trainers with a large following and look through their posts to see the kind of hashtags they use.
Plan around trending holidays as well. https://www.hopperhq.com/social-media-holiday-calendar-2019/
Once you've decided on a few hashtags, take them for a test run. You can analyze how well your hashtags are performing by tapping "view insights" on a post, swiping all the way up, and then scrolling to the bottom, where you'll be able to see how many people found your post from the hashtags you used.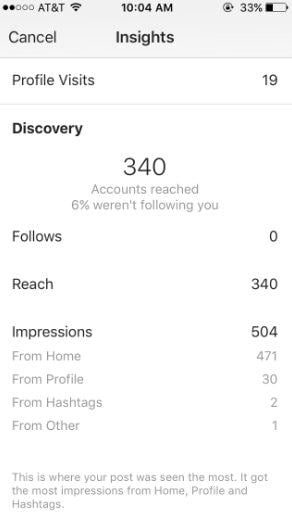 4. Don't Forget Product Descriptions
Once your followers tap into the product tag, they'll be able to read a description of the product. It's up to you to create a description that's catchy and informative enough to lure them along the rest of the journey — namely, to your website.
A good product description is concise but hits the important points. You want to include all the specifications of the product, but in a non-boring way — make sure to describe to your reader the benefit they'll be getting by using the product.
For instance, Letterfolk's description of their Gatsby White Letter Set leaves nothing to the imagination. It includes all the details, from how big the letters are to how you set up the letterboard.
But the description doesn't just give a laundry list of the letterboard's features. Instead, it goes a step further, helping you imagine yourself using the letterboard and "saying it with flair."
5. Bring Your Product to Life
It goes without saying that the photo(s) you post should be high-quality and aesthetically pleasing.
More than that, though, your photos need to be colorful and relatable. Here's an easy test: If your photos look like stock photos (you know — the kind with a white background and people smiling straight into the camera), they probably won't perform well.
Why not? Well, think about it. In real life, people don't walk around in front of white backgrounds. They won't be able to relate to the posed photos of your products that you probably have on your website.
On Instagram, though, you have the perfect opportunity — post lifestyle images of your products in use, and your followers will easily be able to envision themselves using your product, too.
For instance, Target sells school supplies. But instead of posting a boring photo such as the one of the girl and her laptop, they posted a fun, colorful photo that displayed their products in a creative and fun way. And their followers loved it — that's obvious by the 41,000 likes.
How To Track ROI When You Tag Products On Instagram
Once you've gotten in the groove and have posted several shoppable posts, remember to track your analytics.
Pay attention to the engagement numbers your shoppable posts are getting. What do your followers seem to like? What do they not care at all about? Answering these questions can help you tweak your strategy to get the best results possible.
Simply using the "View Insights" button below each post can help you see statistics such as likes, profile visits, and how many people saw your post but didn't like it.
You can see if people clicked on the product tag to visit your website, and you can see how many people saved your post; users often save posts with products they like or that they want to remember to check out later.
When you tag products on Instagram, you're making it extra easy for your followers to head to your website and begin shopping. Make a shoppable post and then sit back and watch your sales rise.

Instagram Growth Hacks
Join over 100k+ marketers and influencers who get the latest Instagram tips & tricks sent to their inbox every week