How Instagram's Shoppable Posts Are Bettering the Network for Marketing
post
Instagram has just further solidified its position as perhaps the most ad-friendly social media platform with one of its most interactive features to date. Instagram's shoppable posts are currently available for apparel companies, jewelry and beauty product accounts to better serve their followers.
Prior to its official debut, a handful of renowned brands – including JackThreads and Kate Spades – were given a test-run for this interactive shopping feature. And now, since feedback from both brands and consumers has been positive, we will begin to see the future of mobile shopping unfold on our Instagram feeds daily.
What Is Instagram Shopping?
Instagram shopping is a seamless feature in the natural progression of the app. At first glance, shoppable posts appear as any other product photo aside from a small message in the bottom left corner. Once the "View Products" message is clicked, each article of clothing or piece of jewelry will have a clickable name and price.
Certainly every company's favorite element of this feature is the fact that it is free for use. However, unlike sponsored ads, shoppable posts are only visible to your followers unless of course your company paid for a shoppable sponsored post – which seems like a brilliant idea.
The Set-Up
Prior to uploading your first shoppable post, you must understand that several valid back-end links are required to make your post successful. Instagram essentially does all the work for you as long as you have a functioning landing and checkout page for each product.
Once all links are uploaded in your newly improved app settings, tagging sweaters and necklaces becomes just as simple as tagging your friends in a photo. Companies are able to tag up to five items in a single strategically crafted post.
Why Is the Market Swooning?
Since the dawn of online marketing, brands have been striving to eliminate the steps in between discovering a product, learning about it and purchasing. Just when we thought the current state of online shopping couldn't get anymore mindless, Instagram implements this feature for us to utilize when we didn't even realize we were shopping.
While it may seem counterproductive to only offer this feature to business account users, consider the influencers' perspective: as opposed to writing the classic, "link in bio" when referring to the product advertised, influencers will now guide their followers directly to the brands' Instagram account for a follow, like and ultimately a purchase.
Additionally, influencers will promote from various social media platforms in addition to Instagram. That said, a link to a shoppable Instagram post is essentially a link to a product page as well, which is a win-win for any company.
This update is sure to change the way influencers promote specific brands or products, but it will not reduce their relevancy in the social media marketing game. Authentic advertising will continue to stay applicable, as consumers relate significantly more to seeing their favorite Instagram personality casually wearing the latest Kate Spades collection without prices tagged all over the photo.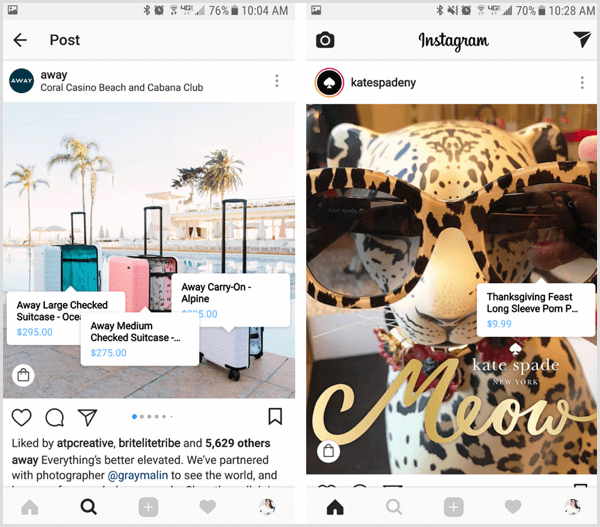 In Conclusion
Needless to say, this seemingly minor Instagram update is a highly progressive step in the evolution of online shopping. Instagram's shoppable posts feed the demand for immediate, seamless engagement and consumption.
Brands with loyal Instagram followers have already noted some immediate results from these posts. However, how will the paid advertisements with the shoppable function influence users and the market as a whole? Will Instagram become yet another niche platform for searching for specific products as opposed to merely stumbling upon them?
The future of advertising and online shopping is currently unfolding before our eyes. Only time will tell if we'll witness a complete transformation of the way we use Instagram – an impartial photo-sharing app turns mega-corporate mobile shopping hub? It's a stretch, but we're not far off if it continues to evolve at this rate.
Instagram Growth Hacks
Join over 100k+ marketers and influencers who get the latest Instagram tips & tricks sent to their inbox every week