10 Best Editing Apps For Instagram Reels
post
Instagram Reels are an integral part of any Instagram marketing strategy in 2023.
Video in general, and especially short-form video, is incredibly popular across the internet. If you aren't creating Reels, you're missing out on an opportunity to connect with your audience in an engaging way and potentially reach more people and grow your following.
Instagram tends to favor creators that are taking advantage of the various content options offered. So, if you aren't using Reels, Stories, Lives, and other types of Instagram content, you might be missing out on getting eyes on your account. Posting high-quality Instagram Reels is a best practice when it comes to optimizing your account.
When you create Reels that are made for your audience and your industry, you have a chance to be featured on the Explore page for people who frequently engage with content from your industry. The algorithm is intelligent and will show your content to people who are likely to enjoy seeing it and engage with it. When your content does well, Instagram benefits, so they don't want to show your content to people who won't want to see it.
When your Reels are shown to new people who are interested in your content, you can gain followers who want to learn from you. These are the best types of followers to gain because they're likely to actually be converted into customers.
And after all, isn't that the point of Instagram marketing?
When it comes to actually creating these high-quality Reels, though, it can feel a little overwhelming to get started. Luckily there are plenty of editing apps that can help you create Reels that your audience will look forward to seeing.
Best Apps For Editing Your Instagram Reels
It can be overwhelming to try to find the best apps and tools to support your Instagram content creation. You might even be wondering how to create Instagram Reels. Well, here are 10 of the best Instagram Reels apps you can use to make your videos. With each, we'll note if they're available in mobile app stores or on desktop.
1. Best App: Instagram's In-App Editing Tool
Surprisingly, or maybe not, the best app is Instagram's in-app editing tool. Many people think that creating your Reels within Instagram will boost your chances of being seen by the algorithm. That may or may not be the case, but it's certainly a logical argument. Beyond that, though, the Reels editor within Instagram is very intuitive and easy to use. If you spend a little bit of time testing it out and playing with it, you'll soon get the hang of it and be creating Reels quickly and easily.
Key Features:
Record, add music, and create voiceovers easily
Save drafts within the app for simple publishing
Templates available for when you're getting started or in a hurry
Pros:
Without needing to upload from a different app, your audio and video are unlikely to un-sync
Quickly have access to any updates or features added by Instagram
No risk of watermarks
Cons:
Since this is the most convenient tool, many creators will be using it
Videos might not look overly unique
Limited to audio and templates Instagram offers
Best For: People just getting started or those who don't want to use a third-party app
Available in: Apple and Android
Price: Free
2. Inshot
Inshot is a downloadable video editing app that allows you to do the basic editing needed for most Instagram Reels. You can trim your video clips, remove pieces from the middle, split or merge video clips and even adjust the speed of the videos. This is a basic video editing platform, but it can be a great way to get started.
Key Features:
Filters and Effects
Popular music library you can use
Stickers and text library
Pros:
This app is simple, which means it's easy to get started using
Not too many options to get lost in or stumped by
Create consistent, on-brand videos with the filters available
Cons:
Some content creators might think there aren't enough features
Depending on your tastes, the music options could be limited
Some features are only available for the paid pro plan, and watermarks are added without the pro plan
Best For: Creators still getting started but looking for an option other than Instagram's in-app editor or people who like simple user interfaces
Available in: Apple, Android, and on the AppGallery store
Price: Free with in-app purchases, or $18/year for InShot Pro, which gives access to all pro content and tools
3. KineMaster
KineMaster is a mobile video editing app with powerful editing tools at your fingertips. It has some advanced editing tools, as well as the basic options that you need to get started. With thousands of templates to use as inspiration, you'll never be at a loss when creating video content again.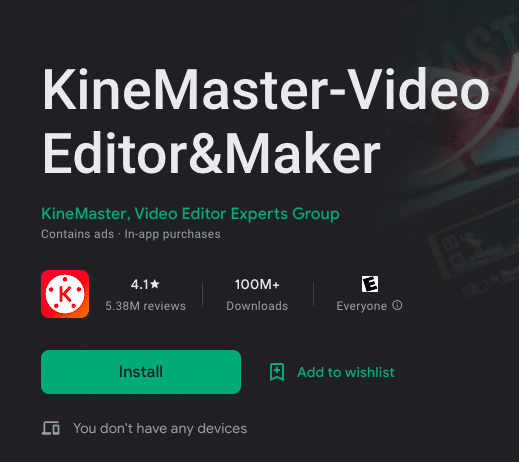 Key Features:
Library of music and sound effects to choose from
Green screen and background-removing abilities
Built-in animation options to raise your videos to a new level
Pros:
Wide variety of features
Templates make video editing quick and easy
Stickers and other assets can make your videos unique
Cons:
Mixed reviews, especially recently
Watermark when you don't purchase the premium plan
Best For: People and brands looking to advance and upgrade their Reels with special features
Available in: Android and Apple
Price: Free with watermarks and limited access, $80/year for Premium access
4. Veed
Veed is a video creation, recording, and editing platform that'll help you create impressive, professional videos quickly. Veed actually offers video editing and options outside of social media and Instagram Reels, which can make it an all-in-one platform if your brand has other video needs.
Key Features:
Auto-generated subtitles and auto-resizing
Live collaboration for your team
Text formatting and stock library
Pros:
As a multi-use video platform, you can create and reuse videos to save time
Record and edit within one platform
Repurpose videos across platforms quickly and easily
Cons:
Because they create so many types of video, they aren't focused on optimizing for Reels
Computer-only platform, no app available
Best For: Companies that want to expand their video efforts beyond Instagram Reels
Available in: Desktop
Price: Free for small projects, with three additional pricing tiers with various levels of features, ranging from $18-59/month
5. Clips
Clips is a simple video editing app that allows you to make quick videos directly from your iPhone or iPad. You can make vertical or horizontal videos, although most Reels are vertical. This is an app that has come pre-downloaded on many iPhones recently, so you might already have access to it!
Key Features:
Record within the app or upload your existing photos and videos
Add captions, stickers, and text easily
Add music from your library or theirs
Pros:
Very simple to use, with intuitive directions
Easy sharing to Instagram or with anyone you want to send it to
Easily add your own audio and music
Cons:
Simplistic in its features and offerings
It's designed for creating videos for family and friends, not businesses on social media
Be careful of music copyright when uploading your own
Best For: Someone who wants to test out video editing without downloading a new app
Available in: Apple
Price: Free
6. Splice
The video editor Splice claims to be the most powerful one around, which is a catchy tagline. It puts the power of a desktop editor on your smartphone so you can edit your videos wherever you go. While it's used by professionals, amateurs can try their hand at it, too, and discover the magic of video editing with a quality piece of software.
Key Features:
Adjust the speed of your clips to meet your needs
Create multiple videos at once, and keep them separate in Splice's workflow
Change the colors of items or adjust the background as needed
Pros:
Simple user interface that's appealing
Constantly evolving with more features coming soon
Their website also provides a blog with video tips and help
Cons:
They're still rolling out features, such as automatic subtitles
Their marketing is geared toward influencers but could be good for anyone
Best For: Influencers are their primary market, but anyone with a little video editing experience could have good success with Splice.
Available in: Apple and Android
Price: You can download the app for free, but there are in-app purchases, and you can get additional access for $10/month
7. Adobe Rush
Everyone knows the Adobe name, and now they have a free video editing app, Adobe Rush, to be used on the go, whenever you need it. It's full of simple tools to help you bring your video content to the next level. If you're unsure where to start, check out their website. It's full of tutorials and guides to help you on your video-creating journey.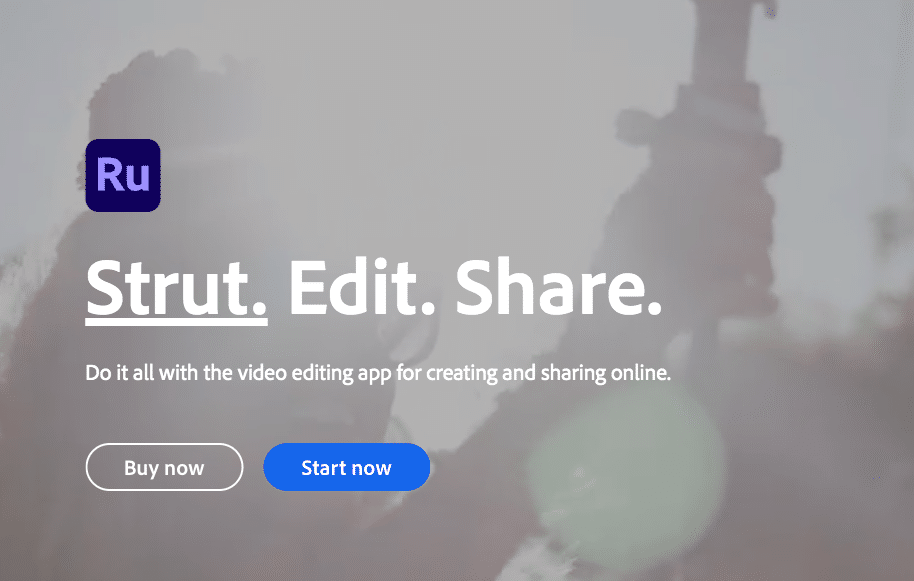 Key Features:
Audio editing tools to make your music and voiceovers fit just how you want it
Color correction software
Adobe user interface, if you're familiar with that from other platforms
Pros:
Adobe is a well-known company with excellent design software
Add motion graphics if that's part of your strategy
Simple and advanced editing tools
Cons:
Novices might feel overwhelmed or confused by the Adobe style
With so many options to edit elements, there might be too much editing happening
Best For: People who have done video editing before or people familiar with Adobe products
Available in: Apple, Android, and Desktop
Price: Free starter pack, or available for $10/month as part of Adobe Express to access all of the features, as well as the other Creative Cloud Express software
8. Canva's Video Editor
Canva is a very popular photo editing and graphics creation tool, but did you know there's a video editor, too? Their drag-and-drop interface allows for easy editing online to create whatever social media videos you may need. With templates and sample videos to use for inspiration, your next Instagram Reel isn't going to be far away.
Key Features:
Drag and drop your clips to edit them
Access Canva's media library for additional footage, stickers, and graphics
Tweak the audio to fit your vision
Pros:
Edit anywhere with access on any mobile device, browser, or even offline
Built-in recording for video and audio
Add filters or remove backgrounds with one click
Cons:
Some features are only available with a Pro subscription
If you don't like Canva's photo editing, you probably won't like the video editor
Best For: Creators familiar with Canva or people who want a drag-and-drop option
Available in: Apple, Android, and Desktop
Price: Free, but the Pro version is $13/month and is part of Canva Pro in general
9. Filmora
Filmora is another video editor that's packed with tools, features, and editing capabilities. They have over 100 million users, and their platform can be used across devices to get the most out of each. Film on your phone, take notes on your tablet and add finishing touches on a desktop. Filmora can help bring your video skills to the next level.
Key Features:
Split screen editing
Motion tracking and AI smart cutouts
Batch editing capabilities if you need to create multiple videos at once
Pros:
There are so many advanced features to explore to enhance your social media videos
Color match and color correction ensure your videos look their best
Experiment with special effects to see what happens
Cons:
This is advanced software, and it can be overwhelming for beginners
Designed for premier video editing, this might be overkill for just Reels
Best For: Creators who are very familiar with video editing and those who want to create many different types of videos, like longer forms for YouTube or other short videos like Instagram stories
Available in: Apple, Android, and Desktop
Price: The Annual Plan is $50/year just for Windows PC; the Cross-Platform Plan for $60/year works on Windows PC, Mac iOS, iPhone, Android phone and tablet, and iPad. The Perpetual Plan is a one-time payment of $80 for Windows PC access.
10. LumaFusion
LumaFusion is a professional video editing app designed for people who are experienced in video editing. For those who are newer to video editing, there are plenty of video tutorials, support, and a community to help if you're interested in using LumaFusion.
Key Features:
Transitions to keep your videos interesting
Automatic backups are saved to the cloud to keep your projects safe
Advanced audio editing options
Pros:
A high-quality video editing platform
Detailed editing features, like displaying track headers, adding markers and creating your own transitions
Use six audio/video tracks and six additional audio tracks as necessary
Cons:
Android and ChromeOS versions are still in beta
Massive amount of editing tools and tricks
Best For: Professional video editors or someone who's willing to put the time and energy into learning an advanced software
Available in: Apple and Android (beta)
Price: The LumaFusion app is $30 and also has additional in-app purchases
Time To Decide
Now that you've heard about 10 of the best video editing apps for Instagram Reels, it's time to pick one or continue your research.
Whether you're looking for basic editing tools or a professional program, there are options for you in this list. And, if you'd rather look on your own for a video editing app, there are plenty more available on the internet for your perusal. Then you can finally start to make Instagram Reels.
Instagram Growth Hacks
Join over 100k+ marketers and influencers who get the latest Instagram tips & tricks sent to their inbox every week