How To Select An Instagram Marketing Agency (Plus The Top 6 Agencies)
post
Instagram is a crucial tool in any company's modern digital marketing arsenal. Unless you've been living under a rock, you should know that Instagram is Meta's (formerly Facebook) image-based social media platform that's been on the scene since 2010.
Using Instagram for businesses can help boost digital presence and provide valuable information for other marketing strategies. Although Instagram is user-friendly and intuitive, you'll need strategic insights and experience if you want to get the most out of the platform for your business.
This article will show you how to evaluate different Instagram marketing agencies and select the right fit for your company's needs.
How To Select The Best Instagram Marketing Agency
Step 1: Think & Evaluate
As with selecting any vendor, the first step is to sit down with your team and evaluate the following:
1. Results
2. Budget
3. Internal Resources
Results
The "why" for hiring an Instagram marketing company should always be top of mind. These are factors you'll use to determine if your vendor's efforts are successful.
A few common goals for Instagram are:
Building brand awareness
Increasing leads
Creating an online community
Offering excellent customer service
While meeting all of these benchmarks would be phenomenal, it's important to set your sights on just one to two attainable goals when starting out.
Once you've determined what you'd like your Instagram marketing partner to focus on, you can move on to thinking about how much your company can afford to spend.
Budget
We all want the best price possible when it comes to working with a vendor. The truth is, good work isn't cheap, and you'll want to maximize quality so you actually get the results you want.
Costs for any project might vary, you can always make sure your budget is clear from the get-go to avoid overspending. You can use a template budget sheet to ensure you don't miss anything.
In your digital marketing proposal template, consider factors like impressions and cost-per-click, in addition to billing hours from your agency. It's important to keep in mind that budgets are just estimates of expected costs, so specifying a range of costs you're willing to pay will help keep your search as fruitful as possible.
It might feel like a bit of a guessing game, but you can use Kicksta's guide on How Much Instagram Ads Cost to get started.
Internal Resources
Think about your in-house staff and how they can help with your Instagram marketing.
For example, if you already have an in-house graphic designer, you might not need those services from your Instagram marketing agency. Conversely, it's important to communicate with your staff to make sure they're not spread too thin.
Many teams also split the work with their Instagram marketing agencies so that each party is only responsible for a set amount of the work. It pays to have a contingency plan for when unexpected projects arise that you need to address and execute immediately.
A flexible vendor that's willing to adjust its efforts to meet your bottom line is worth its weight in gold in the world of Instagram marketing.
Join 100k+ savvy Instagram marketers
If you are struggling to get the attention you deserve on Instagram, sign up for Kicksta today and start attracting more followers who are interested in your brand.
Step 2: Search Online
Searching for your vendor once you've solidified your needs should be a breeze, right?
There are countless Instagram marketing agencies out there, so differentiating between them will come down to their online reputation and ability to meet your goals.
Here are a few steps you can take to begin your online search:
Google Search
Meta Partners Directory
Clutch
LinkedIn
Google
A simple Google search might seem like screaming into the online void, but depending on your search criteria, you can find some useful information about which Instagram marketing agency to work with.
For instance, if you're looking for an agency that's close in proximity to your office, a simple Google search will tell you which vendors are in your area.
You'll also see some targeted ads at the top of the page that can help point you to agencies that are actively seeking to fill their client roster. With the right approach, you might even get a discounted rate.
Meta Partners Directory
In 2015, Instagram launched an official partner program (now combined with the Meta Partner Directory) to recognize verified marketers who have proven success on the platform. The program is divided into three key fields: Ad Tech, Community Marketing, and Content Marketing. These fields can directly mirror the goals that businesses might have with their marketing strategy.
Although being a part of the program isn't an endorsement from Meta, each listed provider applied for recognition in particular expertise and has been badged as Meta Business Partners for that niche.
You can also filter partners based on country, language, industry specialty, and diversity-owned status. Take a look at the Meta partner directory, pictured below:
Clutch
Clutch is another great platform to vet different Instagram marketing providers you've found online.
They're a DC-based B2B ratings and reviews platform that lists providers from all across the globe. Clutch compiles feedback from previous and current clients and lists them on vendor profiles for anyone online to see.
Clutch has a unique ranking formula that takes into account market presence, price, and project management, among other factors. The platform also features a top Instagram Marketing providers directory, as well as a social media packaged services directory in case you're looking for bundled service deals to save money. Each directory also has a local page to find providers in your area (See Clutch's Social Media Packages Directory below):
LinkedIn
LinkedIn, the world's biggest professional network, is yet another place to find Instagram marketing partners (as well as further evaluate partners you've found elsewhere). Take time to look at a company's LinkedIn endorsements before you reach out to them.
You can also investigate how much experience a team has by seeing work experience on individual profiles.
A big red flag for any vendor would be LinkedIn information that doesn't match the information on their website. Conversely, LinkedIn should only be just a part of your search, as the platform only paints part of a vendor's full professional history.
Step 3: Shortlist & Select
Once you've vetted enough Instagram marketing agencies, it's time to start narrowing down your choices.
Here are a few steps you should take to narrow down and select the right vendor:
Shortlist
RFP
Interview
Select
Shortlist
Depending on your timeline, you should create a shortlist of vendors that can meet all of your Instagram goals that also have a solid online reputation. Make sure that you do your research thoroughly before adding a company to your shortlist of vendors to pick one.
You don't want to waste time interviewing an Instagram marketing agency only to find out that they're too expensive or that they're not currently taking clients.
Even if a company was recommended to you by a friend, make sure to double-check and see if their past campaigns are a good fit for the kind of work you're looking for. Before finalizing your shortlist, consider reaching out to each vendor to schedule screening interview questions to assess their expertise, pricing, and availability.
RFP
Once you have your shortlist ready to go, it's time to send out an RFP or "request for proposal" to each vendor.
A basic RFP should have the following parameters:
Budget
Timeline
Goals & Metrics
Scope of Work
Examples of Desired Outcome
Criteria for Selection
The RFP process can be very competitive, so make sure to closely review all the responses you receive. Look for prompt, professional answers that aren't just boilerplate copy. A vendor that puts thought into their answers is serious about providing quality customer service, professionalism, and results.
Interview
Once you've reviewed all the proposals, you can begin to schedule appointments to hold interviews for your Instagram marketing agency. The best candidates will be well prepared with a presentation and a thorough plan for how they'll accomplish your goals in a specified timeline template. Make sure the questions you ask are as specific to your project as possible.

Pro Tip: Use the SharePoint calendar to accurately schedule these meetings so that everyone's aware.
Select
Once you've found a suitable Instagram marketing agency, make sure all expectations are written down in a contract. The entire scope, budget, and expectations from both sides should be outlined to avoid any mishaps throughout the project. Setting up a regular time to meet is crucial in establishing accountability and productivity. 
Top 6 Instagram Marketing Agencies
If you're still unsure where to start your search, consider having a chat with one of the six top Instagram marketing agencies listed on Clutch's directory. You can filter by cost, location, team size, and language to find which one will be a good fit for your Instagram needs!

1. Jumpfly
Based right outside of Chicago, Jumpfly's development, implementation, and management of Instagram marketing campaigns enable clients to maximize advertising results while saving time and money. Check out their case studies to see how their clients have thrived.
2. Favoured
Based in London, Favoured specializes in results-driven performance Instagram marketing to deliver results for clients. Take a look at their case studies to see if they're a good fit for your next project.
Join 100k+ savvy Instagram marketers
If you are struggling to get the attention you deserve on Instagram, sign up for Kicksta today and start attracting more followers who are interested in your brand.
3. Social Media 55
Stationed right outside Montreal, Social Media 55 is a full-service digital marketing agency with customized solutions to help grow your Instagram presence. Take a look at their work to see if they're the right agency for you.
4. Firebelly Marketing
In the heart of Indianapolis, Firebelly is a top-ranked, highly rated, award-winning social media marketing agency with a single mission: to make brands more likable. Check out their projects to see what they've recently been working on.
5. Power Digital Marketing
Power Digital is a leading, data-driven performance marketing agency located in San Diego, CA. As a full-service agency, the company offers 14 service offerings from Instagram marketing to SEO. Check out their portfolio of recent projects.
6. Volume Nine
Based in Denver, Volume Nine helps marketing teams with limited resources and real-world challenges like internal politics, industry regulations, and major competition. Take a look at their recent success stories to see if they'll be a good fit for your Instagram needs.
Take A Chance When Selecting An Instagram Marketing Agency
Finding the right Instagram marketing agency might seem daunting, but if you follow the steps above you should find the right fit for your specific needs.
To recap, make sure you think through your needs, budget, and internal resources before beginning an online search.
In addition to a cursory Google search, also check out Instagram's partner directory, Clutch, and LinkedIn to find suitable options.
Finally, shortlist your options, send out comprehensive RFPs, and interview your last-stage candidates for the best results. The possibilities are endless with Instagram marketing, so go find your perfect agency today and seize the day!
Author Bio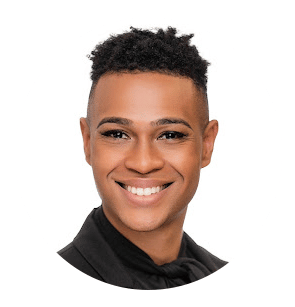 Kitty Garry is an SEO Specialist at Clutch. When they're not writing quality content, they enjoy spending time with family and friends in their home in Washington DC.
Instagram Growth Hacks
Join over 100k+ marketers and influencers who get the latest Instagram tips & tricks sent to their inbox every week