Fighting The War Against Coronavirus Using Instagram
post
Sometimes it might seem like Instagram is all about promotions and picture-perfect influencers. But with the outbreak of the COVID-19 pandemic, Instagram users and the platform itself are proving that there's a lot of heart in this social media platform — and showing how the power of IG can be leveraged for good.
Want to join in the fight against Coronavirus on Instagram? Read on to hear about Instagram's helpful new features and to get some inspiration from influencers and brands who are doing it right.
Instagram Implements New Features
In the wake of the Coronavirus and public health recommendations, Instagram has rolled out several new features encouraging users to #stopthespread. An Instagram story at the top of the home feed, for example, shared "#selfcare and #communitylove tips to help stop the spread of COVID-19." This story post used cute illustrations encouraging Instagram users to skip IRL hangouts, but stay connected with friends through texting or social media — and to seek medical help by phone first if they feel sick. Instagram has added several other new educational features, too.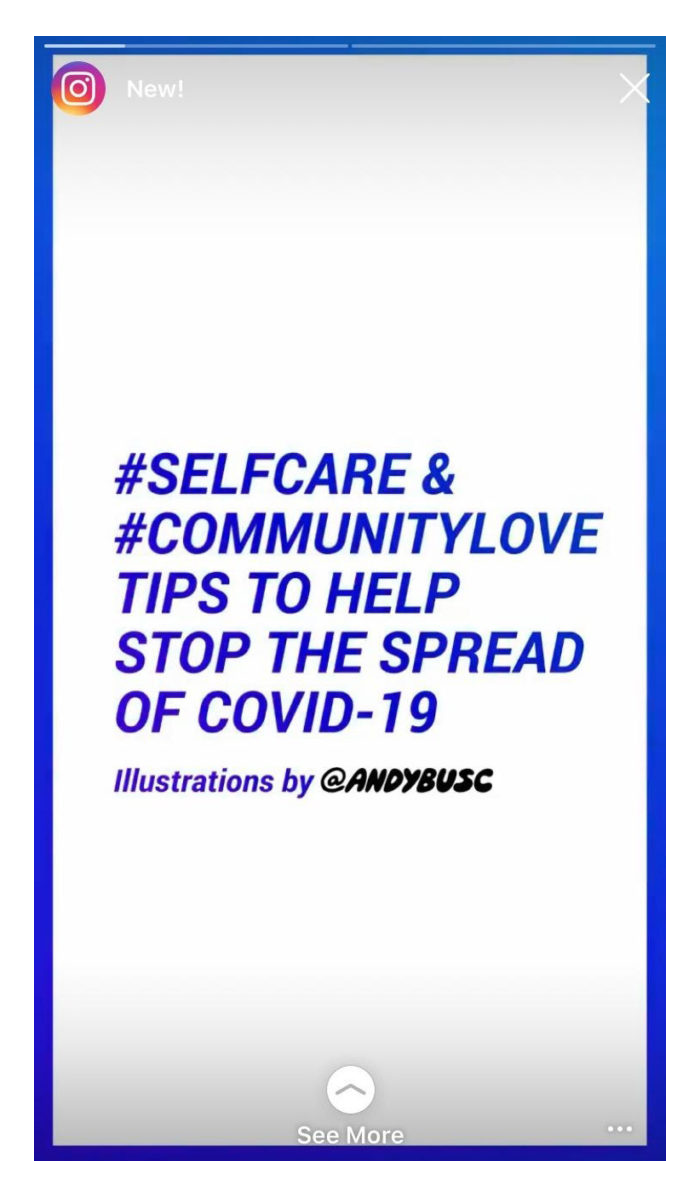 Prevent The Spread
At the top of your Instagram feed, you may have seen a section titled "Help Prevent the Spread of Coronavirus." This is a feature Instagram has introduced to help spread correct information. Users can tap the button to visit the CDC's website and read the latest recommendations regarding protection against COVID-19.
"Instagram is also limiting how much you can search about COVID-19 in the app, and making sure to fact-check all information."

– @kicksta_co
Stay Home Sticker
Outside of providing valuable information, Instagram has introduced other creative features for its users to enjoy during this time. For example, the "Stay Home" sticker is a cute addition to Instagram Stories. The blue-and-pink sticker is available to add to any Story post. Using this sticker can help encourage others to stay home. Instagram has also added a "Stay Home" story round-up where you can view stories from people you follow that include the sticker. The "Stay Home" sticker makes staying home the attractive thing to do. After all, everybody's doing it!
Instagram has two other new stickers available as well — a "#thankshealthheroes" sticker that recognizes the doctors and nurses who are on the front lines, and a donations sticker. When you select the donations sticker, Instagram provides you with a list of nonprofits that are helping fight COVID-19. You can choose a nonprofit and raise money for that organization by using the donations tool on your Instagram Story.
#Coronavirus
When you search the #coronavirus hashtag on Instagram, Instagram reroutes your search to the CDC. You'll see a pop-up (and/or a section at the top of the page) explaining that for the most updated information on the virus, you can visit the CDC's website. There's so much misinformation circulating about the virus that Instagram is making a point to direct people to reputable sources.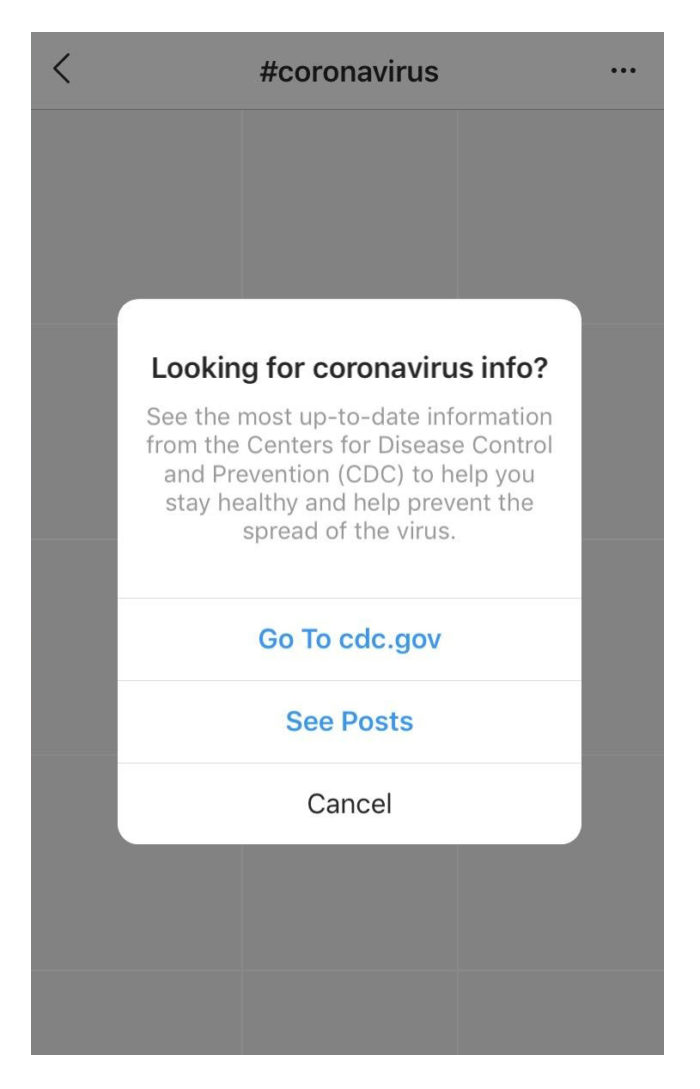 Using Celebrities To Spread the Message
Many well-known celebrities are taking to social media to encourage their followers during the COVID-19 pandemic — whether that encouragement looks like sharing information, or creating content that people can enjoy as they sit at home. One great example is the NBA.
NBA
The NBA is using its platform and its players to spread the word about Coronavirus. When the pandemic began to spread, the NBA was on the ball. It quickly launched #NBATogether, an initiative that has a goal of supporting, engaging, educating, and inspiring youth, families, and fans during the Coronavirus pandemic. The organization also made a point to share multiple informative posts including tips on how to decrease Coronavirus risk.
The NBA is also spearheading a campaign called #JrNBAatHome. This interactive series includes daily videos, with professional players explaining drills that young basketball players can do at home to stay fit. Even beyond the #JrNBAatHome program, the NBA also offered fans a free subscription to NBA League Pass (replays of all games from the 2019-20 season plus older games) until April 22nd.
By sharing helpful information and sending a message of camaraderie, the NBA is leveraging the power of Instagram to connect with its 46.9 million followers during this time.
Ellen
Ellen Degeneres is utilizing IGTV to host phone calls with various celebrities — a tactic that other influencers have adopted, too. By hosting phone calls with different celebrities, Ellen is creating content to keep people entertained. She has also created IGTV videos reading picture books and shared user-generated content on her feed. Ellen is even reposting content from Humane Societies, asking people to help with animal rescue during this time.
Local Food Businesses In The Fight Against Coronavirus
With the public health recommendations laid out by the CDC and the shelter-in-place orders enacted by many local governments, restaurants around the U.S. have had to temporarily close their doors. And while nationwide chains might not be affected, the loss of revenue could be a death toll for local businesses.

Many local restaurants are still offering drive-thru and/or delivery services for their customers. This is a way for the restaurants to continue making money and customers to get the food they want, with safe social distancing practiced by all. Instagram is the perfect tool to get the word out about local food businesses. Here are two great examples:
Holy Matcha
Holy Matcha, a restaurant with two locations in San Diego, is using Instagram to explain what they're doing during this time. The restaurant is offering delivery, take-out, and is even shipping outside of San Diego. Holy Matcha took the time to explain to its customers the safety precautions the company is taking, and in the spirit of full transparency, invited its followers to send DMs with any further questions.
Puesto
Puesto is a Mexican restaurant with multiple locations throughout California. As the Coronavirus pandemic worsened, Puesto shared how they were staying sanitary and lowered their prices for customers. Puesto also went a step further by offering Puesto Cares deliveries (composed of both cooked and uncooked food items) completely free to anyone in the area who needed them.
And although the restaurant recently made the decision to close all of its locations until it's safe to open back up, the Puesto team is still working hard. The company recently announced Puesto Cares survival packages — free masa, rice, and beans while supplies lasted for anyone who could come pick up the food. Within a week, over 5,000 meals had been donated to help Puesto's team of employees and others in the local community.
Puesto is a glowing example of how to use Instagram for good during the Coronavirus pandemic. And on top of that, the company is still producing fun and creative content for people to enjoy — such as the IGTV series dubbed "Quarantending" where Puesto's Bar & Spirits Director is teaching followers how to make cocktails at home.
Key Take-Aways
What can you learn from these examples? First of all, it's absolutely crucial to not spread misinformation. If you're going to share educational content about COVID-19, make sure to fact-check everything you post. Direct your followers to the CDC or WHO (World Health Organization) websites to get the most accurate and up-to-date information about the virus.
Second, encourage your followers to listen to the CDC's recommendations. Find creative ways to promote staying home, such as using Instagram's cute new stickers or filming funny videos showing how you (or your employees) are using your time at home.
Finally, find a way to use your Instagram platform to give back. Can you promote local businesses who are delivering food? Spotlight the brave medical professionals who are working on the front lines? Raise money for families who have lost one or more sources of income and can't pay the bills? This is a stressful and anxious time for many people. And by using your Instagram to help others, you'll be truly fighting the good fight against Coronavirus.

Instagram Growth Hacks
Join over 100k+ marketers and influencers who get the latest Instagram tips & tricks sent to their inbox every week