Social Viral Vs. Kicksta: Which Is More Legit?
post
If you're searching for the ultimate solution to help grow your Instagram and social media presence, you might have found yourself reading Social Viral reviews and Kicksta testimonials.
Both of these vendors promise companies and social media users an effective way to boost their online presence, reach new Instagram followers, and achieve crucial business goals. While both Social Viral and Kicksta are "growth services," they offer a slightly different selection of features, solutions, and benefits to customers.
Knowing which tool will help you to achieve the best level of Instagram growth, without putting your brand reputation at risk, is crucial for any business leader hoping to improve their social media presence.
Today, we're going to take a closer look at the differences between Social Viral and Kicksta to help you determine which service is most legit.
Social Viral vs. Kicksta: Tools for Instagram Growth
With more than 2 billion monthly active users, and one of the highest engagement rates in the social media world, Instagram has emerged as a valuable tool for brand promotion. With a robust Instagram account, you can strengthen your online presence, connect with new leads, and potentially increase your sales and revenue.
Unfortunately, to thrive on the platform, you need one thing: more followers, earning lots of high-quality followers is often easier said than done. Not only is there a lot of competition on Instagram already, but the Instagram algorithm prioritizes content from reputable brands with a larger follower base.
This can make it harder for new companies to break through the noise without a little extra help.
That's where growth services like Kicksta and SocialViral come in, to give you the edge you need to enhance your social media marketing strategy.
What's Social Viral?
Social Viral is a growth service designed to help businesses boost their social media presence across multiple channels, from TikTok to Facebook and Instagram. On Social-Viral.com, companies and creators can purchase Instagram "likes", views, and followers to boost their online presence.
Alongside Instagram, Social Viral also offers solutions for channels like Facebook, TikTok, Google, YouTube, Twitch, SoundCloud, and Spotify. You can directly buy Twitter followers, and TikTok followers, and use automation tools to engage with users on many channels.
Unlike other organic growth solutions, Social Viral doesn't hide the fact that it's selling forms of engagement. Although the company states that it offers "real" engagement from real people, there isn't any data to back up these claims.
Social Viral CC Vs. Social-Viral.com: What's The Difference?
Confusingly, there are actually two "Social Viral" websites online today, and both offer remarkably similar services.
Both services help companies earn more followers and engagement on social media by selling followers, likes, comments, and views. Unfortunately, neither company specializes in assisting businesses with organic growth.
What's Kicksta?
Like Social Viral, Kicksta is a social media growth service, however, the company focuses on enabling Instagram growth. Kicksta has helped more than 100,000 clients grow their Instagram audience rapidly, using AI-powered technology and proven organic growth strategies.
With more than eight years of experience, Kicksta promises a safe and effective solution for businesses in search of rapid social media growth. You don't buy fake followers or AI-generated likes with Kicksta.
Instead, you target and attract the attention of genuine customers, relevant to your brand.
Kicksta never resorts to spam, bots, or fake followers, ensuring the attention you earn on Instagram can actually help to improve your sales, increase engagement with your audience, and boost your brand reputation.
Social Viral Vs. Kicksta: Getting Started
Perhaps the biggest benefit of using an Instagram Growth tool is the opportunity to simplify the complex process of ensuring rapid social media growth.
Building a strong presence on Instagram takes significant time and effort, but a good growth tool can accelerate your results almost instantly.
Of course, some tools are more complex to use than others.
How To Get Started With Social Viral
SocialViral promises users a straightforward setup process. When you visit the website, you can click on the social media channel you want to buy engagement for and choose from a range of packages.
Once you select your package for views, followers, or likes, you'll be asked to enter basic details.
You'll need to share some standard information about your profile, though you don't need to give the company access to your account. The company then promises to deliver your services instantly, so you should start seeing likes and follower counts grow quickly.
How To Get Started With Kicksta
Getting Started with Kicksta couldn't be simpler. You don't need to submit any complex forms or business information, simply head to the Kicksta.co website and click on the "Start by Growth" button.
Kicksta will display a range of pricing packages for you to choose from, designed to cater to different needs. Choose the one that works for you and click "Sign up Now."
The platform will then walk you through the process of setting up your account. This includes asking you to choose "targets" for your account, to help Kicksta find relevant followers for your business.
Once you're set up, you'll be able to access all of Kicksta's tools, from the analytics dashboard to the whitelisting and blacklisting services.
Services & Features
While all Instagram growth tools provide services and tools to help you earn more Instagram followers, the services and features offered can vary depending on your vendor.
Social Viral Features
Social Viral is a relatively straightforward growth platform, without many comprehensive features. There are no analytical tools or dashboards to help you monitor your growth.
You also don't have any control over targeting the kind of likes, comments, or followers you want to receive.
Notably, Social Viral does offer "engagement" packages for a range of social media platforms, including Spotify, TikTok, Twitter, and many others.
For the purpose of this comparison, however, we're focusing exclusively on the company's Instagram Services.
Social Viral allows users to:
Buy Instagram followers, likes, or views
Purchase comments
Buy Instagram Live views
Buy automatic Instagram likes (to engage other users)
Kicksta Features
Kicksta offers a robust selection of features, all designed to help businesses achieve rapid organic growth. The platform works by allowing companies to select target accounts, such as competitors and influencers, with the types of real Instagram followers they want to attract.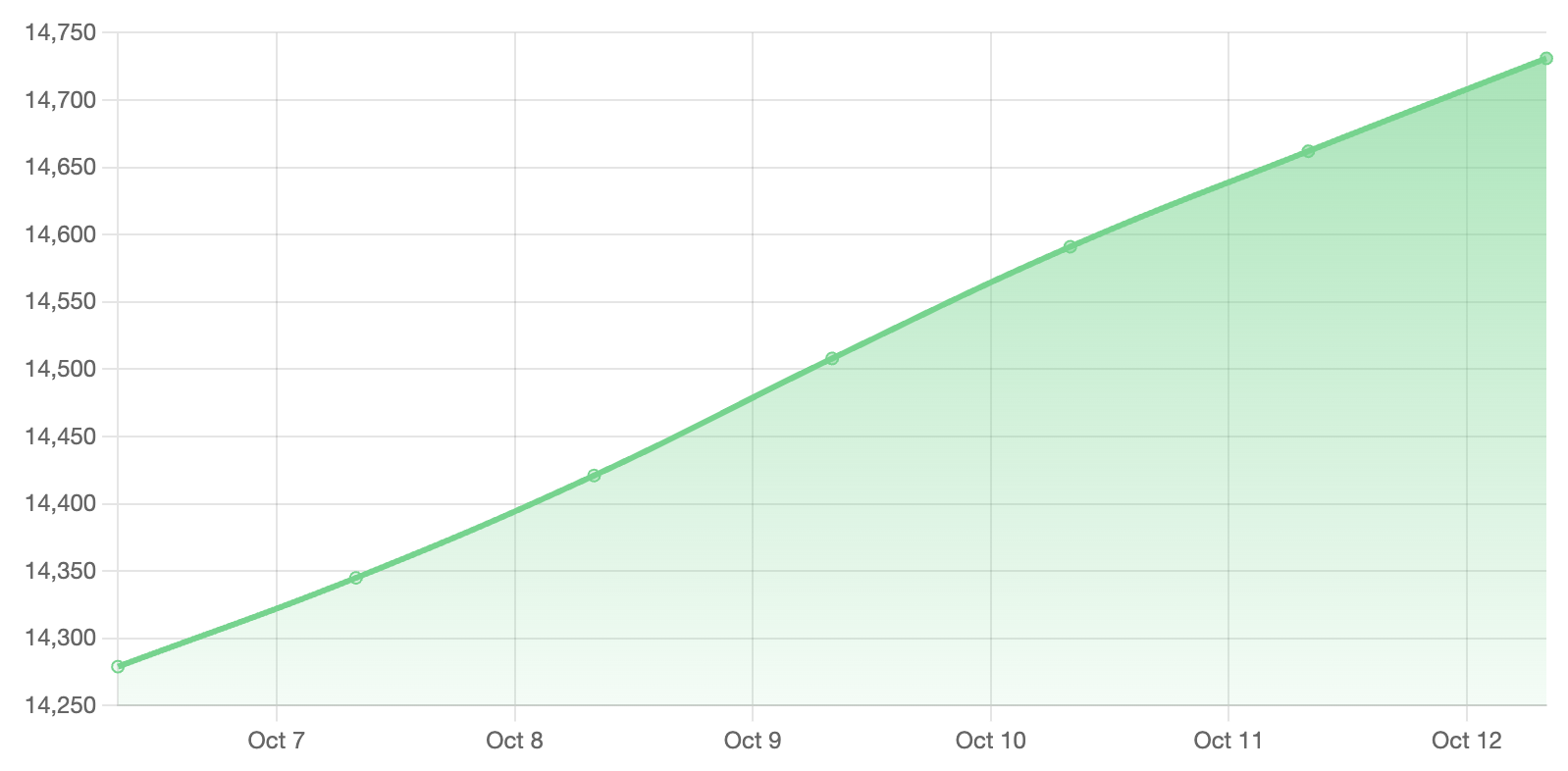 The solution then automatically engages with these Instagram users in a variety of ways, using proven methods such as like after following, and follow/unfollow.
While the features you'll be able to access on Kicksta will depend on your pricing plan, core capabilities include:
Comprehensive influencer and competitor targeting
Hashtag, account, and location targeting (with gender filtering on some plans)
Targeting suggestions to help you expand your audience
Whitelisting and blacklisting tools (including automatic whitelisting)
Automated home feed cleaning to minimize clutter
A comprehensive analytics dashboard with insights into growth
In more advanced Kicksta plans, users can also access new forms of follower engagement, such as story likes and welcome DMs, as well as extra filtering options.
Plus, on the Kicksta "Ultimate" plan, users gain access to Kicksta's powerful InfluenceGrid network, which promises a diversified audience and a guaranteed 2,000 followers per month.
SocialViral Vs. Kicksta: Pricing Plans
Accelerating Instagram growth comes with a price. Crucially, when you're assessing the pricing plans offered by each growth company, it's worth examining the value you get for your money.
While some companies might offer cheap packages for "likes" and followers, they may compromise on service quality, increasing your chances of getting fake followers and bot accounts on your profile.
Social Viral Pricing
Social Viral's pricing varies depending on the type of engagement you want to purchase, the quality of the engagement you want, and the number of likes, comments, or followers you want to receive.
For instance:
Instagram followers: Starting at $2.79 per 100 "high quality" followers, or $4.19 per 100 "active followers."
Instagram Likes: Starting at $1.37 for 50 high-quality likes, or $2.06 for 50 active likes.
Instagram Views: Starting at $1.89 for 500 high-quality views, or $2.85 for 500 active views.
Auto Likes: Starting at $9.89 for 50 high-quality likes, or $14.84 for 50 active likes.
Comments: Starting at $4.74 for 10 high-quality comments, or $7.19 for 10 active comments.
Live Views: Starting at $2.19 for 50 high-quality live views, or $3.29 for 50 active live views.
Notably "high quality" products from Social Viral come from accounts with profile pictures, but no additional posts.
Alternatively, "active" products come from individuals or accounts with an established Instagram presence and multiple posts.
Kicksta Pricing
Kicksta ensures companies and creators of any size can find the plan best suited to their needs and budget. There are three plans available, all of which are offered on a pay-as-you-go basis, with no contracts, and a 7-day free trial.
Options include: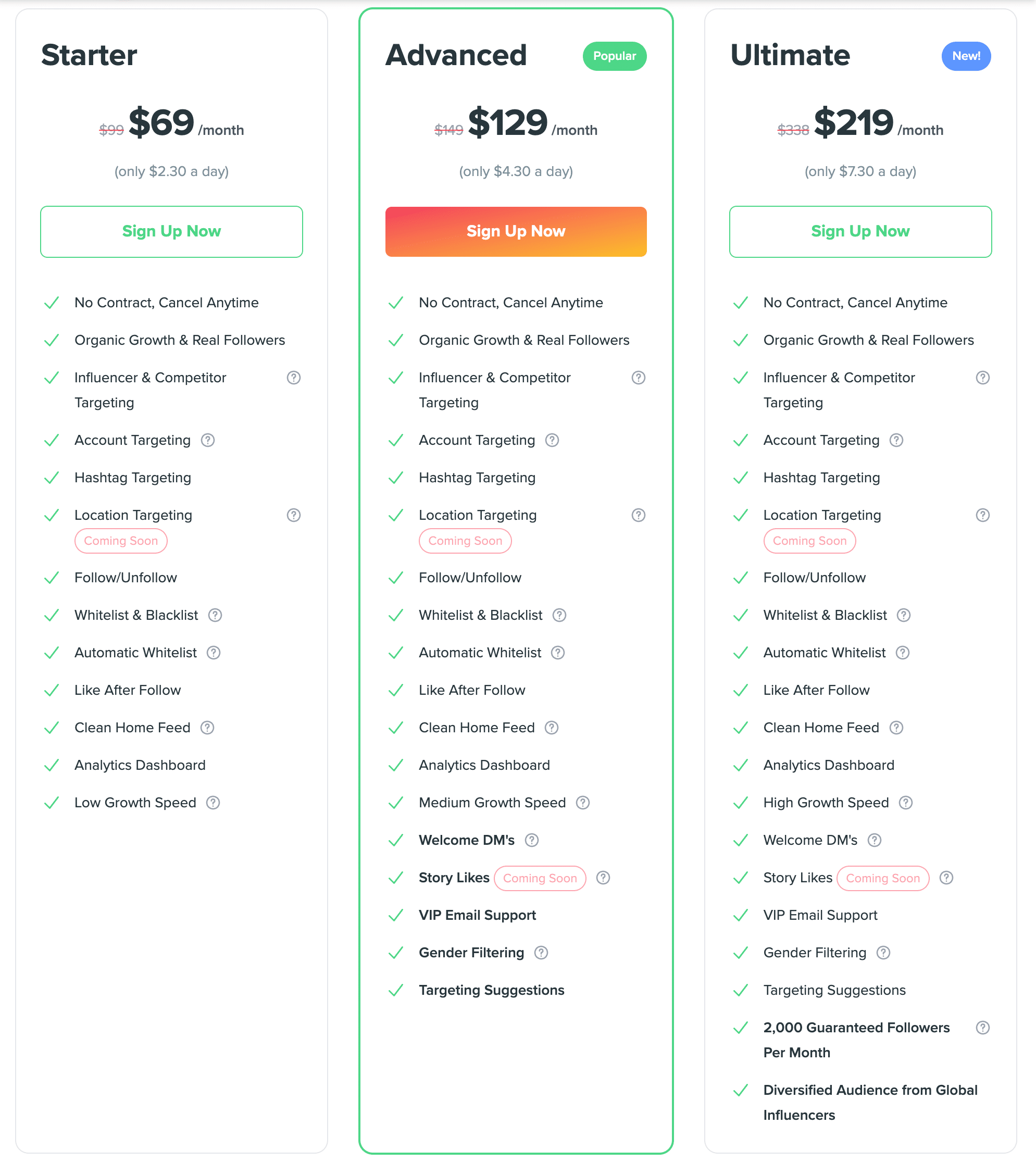 Starter: $69 per month: Organic growth and real followers at a low speed with influencer and competitor targeting, account, hashtag, and location targeting, follow/unfollow and like after following engagement, and whitelisting and blacklisting tools. You also get automatic whitelists, a clean home feed solution, and a comprehensive analytics dashboard.
Advanced: $129 per month: All the features of the Starter plan, as well as medium growth speed, welcome DMs and story like for additional follower engagement, VIP email support, gender filtering, and AI-driven targeting suggestions.
Ultimate: $219 per month: All the features of the Advanced plan, with maximum growth speed, and 2,000 guaranteed followers per month through Kicksta's InfluenceGrid micro-influencer network.
Reputation & Credibility: Which Is More Legit?
Unfortunately, while Instagram growth services can be extremely valuable for boosting brand awareness, and connecting with your target audience, not all vendors offer the same quality service.
Some companies still deliver fake engagement, bot accounts, and spam to businesses, which can damage your reputation, and even lead to bans on Instagram.
With this in mind, it's crucial to assess the legitimacy of each growth vendor before making your decision.
Social Viral Review: Is it A Scam?
It's difficult to get a clear view of Social Viral's legitimacy. On the one hand, the company doesn't hide the fact that it's selling engagement for reasonably affordable prices.
However, buying Instagram followers, likes, and comments can be a dangerous process, which risks the reputation of your brand and could lead to penalties from Instagram.
The company also seems to deliver on its fast delivery promises, depending on the number of followers or other assets you purchase. Social Viral claims to deliver likes, follows, and engagement from real users, but there isn't any evidence to substantiate these claims.
At this point, Social Viral doesn't have a presence on review platforms like Trustpilot, which is somewhat worrying. The only company listed on Trustpilot is the alternative "socialviral.cc."
Though there are various positive social viral reviews on the company's website, there are no additional testimonials available on third-party and objective platforms. This makes it difficult to know whether Social Viral's reviews actually come from real people.
Kicksta Review: Is It A Scam?
With more than eight years of experience in the social media marketing industry, Kicksta has earned a fantastic reputation. The company has helped thousands of companies to grow, without requiring them to buy Instagram followers from fake or spammy vendors.
Kicksta's dedication to authentic and organic growth ensures companies can achieve their social media goals, without risking their reputation. The positive impact of the company's service can be seen in Kicksta's fantastic reviews and case studies.
For instance, 55% of the reviews earned by Kicksta on Trustpilot are 4 stars or above. Customers say the service is easy to use, reliable, and ideal for boosting genuine engagement:
Kicksta Vs. SocialViral: Customer Support
Accessing guidance from a reliable and trustworthy support team is crucial whenever you're investing in a new service for your business.
Although both Kicksta and SocialViral are relatively easy to use, there's always a chance you might need a little help with your Instagram engagement strategy.
Here's how Kicksta and SocialViral handle customer support:
SocialViral Customer Support
SocialViral has an FAQ page where customers can find responses to basic questions about their accounts, billing information, and other details.
While these FAQs may be helpful for some, the responses to questions are somewhat vague in some areas.
If you want to contact the team, you can reach out through live chat or email, although the company only responds to questions between 9 a.m. and 5 p.m. PST. The company doesn't offer any VIP support options.
Kicksta Customer Support
One of the things that separates Kicksta from other types of Instagram growth service, is its commitment to serving its customers. The company is staffed by real people who are constantly on hand to deliver guidance, support, and expertise.
The Kicksta website is home to a range of valuable resources and FAQs. Additionally, the two more advanced Kicksta plans include access to VIP email support, to ensure amazing service.
In addition to email support, Kicksta delivers quality service through a chat feature on the platform dashboard that's available 24/7. This ensures you'll always be able to earn a rapid response from a support team if you're having any issues with your service.
Social Viral Or Kicksta: Which One Is More Legit?
Ultimately, Kicksta offers a more reliable, and effective Instagram growth service for companies in search of genuine Instagram engagement. While the packages available from Social Viral may be cheaper, there's a good chance you're paying for fake engagement from bots or fake followers.
There's no clear evidence to suggest that you're "buying" engagement from real people.
Additionally, Social Viral doesn't give you any options to choose your specific target audience. This means you're unlikely to get attention from customers who can genuinely benefit your brand.
Alternatively, Kicksta promises real, genuine engagement, from people who are relevant to your business. They allow companies to target the kinds of accounts they want to reach and even track their growth and progress over time.
Combined with the quality service provided by the support team, Kicksta's solutions are likely to be far more appealing to any companies hoping to connect with their target audience on Instagram.
Instagram Growth Hacks
Join over 100k+ marketers and influencers who get the latest Instagram tips & tricks sent to their inbox every week