Instazood vs. Kicksta: Which Will Get You Real Instagram Followers?
post
With Instazood and Kicksta, clients may assume that both provide similar services, but that isn't entirely true.
Instagram growth services claim to help you gain new followers, but how do you know which one to trust? The following guide highlights the key distinctions between each Instagram growth service.
1. Online Reputation: Instazood vs. Kicksta
Instazood Reviews
If you search for "Is Instazood legit?" or "Is Instazood safe?", you'll see that most reviews are a mixed bag.
There's also an 'Instazood Reviews' page on their site that doesn't actually have any real customer reviews.
You can find real customer reviews on the Reddit forum and Trust Pilot, and former clients point out that after signing up, the service will follow "random people" during the three-day trial.
Others say that the trial isn't completely free—there is a $10 fee.
The negative reviews reveal that many former clients believe that the service is an Instazood scam.
One client pointed out that they lost followers with this Instazood scam, "The bot is still unfollowing my personal following and those who follow me back."
According to these customers, the answer to "Is Instazood legit?", is a resounding no. If you're hoping to use the service to strengthen your following, you'll likely end up with the opposite results.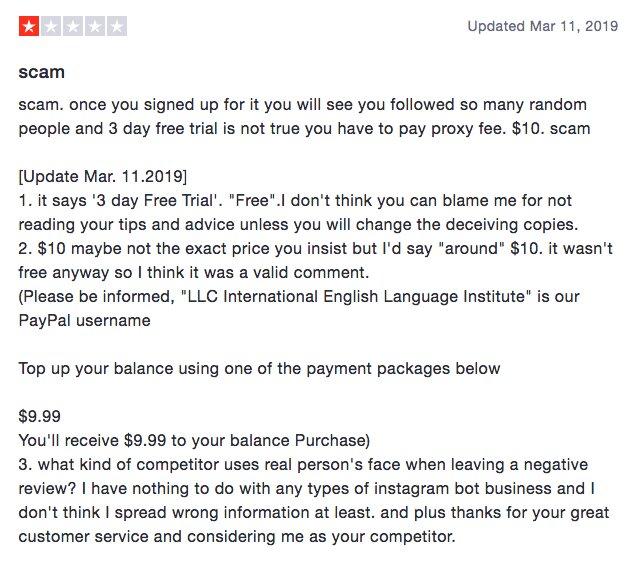 Kicksta Reviews
There's a reason that clients choose Kicksta over other services.
Whereas Instagram growth services like Instazood fail to provide clients with organic growth (or any growth at all), Kicksta's track record speaks to its reputation as a powerful growth tool to gain real followers for Instagram.
When asked about using Kicksta for his business, photographer Todd Pinckney had this to say:
"Kicksta has helped me consistently gain legitimate and engaged followers each month. Even further, I've received several inquiries for jobs that have come directly through Kicksta over the last several months of using their services."
Kicksta provides case studies and testimonials of satisfied clients like the one above. You can also find Kicksta reviews on these websites:
2. How It Works: Instazood vs Kicksta
How Does Instazood Work?
Instazood offers a $2, five day trial:
Clients will then choose their targets from the dashboard where they also have access to their DM's, comments, posts, and promotions. Apart from using a bot to automatically follow, like, comment, view stories, post, and DM, there is't much information available to describe exactly how it works.
How Does Kicksta Work?
After signing up, clients will choose their target accounts on Instagram, and the service will start liking content that their followers post.

These users will then visit your Instagram, and more often than not, start following you.
Rather than focusing on automating comments and direct messages, Kicksta likes about 30,000 photos each month, so users are guaranteed to experience a significant amount of organic growth.
Learn more about how Kicksta works in this quick video:
3. Dashboard And Reporting
How Does Instazood Measure Growth?

Instazood clients can access their statistics from the dashboard. Here they can keep tabs on the following:
Likes
Followers
Comments
Story Views
They can compare these statistics to similar accounts, as well as identify the conversion rate and number of followers gained from a certain post.
How Does Kicksta Measure Growth?
From the Kicksta dashboard, users can set their target accounts, change targets that are underperforming, set location targets, and hashtags targets to ensure that they are reaching the right audience.
In addition to these features, clients gain access to the following filters to further target their growth:
Ignore Inactive Accounts
Ignore Private Accounts
Ignore New Accounts
Ignore Suspicious Accounts
The more advanced filters:
Profanity Filter
Gender Filter
Business Accounts Filters (Ignore business accounts)
Blacklist Filter
Foreign Language Filter
Clients can also monitor the number of followers they've gained:
Pricing
How Much Does Instazood Cost?
Instazood has different monthly plans prospective clients can choose from:
Instagram Bot for $14.99/month – Includes auto follow/unfollow method, auto like/comment, and activity filters
Comment tracker for $9.99/month
Auto Direct Message for $14.99/month – Sends direct messages to followers and non-followers
Post manager for $9.99/month – For drafting and scheduling posts
Manual promotion for $14.99/month
Search Tools for $9.99/month
How Much Does Kicksta Cost?
Kicksta's clients can choose either the Standard Plan or the Premium Plan:
The Standard at $49 a month gives clients access to Smart Filters, 10 Target Accounts, Email Support, and is ideal for influencers and entrepreneurs.
The Premium at $99 a month is the best plan for maximum growth. Users have access to Smart Filters, 40 Targets, Live Chat Support, Premium Email Support, and the Advanced Filters.
6. Which Service Is More Secure
The final answer to the question "Is Instazood safe?" is a no. If a growth service is actively bringing your follower count down, this isn't a service that should be trusted to handle your Instagram.
Instazood's support tells customers to try to locate their issue in the Help Center, or they can submit a ticket for help.
Alternatively, Kicksta guarantees clients get Instagram followers that are real, without having to compromise their safety or brand reputation.
Kicksta also offers Email and chat support 24/7, including video courses and a FAQ, to ensure that you are targeting the right accounts and helping you improve your Instagram marketing efforts.
Want to experience this organic growth for yourself? Try Kicksta today by clicking here.

Instagram Growth Hacks
Join over 10,000+ marketers and influencers who get the latest Instagram tips & tricks sent to their inbox every week