Top 10 Instagram WordPress Plug-Ins For Your Website
post
When you're promoting your brand or business, chances are you have a website along with your social media platforms. By diversifying your online presence, you're creating a well-rounded plan for being online, and your audience will appreciate being able to find you wherever they are. It can be a good idea, though, to merge some of those platforms. You should already have links to your social media accounts on your website, but we want to go one step further. And don't rely on traditional communication platforms to reach your audience.
You can add your actual Instagram to your WordPress website so that people don't have to leave your website to see your Instagram content. This can help your audience get to know you better and benefit from the great Instagram posts you create even if they don't want to head to the app or if they don't have an Instagram account. But how can you do that?
The answer: Instagram WordPress plugins.
How To Add Instagram To WordPress
There are two different ways to add your Instagram posts to your WordPress website: embedding and plugins. Embedding will allow you to take one of your Instagram posts and have it live on your site, too. If you get more likes or comments on that post, you'll see that engagement reflected on the post on your site. This is a good solution if you have one particular post that you want to add, perhaps to a blog or to a product page, that's relevant to something specific.
Instagram WordPress plugins allow you to add your actual Instagram feed to your website. So, as you post more content, your WordPress site will automatically update with your latest posts so everyone can see your content. This is a great solution if you want to truly show the people on your site all of your Instagram content.
Top 10 Best Instagram WordPress Plugins
Embedding can be done directly within the code of WordPress. Plugins, by their very nature, have to be found elsewhere and brought onto your page. So if your tech knowledge only extends to how to work your business phone systems, don't worry, we've got you covered.
Here are the 10 best Instagram feed plugins for WordPress you can use to bring Instagram to your site.
1. Smash Balloon Social Photo Feed
This is one of the best WordPress plugins for a few reasons. First of all, it's intuitive and easy to install, so you can be up and running shortly. There are also many features around feed customizing, like a visual editor, live visual preview and prebuilt layouts to help you customize your feed quickly and easily.
Smash Balloon also has reliable backups and local image storage to prevent downtime. Their SEO booster and GDPR compliance also help you stay ahead of the competition. You can even bring over your shoppable posts to make your feed shoppable on your website.
Their Instagram WordPress plugin begins at $49 per year for one website on the personal plan. The business plan is $99/year and includes use on five websites, while the developer plan costs $149/year and can be used on 25 websites and has priority support. Finally, the all-access bundle is $299 per year and can be used on unlimited websites and includes all pro plugins, so you can also add your Twitter, YouTube and Facebook feeds.
2. Spotlight
Spotlight is an Instagram WordPress plugin that is used by over 40,000 brands and creators. This plugin is customizable, easy to use, responsive, and accessible. They include a "Follow me on Instagram" button to your gallery to easily convert site visitors into Instagram followers.
You can also create as many feeds as you want for on your site. You can add them to various pages or to elements like your footer. With Spotlight, you can be confident that your feeds will be responsive on all devices. Their pro plan includes features like hashtag filtering, caption filtering, and Instagram link-in-bio feeds.
Spotlight offers three pricing plans. The Essentials is $39 per year and includes basic features. The Pro plan is $59 per year and includes additional features like hashtag feeds and filtering, shoppable posts, and caption filtering. Finally, the Performance plan is $149 per year and includes everything in the Pro plan, as well as account insights, post insights and other analytics tools.
Join 100k+ savvy Instagram marketers
If you are struggling to get the attention you deserve on Instagram, sign up for Kicksta today and start attracting more followers who are interested in your brand.
3. Enjoy Plugin For Instagram
The Enjoy plugin offers a carousel library with a modern design. This Instagram WordPress plugin lets you add feeds to all of your pages, posts, and sidebars. They offer a hashtag-based Instagram feed as well as a profile-based feed. Much of this plugin uses shortcodes, so you'll need to understand that to get the full benefits.
The Enjoy plugin is a free plugin and has an average 4-star rating. It's an open-source WordPress plugin, and multiple people have contributed to the software
4. Instagram Theatre
The Instagram Theatre plugin allows you to render photos from your Instagram account onto your website in several different layouts. One of the most unique features of this Instagram WordPress plugin is a fullscreen layout mode. With Instagram Theatre, you can make your site a fullscreen gallery using your Instagram photos. They have other unique layouts, too, like a thumbnail layout and a list layout.
Instagram Theatre is an Instagram feed WordPress plugin that is supported on iPhone, iPad, and Android, and there's even a standalone plugin you can use on non-WordPress websites. This plugin is a one-time fee of $15.
5. Intagrate
Intagrate claims to be the most powerful plugin you can use to create posts from your Instagram. With this Instagram WordPress plugin, you can have multiple streams of photos, from your account, those that use a particular hashtag or those that use a particular location. You can also connect as many Instagram accounts as you want, and you can link your Instagram videos, too.
You can access your image history, create custom post types and turn your hashtags into WordPress tags. You also have full content and admin control when using Intagrate. Pricing begins at $55/year for the personal plan, which allows you one site. The business plan is $95 per year and allows you to have it on three sites. The developer plan is $155 per year and allows unlimited sites.
Finally, the ultimate plan is a flat fee of $255 and includes lifetime updates.
6. Instagram Journal
Instagram Journal is an Instagram WordPress plugin created by a top-selling Instagram author. It offers over 50 customizable designs, fullscreen HTML5 video, and a variety of effects and transitions. The plugin's latest update gives you access to a wide range of color schemes and additional customization options.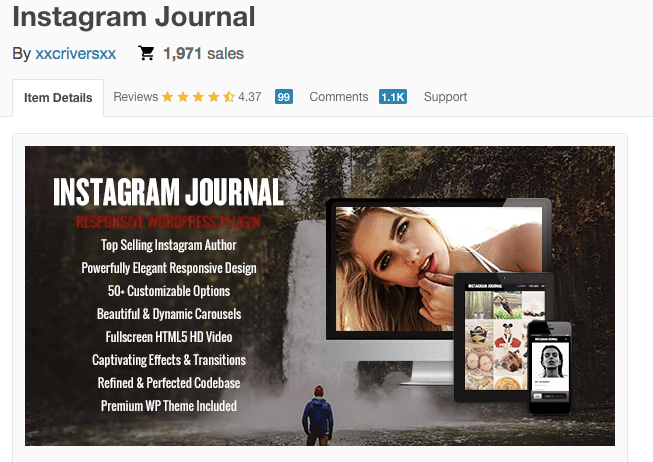 With Instagram Journal, you can host contests directly from your website. You can also choose from a wide variety of view options. This plugin also includes video tutorials to help you get the most out of your purchase. Speaking of purchases, Instagram Journal is a flat-rate $20.
Join 100k+ savvy Instagram marketers
If you are struggling to get the attention you deserve on Instagram, sign up for Kicksta today and start attracting more followers who are interested in your brand.
7. WP Zoom Social Feed Widget
Our next Instagram WordPress plugin claims you can have your Instagram feed on your WordPress site in just seconds. You'll certainly have a quick set-up time with this one. The WP Zoom Instagram Widget is used by over 70,000 websites and has a five-star rating. It's block editor compatible and highly customizable. You can connect multiple accounts, and the image Lightbox feature means visitors can preview posts on your site.
It's a lightweight Instagram feed WordPress plugin that won't hurt your visitor experience, and you can easily embed using a built-in shortcode. You can also add a custom avatar and bio that matches your Instagram account for continuity.
With WP Zoom, you can choose their free or their pro plan. The free plan has access to most features, including working with the block editor, color and header customizations, the lightbox, and the ability to create unlimited feeds. The pro plan is about $40 and includes access to all features the free plan has, as well as the ability to connect multiple accounts, premium support, masonry layout and the "load more" button for infinite loading.
8. 10Web Social Photo Feed
One of the best Instagram feed plugins for WordPress by the numbers would have to be 10Web. Their Instagram feed plugin has over two million downloads. With fully customizable themes, easy content display, mixed feeds, and detailed metadata, this plugin certainly seems to have it all. You can choose between infinite scroll and pagination, so your viewers can scroll continuously or flip between pages of your posts.
As with some of the other plugins, you can create unlimited feeds and fully customizable layouts, but 10Web also offers an advanced lightbox and the chance for users to download images or share them to their social media platforms, which can help get the word out.
10Web offers three pricing plans: Basic, Standard, and Advanced. Basic is $85 and gives you access to 6 months of updates and premium support and supports 3 domains, but you do get lifetime use of all plugins. The Standard bundle is $100, which includes 6 months of updates and premium support and supports 30 domains. Finally, the Advanced bundle is $150 and offers a year of updates and premium support and supports up to 30 domains.
9. Feed Them Social
Another great Instagram feed WordPress plugin is Feed Them Social. You can add your personal or business feed or search by hashtag, and you can set up your feed in minutes. Feed Them Social doesn't use widgets, so you can rest assured that your feed will fit in well with the rest of your website.
They offer a variety of plugins for various social media feeds, and each one comes with a demo you can watch before you make a decision. They offer a free download that will give you access to the majority of their features. The all-access pass includes all of the extensions SlickRemix, makers of Feed Them Social, have created, and you can use them on unlimited sites. The all-access pass is $199.
10. Instagram Slider Widget
This Social Slider Feed is a great Instagram WordPress plugin that says you only need 10 seconds to configure and get it started. With this plugin option, your mobile and desktop versions are separate, so you can create different layouts for the two if you'd like. You can sort your images randomly, by popularity or by date, which can keep things fresh and interesting for your site visitors.
The Social Slider Widget is free, but there is also a pro version that allows you to authorize multiple accounts, show the metadata such as likes and comments, use different feed layouts, and more. The pro version of this Instagram feed WordPress plugin is $55 for lifetime access, support, and updates for 5 websites, or it's $119 for lifetime access, support, and updates on unlimited websites.
Let's Get Plugged In
Now that you've seen some of the best Instagram feed plugins for WordPress, you need to make the decision about which one is right for you. This list should be a great starting place, but now it's time for you to do a little more research.
When you know which Instagram WordPress plugin is best for your company, download or purchase the plugin and get started. We can't wait to see what you share.
Instagram Growth Hacks
Join over 100k+ marketers and influencers who get the latest Instagram tips & tricks sent to their inbox every week