Stormlikes Vs. Kicksta: Which Is Better For Instagram Growth?
post
If you're looking to try an Instagram growth service, Stormlikes and Kicksta maybe two of the options on your list.
With all of the social media growth services available for you to choose from, this can get overwhelming at times. We get that, which is why we're going to break down Stormlikes and Kicksta, step by step, and determine which of the two is a better option for Instagram growth.
Instagram Growth Services: Stormlikes Vs. Kicksta
Let's start by looking at what each of these growth services is at its core.
What Is Stormlikes?
As its name suggests, Stormlikes is a growth service that focuses on providing Instagram growth to customers via likes on the app. Stormlikes promotes itself as being unique by allowing users to purchase likes from real Instagram users.
This is helpful when it comes to Instagram growth because likes play an important role in boosting an account's engagement levels. The more likes you get, the better your engagement rate will be. The better your engagement rate is, the faster you'll grow on Instagram.
What's Kicksta?
Kicksta's growth strategy, engagement marketing, expands beyond just likes. With this strategy, Kicksta interacts with target Instagram accounts on behalf of its clients.
So, when you use Kicksta, it'll work to build relationships via Instagram with your target accounts – these could be ideal Instagram followers or relevant influencers in your niche. Building these connections happens via liking, commenting, sending DMs, and more.
Essentially, Kicksta creates Instagram-based relationships between your account and your target users, which is the best Instagram marketing strategy today.
Main Features
What do Stormlikes and Kicksta each have to offer?
Stormlikes Features
One of the features that Stormlikes prides itself on is the instant delivery of Instagram likes. The fast delivery process of your likes begins as soon as you place your order with Stormlikes, but you can delay your likes if they're coming in more quickly than you want.
Another primary feature of this service is that it provides real likes from actual Instagram users. The website focuses heavily on how the service provides likes from real users, rather than bots or ghost accounts, although there's no specific information on how this is done.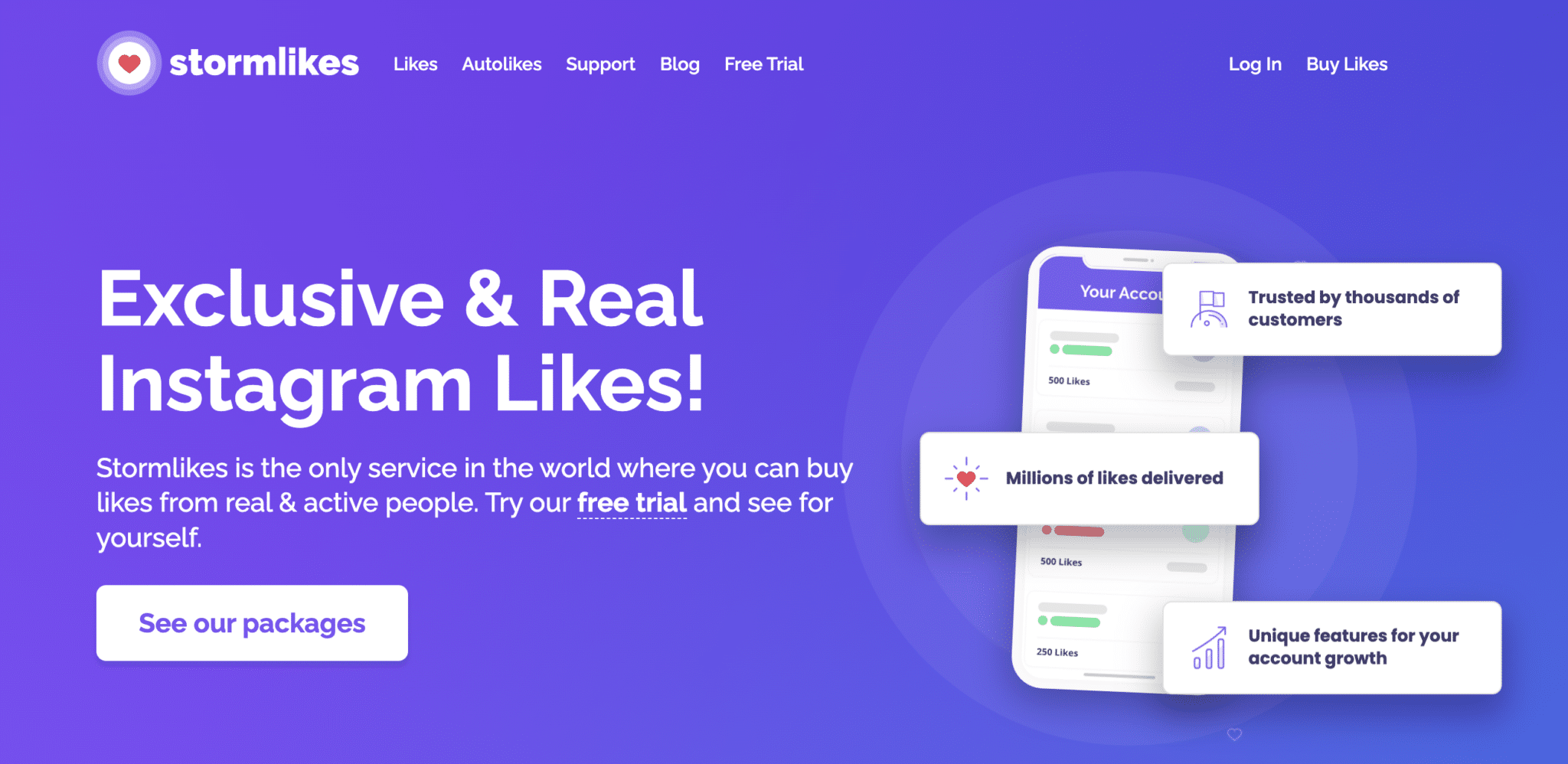 With country and gender targeting, you can also personalize what types of accounts are liking your posts. If you want your likes to come from users in a specific country of a specific gender, you can indicate that while using Stormlikes.
Stormlikes also provides automatic detection, so that your posts can start gaining likes almost immediately after being published. The service will detect new uploads from your account within 30 seconds of when they're posted.
Stormlikes also offers a randomization feature. If you don't want all of your posts to receive the same number of likes, you can control how many likes you get on each of your posts with the randomized likes feature.
Lastly, Stormlikes includes a matching views feature, in which the service will provide you with an equal number of views to how many likes you get when you upload a video.
Kicksta Features
Kicksta's primary feature is that it provides organic growth and real followers to all clients. Kicksta's growth strategies and engagement methods ensure that customers will never be at risk of generating spammy engagement from fake followers.
Another main feature of Kicksta is that users can select target accounts for the service to focus on when fostering growth via engagement.
Specifically, Kicksta provides Influencer and Competitor targeting, so you can identify your top competitors and the main influencers in your niche on Instagram.
Kicksta also provides targeting features such as Account targeting, Hashtag targeting, and Location targeting.
So, if you want the service to focus on any specific accounts or to foster growth in the realm of certain hashtags or with accounts based out of a particular location, you can use all of these features to tailor the growth that Kicskta provides specifically to what you want.
With its Follow/Unfollow feature, Kicksta will follow ideal accounts on a customer's behalf, engage with their content, and later unfollow them. This gets the attention of the right accounts, which prompts them to take a look at your Instagram profile, and ultimately leads to organic Instagram growth.
Whitelist and blacklist features also help Kicksta to tailor each client's growth to their specific preferences.
With whitelist services, you can make note of specific accounts that already follow you and are particularly important to you; Kickta will then ensure that its growth methods don't jeopardize your relationships with these accounts.
Conversely, Kicksta's blacklist feature allows you to identify negative targets that you don't want to follow your account; Kicksta will then ensure that it doesn't attract these accounts to your profile.
With the like-after-follow feature, Kicksta provides multiple facets of natural engagement on your account by interacting with your target audience in an organic manner that includes more than just liking posts.
Kicksta's clean home feed feature allows you to ensure that your own Instagram experience isn't impacted by the work that Kicksta does on your account. As Kicksta follows accounts on your behalf, the service will also mute these accounts, ensuring that their posts don't clutter your home feed as you scroll through it.
Finally, Kicksta provides all users with an analytics dashboard where you can easily track your growth and monitor all of the work that Kicksta does on your behalf. This allows you to stay completely up to date with your growth journey, while still allowing Kicksta to do all of the heavy lifting on your behalf.
Targeting Methods
Both of these growth services employ targeting methods; let's take a look at how these methods compare.
Stormlikes Targeting Methods
With Stormlikes, you'll get access to a personal dashboard after completing the subscription process. Here, you'll be able to adjust the targeting of your growth by altering elements such as gender targeting, country targeting, delivery speed, and likes spread.
Kicksta Targeting Methods
Kicksta's targeting features are fairly broad and can also be adjusted once you set up your account. After establishing your Kicksta account, you can select relevant influencers and top competitors within your account's niche on Instagram.
You'll also be able to select specific accounts for Kicksta to target in growth, as well as hashtags and locations that you'd like the service to target on your behalf.
Another aspect of Kicksta's targeting is that the service allows you to blacklist any accounts that you specifically do not want to interact with.
Pricing Comparison
Now that we've established what each service has to offer, let's take a look at how their prices compare.
Stormlikes Pricing
With Stormlikes, buying Instagram likes depends on quantity. Users can purchase 50 likes for $1.39, 100 likes for $2.49, or 250 likes for $4.49. Additionally, the service gives the option for you to create your own package with as many Instagram likes as you need.
With this option, prices vary by case.
Stormlikes also has a pricing option for automatic likes, in which the service will send you an email every time you post, asking if you want to receive likes on that post.
This way, you'll only pay for the likes that you choose to receive.
Finally, it's important to note that Stormlikes has a free trial for 10 free likes, but an error message comes up if users attempt to employ this option.
Kicksta Pricing
Kicksta offers three pricing plans. With the Starter package, for $69 per month, you'll have access to all of the features listed in the "Kicksta Features" section. This package offers the lowest growth speed of all the options.
Kicksta's Advanced plan is available for $129 per month and includes all of the features in the Starter plan, plus welcome DMs, story likes, VIP email support, gender filtering, and targeting suggestions.
At $219 per month, the Ultimate plan includes all of the features in the Advanced plan, but it also provides users with 2,000 real new Instagram followers each month.
This is made possible as Kicksta works with global influencers in its network powered by InfluenceGrid to provide clients with a diversified audience and increased promotion.
Kicksta offers a 7-day free trial, and plans are contract-free and able to be canceled at any time.
Customer Reviews
Now let's take a look at what real people have to say about these services.
Stormlikes Reviews: Is It Legit?
Is Stormlikes legit? From what previous customers have said, it appears that Stormlikes may not be the best option. Three of the most recent reviews on Sitejabber all refer to Stormlikes as a scam, and a review from Socialpros warns users to stay away from Stormlikes.

Kicksta Reviews: Is It Legit?
Kicksta, on the other hand, has some great reviews on Trustpilot. Two of these recent reviews refer to Kicksta as "definitely worth the price" and "not a scam," and another says that "they know what they're doing."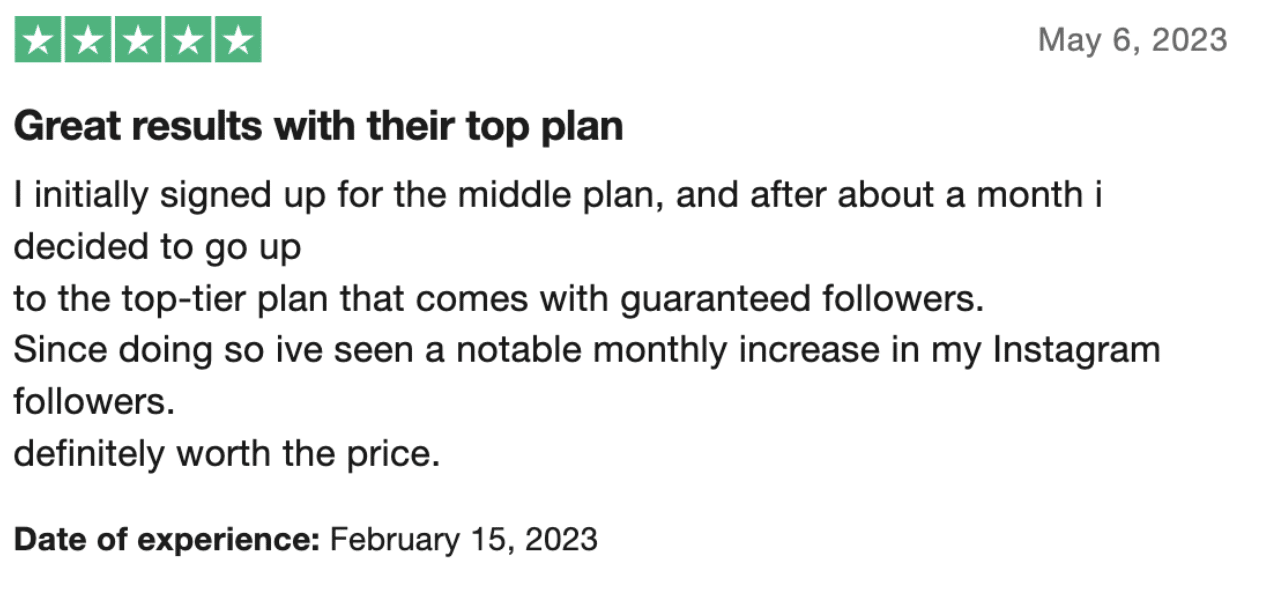 Customer Service
One of the most important aspects of an Instagram growth service is the level of customer support available.
How do the Stormlikes customer service and Kicksta customer service compare?
Stormlikes Customer Support
Stormlikes offers a chat feature that is only active when its representatives are online. Additionally, the service offers a form where users can send in a ticket voicing whatever question or concern they have.
The Stormlikes website notes that the team tries to respond within 24 hours of when a ticket is submitted.
Kicksta Customer Support
With Kicksta, all pricing plans include 24/7 chat support so that all clients can be helped at all times. Additionally, with Kicksta's more advanced plans, VIP email support is offered to enhance the customer service experience.
Pros & Cons
Both of these services have a lot to offer, but nothing is perfect. Here are some pros and cons to keep in mind with Stormlikes and Kicksta.
Stormlikes Pros & Cons
A definite positive of Stormlikes is that the service provides customers with likes from real accounts on Instagram. Getting organic growth from authentic accounts is extremely important in the Instagram growth process, so this is a definite pro.
Additionally, the fact that Stormlikes focuses on providing likes can be seen as a pro. As we mentioned before, likes are really helpful for boosting an account's engagement rate, which boosts Instagram growth, so this is a good feature to have.
However, the fact that Stormlikes only provides likes, and nothing else, can be seen as a con for the service. Likes are definitely helpful to the growth process, but they're most effective when paired with other growth features.
Another negative when it comes to Stormlikes is that the service has limited targeting features, only allowing customers to select country and gender targets. Other growth services allow customers to cultivate much more specific growth based on a wider variety of targets.
Kicksta Pros & Cons
One of Kicksta's pros is that the service provides organic, authentic growth through a variety of methods. Kicksta uses real engagement to build authentic relationships on Instagram on your behalf so that you cultivate lasting growth on the app.
Another positive aspect of Kicksta is that it provides a well-rounded experience for users. With the personalized dashboard available to all clients, Kicksta users can closely monitor their progress and adjust Kicksta's growth plan with a wide variety of targeting options.
One con when it comes to Kicksta is that it's a more expensive option than services such as Stormlikes. However, it's important to keep in mind that the higher price of Kicksta includes an array of services and features.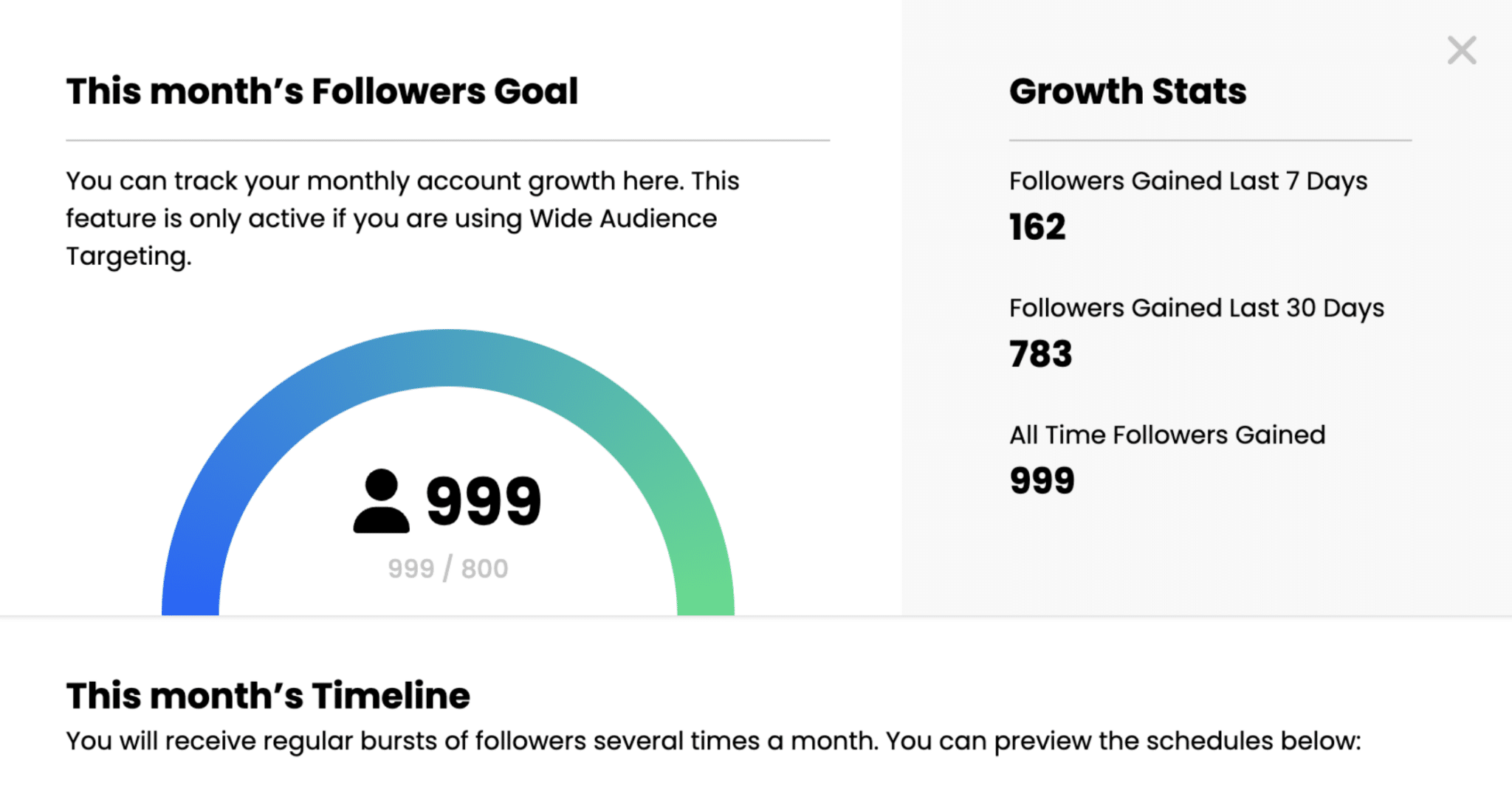 Finally, not all of Kicksta's plans include all of its available features. Where users pay more for an increased number of likes but always receive the same features with Stormlikes, Kicksta includes more features as users pay more.
Kicksta Vs. Stormlikes: The Verdict
So, which service is better?
When clients gain Instagram followers through Kicksta, it's a result of the service's organic process that includes multi-faceted engagement on behalf of Kicksta's clients. Stormlikes followers, on the other hand, are less of a guarantee. Stormlikes provides customers with any number of likes on any post, and this can help to generate an increase in followers for the same account.
However, Kicksta's growth process has the overall goal of helping clients accumulate real followers through organic growth.
Overall, Kicksta seems to be the better option, as it helps users to grow organically on the app and acquire followers through a natural process.
Additionally, Kicksta has a wide variety of features and provides 24/7 support to all customers. In the end, the Kicksta experience seems more likely to provide users with successful Instagram growth.
Instagram Growth Hacks
Join over 100k+ marketers and influencers who get the latest Instagram tips & tricks sent to their inbox every week