Reasons Why Your Instagram Account Is Blocked
post
If you're reading this article, it's likely you have found yourself in a situation too common for many Instagram users; your Instagram account is blocked. In an effort to keep the community safe, Instagram is very strict on the content they allow their community to share. Having an Instagram action blocked is incredibly frustrating and confusing, so we put together this guide to give you all the reasons why Instagram is sending you these alerts. If your Instagram action is blocked, here's why and what to do about it.
1. Violating the Rules of Social Media
While social media is meant to be a place where you can express yourself however you want, there are still some guidelines that you need to follow. If you break these rules, you may get your Instagram account blocked or even banned.
The platform has set in place community guidelines and rules to keep users safe and happy.
Sometimes you may not even realize you're breaking the rules, and on many occasions it's not completely clear why Instagram blocks an account. To avoid being banned on Instagram, below are the most common rules to keep in mind when posting and engaging with content.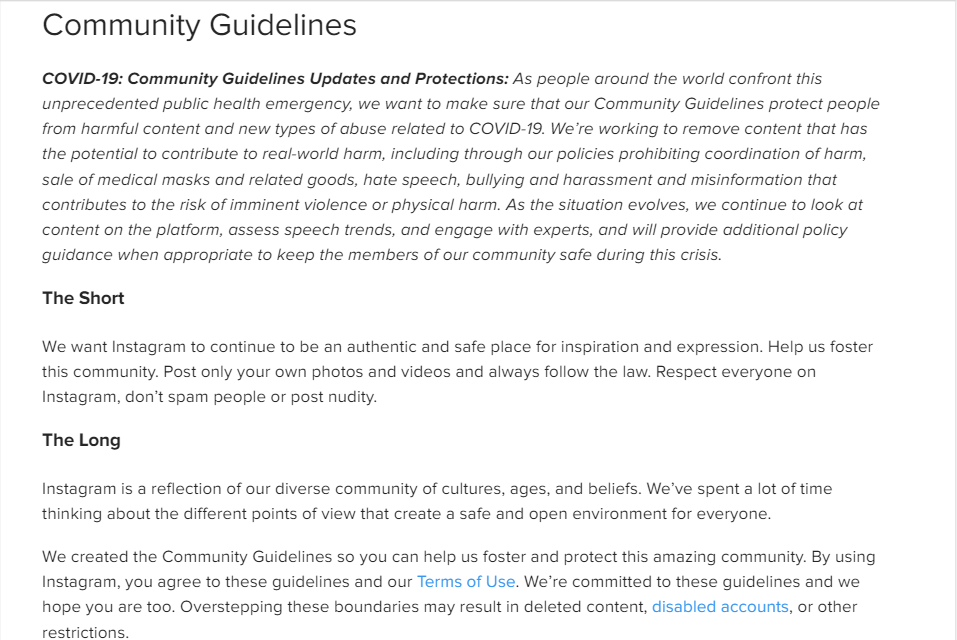 Instagram's Rules and Guidelines
Sexual Content
One of the reasons why you may have your Instagram account blocked is for posting inappropriate sexual content. In short, although Instagram is for those over 13 years of age, their main intent is to keep content appropriate for a diverse audience. You can read their community guidelines in depth here.
Some common reasons why Instagram blocks posts for sexual content are partially nude photos of children (for safety reasons) and nudity in general, no matter the intent. Though it may be done for artistic or creative purposes, nudity is never allowed and results in Instagram blocking content.
Violent Content
Next, you can have an Instagram action blocked or even be banned on Instagram for posting violent content. It's never okay to encourage violence on this platform. The only exception Instagram allows when discussing violence is when it's being shared to challenge it or raise awareness.
Instagram strives to foster a positive, diverse community. Because of this, you can be banned on Instagram for making serious threats of harm to public safety.
Instagram asks users to be thoughtful when posting newsworthy events. To avoid being banned on Instagram, avoid posting videos of intense or graphic violence.
Posting content to condemn, raise awareness or educate may not be one of the reasons why Instagram blocks your content, but it's important to use your best judgement and caption your photo with a warning.
Copyrighted Content
An Instagram account blocked could also be due to issues with copyrighted content. Reposting is an effective and popular strategy to create user generated content and switch up your feed.
In order to avoid your Instagram action blocked, give credit where credit is due. Instagram strives to keep their community strong and to avoid conflict, so they suggest working out copyright issues directly with the members involved.  
If you do arrive in a situation where your content has been copied or reposted without proper tagging or permission, avoid having your own Instagram account blocked by filing a copyright report rather than harassing the user.
2. Using Bots to Boost Engagement
Using automated bots to boost engagement or increase likes, comments and followers is a sure fire way to get your Instagram account blocked. All users on Instagram, whether you're a business account or not, are hungry for engagement. However, to avoid being banned on Instagram, you'll have to organically increase your engagement. A smaller more engaged audience has a higher likelihood of making a sale than a large audience full of fake followers.
Instagram tracks your account and if it sees you liking, following, or commenting an abnormal amount, it will alert Instagram of your potential use of a bot and lead your Instagram action being blocked.
Beware of Follower Promises
Here at Kicksta, our primary focus is real engagement and followers. We strive to expand your audience, build your social influence, and promote your brand. Our growth tool will get you more Instagram followers guaranteed and no Instagram actions blocked.
There are tons of services that offer instant gratification in the amount of followers you will get for a certain price. However, your Instagram account will be blocked for authorizing these actions on your account. If you haven't realized yet, buying followers is a bad idea.
Services that promise a specific amount of followers fast are a guaranteed way to alert Instagram of foul play. If you're buying followers in bulk, Instagram will notice a spike in followers, likely will flag your account and if repeated enough times, you may be banned on Instagram.
If your goal is to avoid getting your Instagram account blocked and gain genuine followers, we have a solution. To avoid this problem, only use services that focus on organic growth and pursue real followers. This will allow for a slow increase in followers while not alerting Instagram.
Why Fake Followers Do More Damage than Good
Having your Instagram account blocked isn't the only reason you should stray from buying followers. Fake followers do more damage than good to your brand, account and business.
There are many reasons why it isn't a good idea to purchase "organic" followers. Aside from the risk of being banned on Instagram, purchased followers correlate to low engagement, lack of credibility and a follower drop off. Too many fake followers also lead to compromised analytics and less website traffic.
Compromised analytics will hurt you when negotiating with brands for sponsored posts and will make it difficult for you to compare how well a post performs.
Fake followers will not bring in sales or website traffic. If Instagram is one of your main marketing tools, you don't want followers who won't make a purchase or could lead your Instagram account to be blocked.
3. User Complaints
User complaints can play a large role in getting your Instagram account blocked or flagged by the platform.
If enough users report your profile or photos, this can alert Instagram and result in getting an Instagram action blocked or even your account disabled. Here are some of the common reasons a user complaint could get your account blocked.
When you go to report an account, the app offers two options: "It's Spam" or "It's Inappropriate".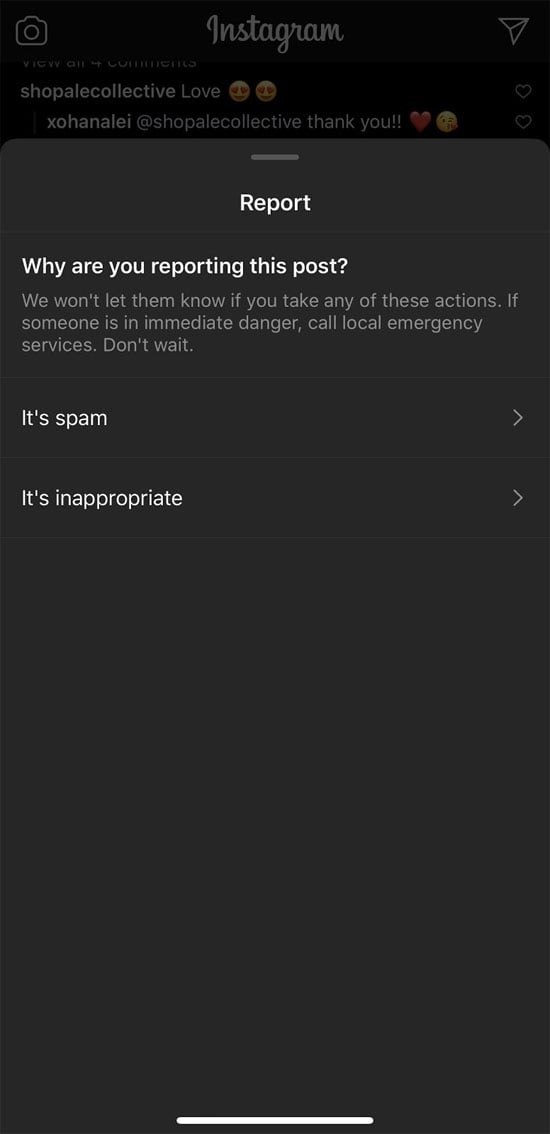 If you choose "It's Spam", this will automatically block the reported account, so you mutually will not be able to see one another's content. An account considered spam either posts excessively or other similar behavior that is not deemed authentic.
If you click "It's Inappropriate", you're redirected to another page to fill out additional details about why you're reporting the account. As you may guess, Instagram receives a lot of these notifications, so your answers will determine how much action is taken.
Flagging someone for posting annoying content or spam will likely not immediately get your Instagram account blocked. On the other hand, posting inappropriate content will be taken more seriously by Instagram.
Finally, one of the most popular user complaints is one you may not realize. The option: "This profile is pretending to be someone else".
While it's not shocking that people may want to take over celebrity or influencer accounts, this frequently happens to normal peoples' accounts. Instagram offers the options to choose if you, someone you know or a celebrity are the one being hacked.
4. Logging in From Multiple IP Addresses
When discussing the topic of an Instagram account blocked, this is one that is not as commonly discussed. While Instagram has not made any official statements about whether they ban on the basis of IP addresses or devices, it seems rather obvious to the professionals that they do.
An IP address indicates the location from which you're logging onto Instagram, and it's an easy piece of identifying information to change. When someone uses Instagram, they are not only identified by their username, but also their password, IP address and MAC address, which shows the hardware of the device. If you're logging in to Instagram from multiple IP addresses or from multiple devices, Instagram may see this as suspicious activity and block you.
If Instagram decides to block someone, you won't be able to log on to the network using your username and password, from your old IP addresses, with the same MAC address, or with the same phone. Any attempt at logging in will be flagged by Instagram and send you back to square one.
Join 100k+ savvy Instagram marketers
If you are struggling to get the attention you deserve on Instagram, sign up for Kicksta today and start attracting more followers who are interested in your brand.
Temporary Block vs. Disabled
There is a big difference between Instagram's temporary block and having your account disabled. Instagram will warn you if you're close to having your account banned or disabled.
New Instagram automation restrictions will flag your account for performing any action at a high speed. This includes commenting, liking, following, hashtagging etc.; actions that could appear as spam. Instagram focuses heavily on reducing the amount of spam on their network.
If you receive a temporary block on your account, don't freak out. It's only temporary.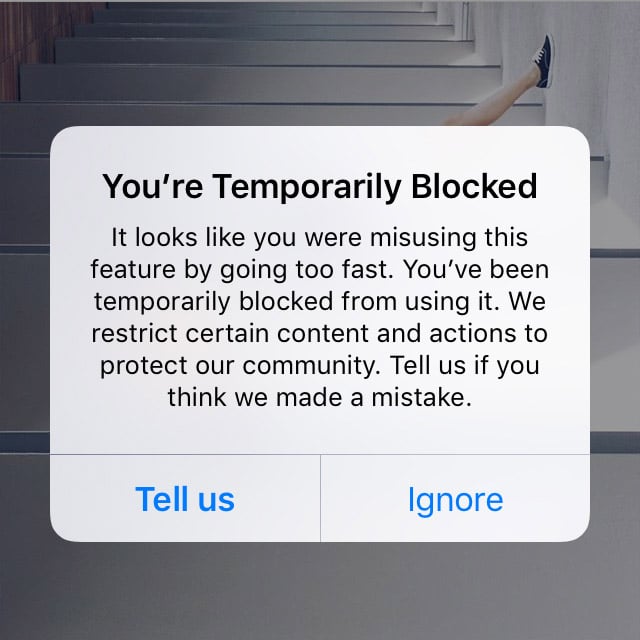 Research shows, if you get your Instagram account blocked, you won't necessarily be banned on Instagram. Typically, you'll only be blocked for a specific amount of time.
When your Instagram account is blocked, your account can be prohibited from performing any activity for 24-48 hours. After your block time is over, return to the app on the exact date and time of your unblock and perform an action. Error messages will notify you if you're blocked, and continual action while your account is blocked will likely extend your block.
On the other hand, Instagram disables accounts for things like excessive profanity, spam, repeatedly being reported by other accounts, or violating Instagram's terms and conditions.
These accounts can be disabled without warning. You will likely see a message such as "your account has been disabled" or "We're sorry, something went wrong" or even an error like "username not found".
Your Instagram Account is Blocked : What Now?
If you had your Instagram account blocked, we feel for you. This is not an ideal situation. If you have created a business account, it's likely you have invested a lot of time and money into your page development, engagement and brand collaborations.
With a perfect grid, a large following and unique connections, it's unimaginable for it to be gone in the blink of an eye. Unfortunately, this scenario is all too common for Instagram users. One day, you could be blocked and not even know the cause.
To restore your account, there is an option to appeal the decision. If you do not see the notification, you may have issues with the login.
Unfortunately, if someone else deletes your account, Instagram will not be able to recover it. You can create a new account with the same email address, but you will likely not be able to use the old username again.
If you receive an error message with a learn more option, click it to let Instagram know your account was disabled by mistake.
A question on the next screen will allow you to identify whether you had a business or personal account.
Next steps include filling out the form. To restore your business account, specify your full name, Instagram username and email address.
Then, to prove your relationship to the company/business you will need to attach examples of documents like your license, registration certificate, confirmation of a domain registration, etc. This is to prove the account truly belongs to you.
Finally, click "send" and wait for an email. Hopefully, if you are not banned on Instagram, you should only be waiting one to two days for a response. When you do, do not expect to learn the reason for your initial disabled account. This information is unfortunately not disclosed.
Instagram Account Blocked: Infographic
Share this Image On Your Site
Blocked By Instagram
If your account is blocked by Instagram, hopefully this article gave you a deeper understanding on how this might happen and the actionable steps to avoid it happening again.
Instagram strives to foster a community that is authentic and safe and provides a space for inspiration and expression. They ask in short you only post your own photos and videos, follow the law, and respect everyone on the app.
Instagram is a reflection of our diverse community of cultures, ages, and beliefs. We hope our insight and tips help you better understand your part in the community and how you can make it a better place and avoid getting blocked.
Instagram Growth Hacks
Join over 100k+ marketers and influencers who get the latest Instagram tips & tricks sent to their inbox every week