Instagram Profile Pictures: 10 Best Practices You Should Follow In 2023
post
Have you looked at your Instagram profile recently? Today, we're talking about your Instagram profile picture. Some are good. Some are bad. And some just leave you scratching your head, questioning the stability of the human race.
"You never get a second chance to make a first impression." You've heard this saying a time or two throughout the course of your life, right? Though none of us can be for certain as to who first came up with it, the life lesson here is a good one and worthy of being internalized.
Considering Instagram is loaded with nothing but images, it's crazy to think that one simple circle photo could make or break your reputation. That said, it's the first image you share with Instagram Nation. As such, it's not all that far-fetched of an idea.
So, without further ado, how do you ensure that your Instagram profile picture is more of a stud than dud? Relax—the following 10 tips are bound to help:
1) Your Face Must Be The Featured Image Of Your Instagram Profile Picture
Seems like this one would be a bit of a no-brainer, doesn't it? If it's your Instagram account, why wouldn't you flash those pearly whites of yours for all to see?
Sure, it might sound strange, but it takes all of five seconds to scroll through your Instagram feed to find some random account with a puppy for a profile picture.
Here's the deal—people connect more deeply with faces, not animals or inanimate objects. So, if you're the face of your brand, you also need to be the face of your Instagram account, and that comes in the form of the Instagram profile picture.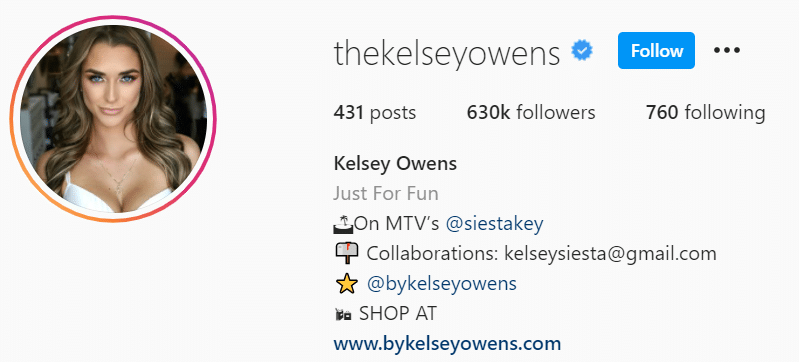 2) Use A Professional Photo, If Possible
The more crisp, clear and professional your profile pic looks, the better. Listen, if it's within your budget to hire a full-blown photographer to snap a few headshots for you, that's great.
If it's not, simply recruit one of your more hipster friends and have them use an expensive camera to capture some awesome images. Or, give someone your iPhone (or use your own self-timer) to create some high-quality photos that way. There are so many options for getting clear, beautiful photos now.
Whatever you do, do not use one of those sweaty selfies you took at Disneyland a few years back. It's not going to do the trick. You want to put your best foot forward with your audience, so spend some time taking a good photo.
3) Get Up Close And Personal With This Thing
No, there's no need to invade someone else's personal bubble. What we're getting at here is that you shouldn't try to bite off more than you can chew with your profile pic.
Think about it—on your official account page, your profile pic is already small. Now, consider how small it appears as users scroll through their respective Instagram feeds.
Crop your profile pic to include your head and a bit of your shoulders. Anything more will have you looking more like a mustard seed than an actual human being. If you're still not sure, take a few moments to scroll through your Instagram feed and only look at the profile pictures. You'll see what we mean.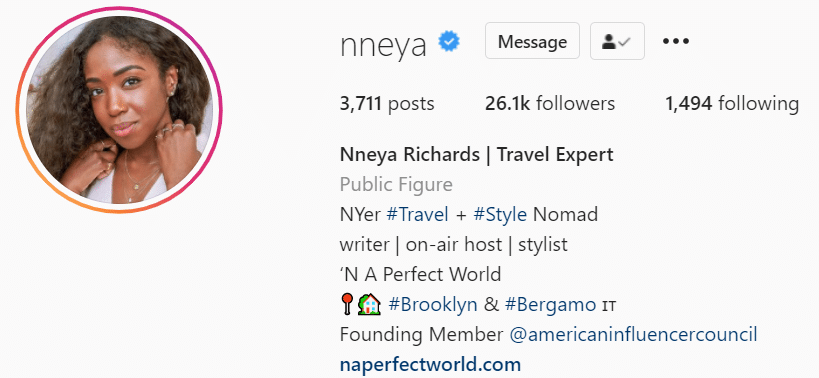 4) Don't Be Afraid To Present Your True Self
Your Instagram account is all about you. Because of this, it's your job to present your true self. You must be personable.
Once again, even if you're tackling Instagram as a way to promote your business, remember that potential customers will want to do business with people they know, enjoy and trust.
Yes, this might be hard and slightly awkward depending on the person, but if you can force a smile, your followers will much appreciate it. Your followers want to get to know you, and that begins with your profile picture. So share your personality, whether that means a goofy face, a professional outfit or something else entirely.
5) In This Case, Size Does Matter
Get your mind out of the gutter, people—we're talking about Instagram, here. Anyway, unbeknownst to most, an Instagram profile pic is tiny.
Seriously, it's only 110X110 pixels on a desktop computer. With this in mind, adjust your approach accordingly. This is why you want your image to be as cropped-in as possible. Your followers and potential followers want to see you in that upper left hand corner! Give the people what they want.
6) If You're A Business, Use Your Logo
If you're running a business account on Instagram, you can (and probably should) use your logo as your profile picture. This will help with the consistency of your branding from your website, other social media platforms, emails and anywhere else you use your logo or otherwise present your brand.
Using your logo also helps you come across as more professional, especially if your business is more than just you.
For influencers or business owners running a personal brand that they're the face of, it's still a good idea to use one of your own photos. This helps your audience connect with you and know who they're following. Businesses that use their logo as their profile picture can certainly still put personal photos in the feed or Stories for their followers to get to know them better.
7) Don't Use An Off Center Photo
It might be customary for bigger photos to use the rule of thirds and put you or the subject of the photo off to the side, but that doesn't apply to profile pictures. Your profile picture is everything, but it's also very small. If you use a photo that's off-center, you're going to make your face even smaller. You'll also make it harder for people to see and recognize you inside the little circle.
Instead, find a nice photo with you in the center. This will make it easiest for your followers and potential followers to see you, connect with you and decide whether or not they want to spend time checking out your account.
8) Don't Use A Photo You'll Have To Update Frequently
Your profile picture is a key part of your branding, so you want your audience to be able to see and recognize that it's you, even in that small circle on Instagram. If you're constantly changing out your profile picture, they'll likely get confused or may scroll past your posts without realizing it. Your profile picture is also used as the "cover" for your Stories at the top of the app. If someone doesn't recognize your picture, they might not click on your Stories.
Rather than using a photo that you'll need to change often, pick one that you really like and that goes with your brand. Don't use something seasonal, like an image of you with a Christmas tree or anything time-specific. Choose a classic, neutral background and a timeless photo.
9) Make Sure You're Using The Right Sizing
Instagram profile pictures are very, very small, but you want to upload a high-quality photo to them anyway. The last thing you want is to upload a photo that's too small that then becomes grainy when Instagram uses it.
Not only is this not a good look for your brand, it also just makes it harder for people to see an already small photo.
10) Make Sure It's On Brand
If your brand is always full of bright, happy colors, don't use a dark, moody photo for your profile picture. It will feel ingenuine, and your audience will likely be confused. Instead, choose a photo that matches your brand. This goes beyond just the colors, although that is important.
You also want to try to capture the mood of your brand – like if you're fun and playful or if you're quiet and serious. There's no wrong answer here, but you want to reflect your brand's personality in your Instagram profile picture.
Your Best Profile Picture
Let's not get too extreme with any of this—if your Instagram profile picture isn't quite up to snuff, it's still possible that you achieve great success on the platform.
However, it's such a simple fix. Take our advice and do it right the first time.
Besides, afterwards, you won't need to worry about it any longer and can focus all of your efforts on the more important aspects of building an Instagram image.
Bonus Content
Here's the infographic version of this post you can easily share on social media. Use the embed code below the image:
Share this Image On Your Site
Instagram Growth Hacks
Join over 100k+ marketers and influencers who get the latest Instagram tips & tricks sent to their inbox every week