A Complete List Of Banned Hashtags You Should Avoid In 2023
post
Hashtags are an important part of any business's Instagram strategy, but it's important that you monitor which ones you're using. You don't want to accidentally use a banned hashtag, as it can derail your entire Instagram marketing plan. If you've been using many different hashtags and other organic Instagram growth strategies and your account hasn't been growing much (or at all), you might be accidentally using banned hashtags.
What are banned hashtags?
Banned hashtags are hashtags that Instagram users have reported because the posts using them go against Instagram's guidelines. This means that any post that uses that hashtag will be hidden, which will only hurt your organic reach and growth efforts.
Banned hashtags are always changing, based on community reports and Instagram's investigations. Unfortunately, Instagram doesn't publish a list of the currently banned hashtags, but that's why articles like this one exist!
Why does Instagram ban hashtags?
Instagram bans hashtags because of reports from users. Typically it happens because people are posting inappropriate content and using certain hashtags. Some of the hashtags that are banned, though, are ones you wouldn't necessarily expect, like #beautyblogger. Sometimes, though, close alternatives are still okay. In this case, #beautybloggers, with an "s" on the end, is not banned and works just fine.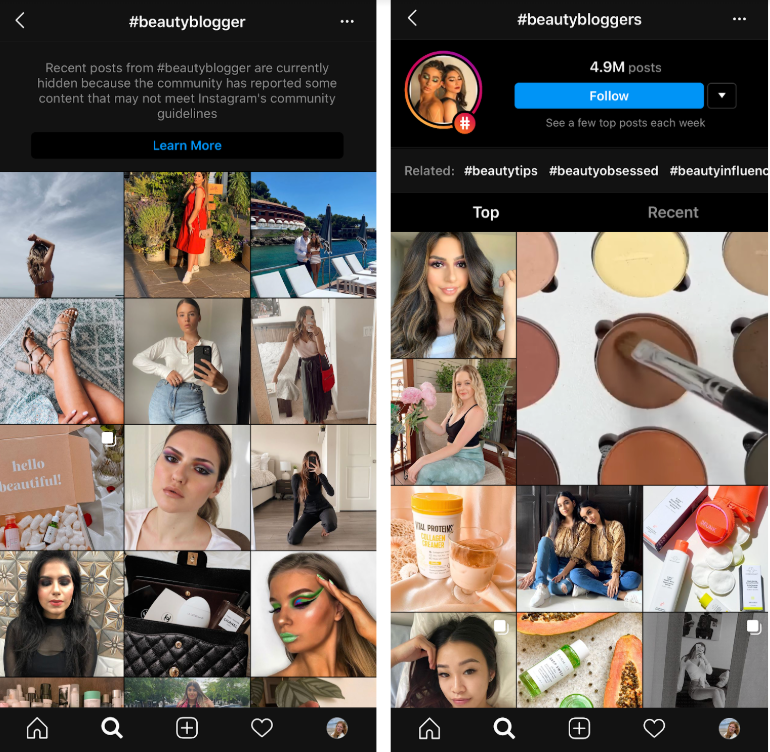 Most users wouldn't post inappropriate content with otherwise innocent hashtags. Instead, these posts typically come from bots or spam accounts, so this is another way that Instagram is trying to crack down on fake accounts to make the Instagram platform a better experience for its real users.
Are you using banned hashtags unintentionally? Take a look through this list and see if you've used any of these recently. If you have a post that didn't perform well and it used one or more of these hashtags, you might have found your answer.
The List of Banned Instagram Hashtags from A-Z
A
#abdl
#addmysc
#adulting
#alone
#always
#armparty
#asiangirl
#ass
#assday
#assworship
B
#beautyblogger (**Note: #beautybloggers plural works.)
#besties
#bikinibody
#boho
#brain
C
D
#date
#dating
#desk
#direct
#dm
E
G
H
#hardworkpaysoff (**Note: #hardworkpaysoff💪works.)
#hawks
#hotweather
#humpday
#hustler
I
#ice
#instasport
#iphonegraphy
#italiano
K
#kansas (**Note: #kansascity works.)
#kickoff
#killingit
#kissing
L
M
#master
#mileycyrus
#milf
#mirrorphoto
#models
#mustfollow
N
#nasty
#newyearsday
#nudity
O
P
#parties
#petite
#pornfood
#prettygirl
#pushups
R
S
#saltwater
#samelove
#selfharm
#single
#singlelife
#skateboarding
#skype
#snap
#snapchat (**Note: #snapchat👻works.)
#snowstorm
#sopretty
#stranger
#streetphoto
#sunbathing
#swole
#shower
#shit
T
#tag4like
#tagsforlikes
#tanlines
#todayimwearing
#teens
#teen
#thought
U
V
W
Y
What happens if I use a banned hashtag?
If you use one of these hashtags, your post won't be shown to your audience. The only way people will be able to see it is by visiting your profile, if you link it in your Stories, or if they happen to search for the banned hashtag and scroll through the results.
If you use too many banned hashtags, Instagram could flag your account, which could eventually lead to a "shadowban" or even your account being removed. The best course of action here is to be better safe than sorry. Check your hashtags before you use them to make sure you are only using working, approved hashtags that will show your post to more users and potential Instagram followers – not the opposite.
How to Avoid Banned Hashtags
Well, like we mentioned, Instagram itself doesn't publish a constantly-updated list of banned hashtags, and they do change somewhat often. You can begin by looking for resources like this and scanning through the list of current banned hashtags. If you're using any of them, remove them from your plan.
There are many different hashtag strategies companies can use. Some people like to create a large bank of hashtags that are compatible with their business and the posts they typically create. Then, they'll pull from that selection of hashtags each time they make a post so they pick the most accurate hashtags.
Other people create a few different "sets" of hashtags. Then, when they make a post, they choose the set that fits most closely with the post and use that. This can save you time, but it also means your hashtags won't be quite as specific and accurate as they would be if you selected them each time.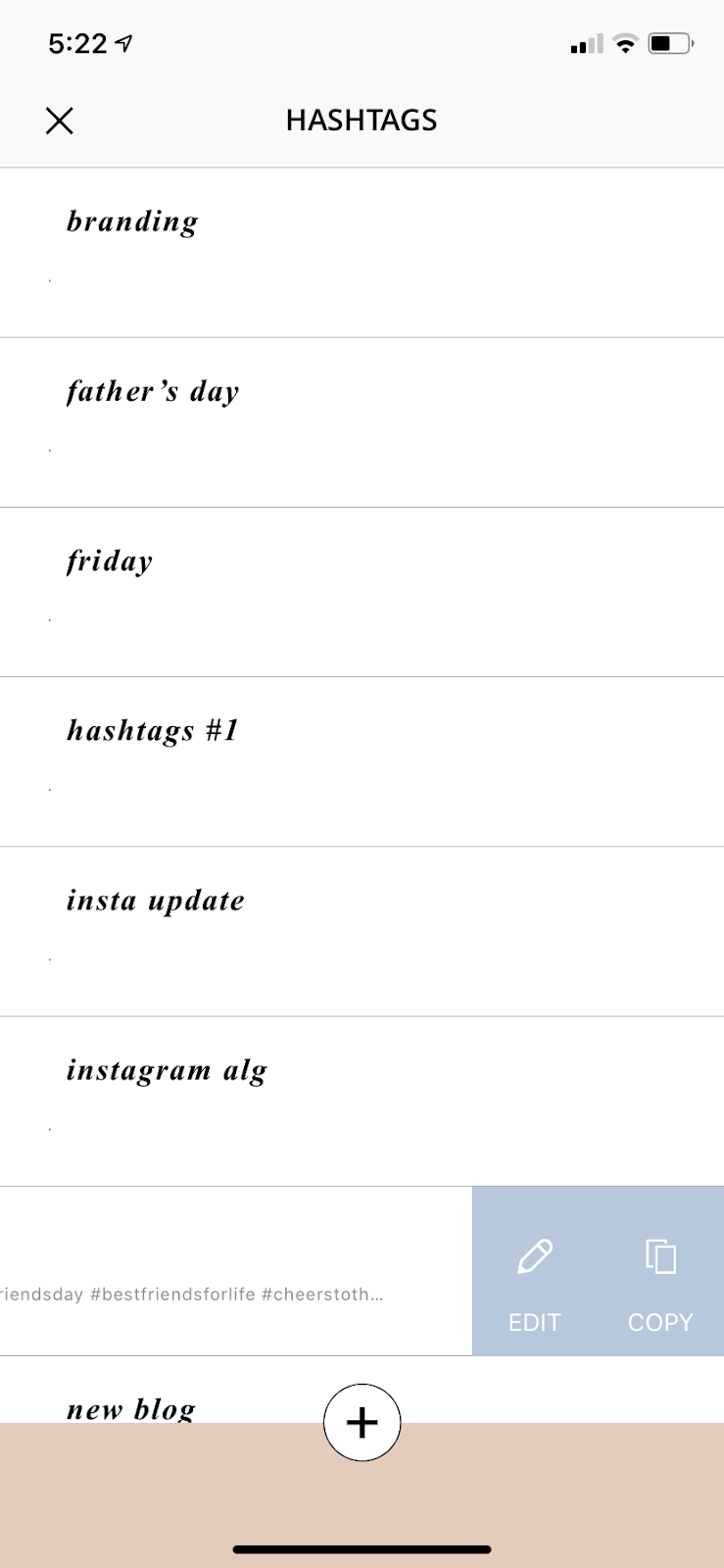 Still other people create a post and then come up with the hashtags they'll use right there on the spot without having a bank to choose from already. This is certainly the most time-intensive way, and if you don't have your hashtag list ready before you hit "Post," you're wasting precious time as the Instagram algorithm begins ranking and sorting the moment the post is published.
No matter which method you use to add your hashtags, it's a good idea to check them first to make sure you aren't using a banned Instagram hashtag. If you have a bank or sets of hashtags, you can check them occasionally to make sure none of them are added to the banned list. If you choose hashtags off the top of your head each time, you'll want to check them each time, too.
Because Instagram uses bans like these to find and eliminate fake accounts, it's important that you watch your behavior so it doesn't come across as spammy. One way to do this is by mixing up your hashtag usage. If you use the same 10 hashtags on every single post, that's an indication to Instagram that you might be a bot or a fake account. Instead, use different hashtags that apply directly to the image and the content of your caption. The algorithm can see if the hashtags you use match the objects in the image you posted, and this can help show that you are a real person running a real account.
To check to see if a hashtag is banned, simply go to the Explore tab and type in the hashtag you want to use. Then, click on it and see what happens. If you get a message that says that recent posts for that hashtag are currently being hidden because the community has reported the content doesn't match Instagram's community guidelines, it's a banned hashtag. If you search for it and you don't see this message, but instead just the number of posts and other information about the hashtag, it is clean and good to go.
If you haven't checked your hashtags recently and you've noticed a dip in the engagement on your posts, that could be a sign that one of the hashtags you're using has been banned. Take the time to search for your hashtags and see which one it is. Then remove it from your plan, add a new one in its place and watch your engagement increase again.
Banned Hashtags on Instagram
Banned hashtags can be a tricky thing to navigate, especially because they're always changing and there's never direct information from Instagram about them. However, the engagement and growth that can come from using good, accurate hashtags is well worth the extra steps it takes to avoid using a banned hashtag. Have you found a hashtag that's banned that isn't on this list? Let us know so we can keep this resource up-to-date!
Instagram Growth Hacks
Join over 100k+ marketers and influencers who get the latest Instagram tips & tricks sent to their inbox every week