Likes.io vs Kicksta: Which One Will Boost Your Instagram Presence?
post
When building an Instagram account for your business, its primary purpose is to increase your followers and then convert your audience into customers.
There are a lot of moving pieces to Instagram: posting quality content, engaging with your followers, growing your following, and analyzing your performance to see what works best for your audience.
Because there's so much going on at once, there are platforms and services that can help automate various elements of Instagram marketing so you can save time.
One popular segment of automation tools is growth services. These are platforms that help you increase your following without spending your time manually attracting Instagram followers.
Often times these growth services rely on your quality posts to keep your new followers around, so you should focus on creating great content while the growth service brings you more followers.
There are many Instagram growth services on the market, so today we're going to compare two of them: Likes.io and Kicksta.
This blog will serve as a starting point for your research, but you should always look closely at any service before you decide to invest in it.
Overview Of Top Two Instagram Growth Services
Let's start off with a high-level overview of these two Instagram growth services.
What Is Likes.io?
Likes.io is a social media growth platform that helps users get more followers on a variety of social platforms. Likes.io provides followers on Instagram, Facebook, TikTok, YouTube, Twitch, Spotify, and Soundcloud.
Depending on the platform, you can also use Likes.io to purchase Instagram likes and views, as well as followers. Engagement is another important part of social media, so this is a service that many people likely take advantage of.
What Is Kicksta?
Kicksta is an Instagram growth platform that works on your behalf to attract new, relevant followers who are excited to see your content and engage with it.
One of the best ways to grow your following on your own is through a strategy called engagement marketing.
With engagement marketing, you go to your ideal followers' pages and like a couple of their posts so they get a notification from your brand. Then, if they're interested in your account, they'll visit your profile and decide if they want to follow you or not.
The great thing about engagement marketing is that the decision to follow your account is left entirely up to the user. In this case, you can be confident that if they follow you it's because they want to see your posts and engage with them, because real engagement matters.
Kicksta automates this engagement marketing method and likes your ideal followers' posts on your behalf, saving you time but reaping you the rewards of engagement marketing through high-quality followers.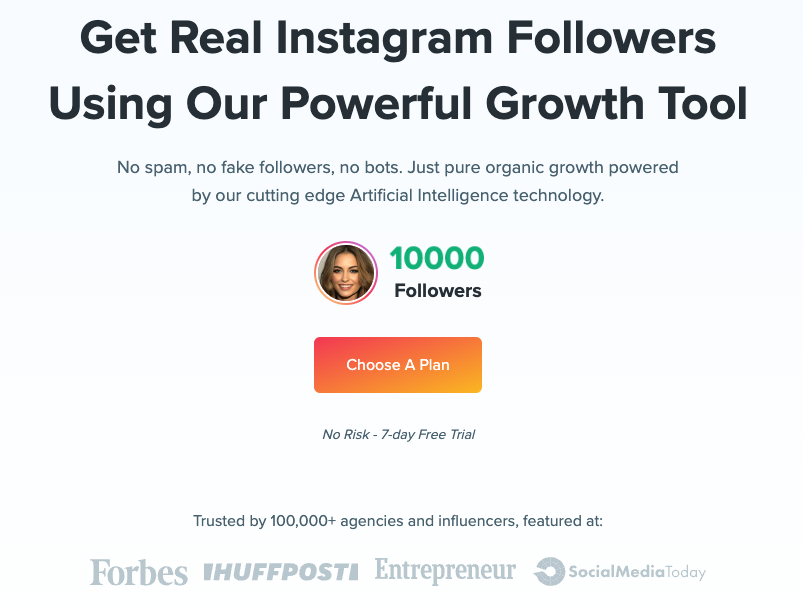 Key Features
Let's compare some of the key features between Likes.io and Kicksta.
Likes.io Features
First of all, Likes.io guarantees instant delivery to your followers. While this sounds like a great idea, it does raise the question of who are these followers?
It's hard to get people to decide to follow an account on command. They also offer 24/7 live support and claim that their followers and likes are from real people who are active on Instagram. They also offer a satisfaction guarantee for their customers. Beyond that, though, there aren't many features listed on their site.
Kicksta Features
Kicksta is an Instagram growth service that focuses on providing organic results to its customers. This service offers a 7-day free trial and does not require a contract, so you're free to cancel at any time.
When you work with Kicksta, you'll provide them with a list of target accounts; Kicksta will then engage with these accounts on your behalf with features such Follow/Unfollow, and Like after Follow.
In order to help you grow among your ideal market, Kicksta offers Account targeting, Hashtag targeting, Location targeting, Whitelist and Blacklist services, and Automatic Whitelist. You can also keep an eye on your growth with Kicksta's analytics dashboard.
Depending on which plan you purchase, you'll also have access to Welcome DMs, Story Likes, VIP email support, Gender filtering, and Targeting suggestions.
And, if you're worried that all of this extra activity on your account will clutter your feed – you can put your mind at ease. Kicksta's Clean Home Feed feature allows you to continue viewing only posts from the accounts that you originally followed, as you scroll through your feed.
Getting Started
Working with a new automation system can feel daunting, so we'll show you how to get started with both Likes.io and Kicksta.
How To Get Started With Likes.io
Getting started with Likes.io is fairly simple. Begin by choosing your package, or how many followers you want to purchase. Then provide your username and email (not your password), and complete your purchase by making your payment.
Then, you should begin to receive your followers immediately. Because you get your followers right away, there's nothing else you need to do once you submit payment. If you encounter any issues, though, obviously you can reach out to their customer support team.
How To Get Started With Kicksta
Getting started with Kicksta is also very easy, but it does take an additional couple of steps.
Begin by choosing your plan and creating an account on Kicksta's website. Then provide your Instagram login information and payment method.
Once you've finished signing up you'll get an email confirmation. You can access your portal and choose your targets and set any other advanced targeting if you have access to it.
Then, Kicksta will get to work establishing your account, and within 24 hours you'll receive a confirmation email that activity has begun.
Keep in mind that because Kicksta is automating the engagement marketing method, and people are deciding on their own whether or not to follow you so you can get real Instagram followers, you might not see results right away.
However, you can visit your dashboard to see how your growth and analytics are going. And, with Kicksta's Ultimate Plan, you're guaranteed to receive 2,000 new followers per month, thanks to the network of global influencers who will be promoting your content to diverse audiences.
So, if you're looking for specific monthly growth numbers, this might be the best plan to choose.
Pricing Comparison
Sometimes the decision just comes down to pricing, but be sure you weigh what you're getting with the price so you're spending money well.
Likes.io Pricing
With Likes.io, you're paying for a certain number of followers.
Their follower packages range from 100 followers for $2.95 to 25,000 followers for $279.99. There are many packages in between, and if you're looking for a certain number that they don't have a pre-created package for, they encourage you to reach out to their support team and they'll create a custom solution for you.
If you choose to buy Instagram likes from Likes.io, those are cheaper, starting at $1.47 for 50 likes, and purchasing views begin at $1.99 for 500 views.
Kicksta Pricing
Kicksta offers three pricing packages; the Starter, Advanced and Ultimate plans. With the Starter plan, you'll enjoy organic growth and real followers, Influencer and Competitor targeting, Account targeting, Hashtag targeting, Location targeting, Follow/Unfollow services, Whitelist and Blacklist services, Automatic whitelist, Like after Follow, Clean home feed, and an analytics dashboard.
This plan is available for $69 per month and offers the lowest growth speed.
With Kicksta's Advanced plan, at $129 per month, you'll have access to all of the features included in the Starter plan, while experiencing medium growth speed.
This plan also includes Welcome DMs, Story Likes, VIP email support, Gender filtering, and targeting suggestions.
Finally, Kicksta's Ultimate plan, at $219 per month, offers all of the above-listed features as well as high growth speed. You'll also benefit from Kicksta's network of global influencers, powered by InfluenceGrid. This will provide you with exposure to diversified audiences and 2,000 guaranteed followers per month.
Pros And Cons
When looking at products or services, sometimes it's best to have the pros and cons collected in one place, even if they've already been mentioned.
So that's what we'll do here: pull information from earlier as well as any additional elements into one section so you can get a good overall feeling of Likes.io and Kicksta.
Likes.io Pros And Cons
Two of the most obvious pros for Likes.io are that it's cheap and immediate.
When you purchase from Likes.io, you won't be spending much money and you'll start to see your followers roll in almost as soon as you complete your purchase. This fast delivery is a big advantage for some people.
Additionally, they offer a wide variety of packages, so there's sure to be one that fits your needs perfectly. Finally, they don't require your Instagram password, which makes many people feel safe using them.
On the cons side, by guaranteeing immediate delivery, it's impossible for them to be delivering you 100% real, organic followers. They claim to do so on their site, but there's no way to guarantee when real people would decide to follow someone.
They might be using bots, fake accounts, or some bank of real people, but they likely won't be people who are eager to see and engage with your content.
Kicksta Pros And Cons
Kicksta's most obvious pro is that the company offers real followers who choose on their own to follow you, thus ensuring that you have a dynamic, active follower base ready to engage and interact with your posts.
Additionally, Kicksta offers a variety of features, like the dashboard where you can see the followers you're getting and which target accounts they're coming from. You can also manually make changes to your targets to help guide Kicksta's AI to best grow your following for you.
Finally, while Kicksta's engagement marketing is built on organic growth, the Ultimate plan does include a partnership with InfluenceGrid to guarantee you an additional 2,000 followers each month. If you're counting on a set number of followers, that package might be worthwhile.
In terms of cons, Kicksta is pricier than Likes.io, but you're getting a more substantial overall product.
So, rather than just comparing the prices, consider what you're getting before you make that call. Additionally, Kicksta does require your Instagram password because they like your potential followers' posts from your account on your behalf. There is no way to automate this kind of engagement without giving access to your account.
Think of Kicksta as a personal assistant. If you hired someone in-house to do this, they would need to be logged into your account, too. Kicksta does the same thing, just much more affordable.
User Reviews
One of the best ways to really learn about a product or service is by reading reviews from people who have used it.
Likes.io User Reviews
Likes.io doesn't have an account on Trustpilot, so we found some Likes.io reviews on Site Jabber. Overall they have a 3-star rating, and their 5 reviews are fairly evenly split.
Two reviewers say that it's a great service that does what it promises, while three others say it's shady or a scam and didn't deliver.
Kicksta User Reviews
Kicksta has a 2.9-star rating on Trustpilot. Of their reviewers, 57% have given them 4- and 5-star ratings. Positive reviews talk about great and responsive customer service, as well as meaningful follower growth.
Likes.io vs Kicksta: Which Is Safer To Use?
Programs like Likes.io are often full of bots that will inflate your follower count without impacting your engagement rate, which can hurt you in the long run.
A growth service like Kicksta which uses a quality growth process is more likely to generate real followers that will impact your business.
After all, when you're growing your business through social media marketing, that's the goal. As always, do your own research so you can be comfortable in choosing your automation tools.
Instagram Growth Hacks
Join over 100k+ marketers and influencers who get the latest Instagram tips & tricks sent to their inbox every week