Good Instagram Bios: 1,050+ Ideas You Can Implement
post
When you're looking to get more Instagram followers, you need to have a good Instagram bio. Whether you're actively trying to get new followers by interacting with their pages or you're freshening up your hashtag strategy, all potential followers are going to look at your bio. One of the best things you can do to increase your chances of converting followers to visitors is to improve your bio.
We know that writing your own bio can be difficult, and sometimes you just need a little inspiration to get started. Whether you're looking for a great quote, inspirational saying to add, or something specific to your industry, (maybe fitness or photography), we have ideas for you. Some of these are ready-to-go, while others will need a little more customization to help them fit your business. We're going to be taking a look at how to create good Instagram bios and provide you with 1,050+ examples you can use for your own. (Pro Tip: Using Kicksta, the best Instagram growth service, coupled with having a great Instagram bio is a powerful combo in our books)
1,050+ Good Instagram Bios You Can Implement
Good Instagram Bios For Business
"The power plant doesn't have energy, it makes energy." – Brendon Burchard
I help to by .
Offering customers the best _______.
Providing customers in the with the finest .
Leading the forward with our innovation and creativity.
Treating our patients with the respect and dignity we show our family.
to help | | Free guide ⬇️
Doing our best to make you look your best
| Helping relieve stress
Raising the bar, one _____ at a time
Providing the best experience by producing the highest quality
We present the best process for your progress | Transforming
The future: imagined today. | Helping overcome
Leading the industry forward, beginning with you | Building up
Your success is our priority.
Your full service, _______ based out of .
We're a focused on based in .
Official home of (brand name) on Instagram
Putting customers first since
Read our stories + shop our feed: click the link and tap a photo
We've got you covered on [@brandname]
Great selection of (type of products) merch
Personal styling for everybody
Empowering our students to make an impact
Share your photos with us using #(brand name)
We make great and work a lot more than our feed suggests
Official home of (brand name) on Instagram
Serving you since
Not your average (product type)
The place for , and great photos
International, award-winning
The official account
:
's top choice for
We're a that
We deliver to
The best behind-the-scenes insights from
Welcome to the community
We believe in , will you join the community?
Want to know more about ? Hit the follow button
Free international shipping, and : That's
Check out our best-sellers and new products below
Drop us a line at
Like what you see? Click the link below to shop our Instagram
Join the community with #brandhashtag
The ultimate selection of merch
Follow us to be the first to learn about new sales
We 💜 seeing your purchase: tag us @instagramname
What's your favorite product, #tag us
We're all about
Simply great in
You've seen our website, now check out the Insta!24. New products announced monthly!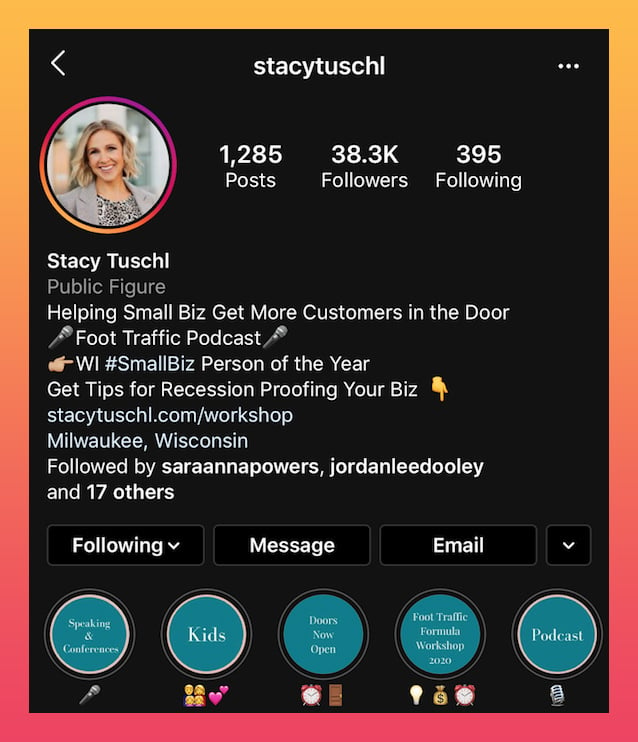 Fashion & Retail Instagram Bio Ideas
Your ultimate guide to the hottest styles and latest trends
Keeping you in style all day, everyday
"Shoes transform your body language and attitude. They lift you physically and emotionally." —Christian Louboutin
From boots to button downs, we're here to tell you exactly what to buy…and what to leave on the rack
Keeping you in touch with fashion's finest in every season
Shop ___________ in store and online now.
Dress for success with _________
"Luxury is the ease of a T-shirt in a very expensive dress." ―Karl Lagerfeld
____ fashion found here
Changing the fashion industry, one ____ at a time
Everyday style brought to you every day
Welcome to your virtual closet
"Fashion is what you're offered four times a year by designers. And style is what you choose." —Lauren Hutton
A peek into my fashionable life
How and when to mix and match: price points, fabrics, patterns and more
My glimpse into my wardrobe: trendy, affordable and chic fashion
My outfits in tiny squares
I don't do fashion, I am fashion.
I dress as if I'm about to see my arch nemesis
"I need new clothes." – Me, every damn day
Shopping is my therapy – hey, it's cheaper 😉
My ex doesn't go with my outfit
I'll make you stop and stare
Sharing Inspiration. Finding Joy. Sending Love.
I may be a fashionista but I'm not all about labels
Personal styling for everybody
From . We ship worldwide.
For women without limits.
For the creative spirit.
Here to help you look good.
Women's clothing brand inspiring self-love + genuine sisterhood.
Elegance never goes out of style.
Fashion is what you buy. Style is what you do with it.
Life isn't perfect, but your outfit can be.
"I don't do fashion, I am fashion." — Coco Chanel
I could give up shopping, but I'm not a quitter.
Everyday effortless style.
Shipping worldwide to help you look good for whatever's on the agenda.
Add to your photos to be featured!
The secret of great style is to feel good in what you wear.
Life's too short to wear boring clothes.
For women, by women. New collection coming soon!
Helping women look and feel beautiful for over !
Shop (brand name) for all your boutique clothing and formalwear needs!
We've got the dress of your dreams. Guaranteed.
In a world full of trends, we're here to help you remain a classic.
Never underestimate the power of a good outfit on a bad day.
Buy less. Choose well. Make it last.
When you shop, the world gets better.
If you can't stop thinking about it… buy it. 😉
Dress like you're going somewhere better later.
Life's a party. Dress like it.
Welcome to the home of (type of) style.
Thinking fashion since .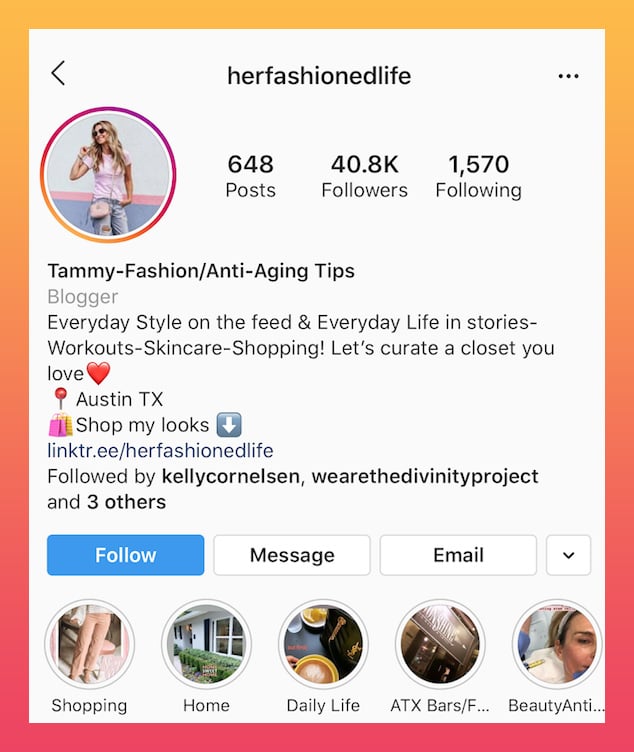 Health & Fitness Instagram Bio Ideas
Keeping you on that grind, 24/7
Looking for motivation and inspiration on your fitness journey? You've come to the right place.
It's time to make a change for the better. Let us help.
You've got goals. We're here to make sure you achieve them
A positive, uplifting space to share your fitness journey with others on the road to a healthier lifestyle.
You've only got one body – keep it clean
A healthy body starts with a healthy mindset – let's stay positive together!
You're not in this alone…Let us join you on your journey to a healthier, happier lifestyle.
Fitness is a lifestyle, and we're a community.
Down XXX pounds with a healthy lifestyle
Changing lives through movement and mobility.
Eat to live, not live to eat. – Socrates
Eating healthy can be delicious and easy. Meal prep videos every week!
Healthy living begins with a healthy mind.
Walking is the best possible exercise. Habituate yourself to walk very far. – Thomas Jefferson
Helping you build sustainable habits so you can live a more happy, healthy & fulfilled life!
Healthy living doesn't have to be difficult | Follow along for all the tips and tricks!
You don't need to be perfect. You just need to be better than you were yesterday.
Helping you build healthier habits
Hustle for more muscle
Train insane or remain the same
Strength comes from doing things you thought you couldn't
If you have a body, you are an athlete
"I/we help ______ to ______ with/without/in/through ______"
Working on myself, for myself, by myself.
High standards and low squats.
If you have time for Instagram, you have time for exercise.
Sore today, strong tomorrow.
I don't sweat, I sparkle.
Wellness changes everything.
Daily inspiration for a happy, healthy life.
Making fitness and nutrition easy to understand.
Ingredients for the good life.
Transform your life and reach your goals
Workouts, training tips, and nutrition advice for fitness enthusiasts
Your trusted resource to get stronger and improve your life
Pain today, muscles tomorrow.
Winners find a way.
Wake up beauty, it's time to beast.
Here to help you take care of your body, because it's the only place you have to live.
It doesn't get easier. You just get stronger.
Do something today your future self will thank you for.
Believe in yourself and you will be unstoppable.
Be the person who decided to go for it.
The only bad workout is the one you didn't do.
Join the movement
The world's biggest platform for fitness, health, and crushing your goals.
A brand for people who work hard and don't believe in excuses.
Teaching you how to move better and optimize performance.
Everything you need to stay up on the fitness community and on top of your game.
Feeling good > looking good
Wellness you can trust.
Commit to be fit.
Let's go.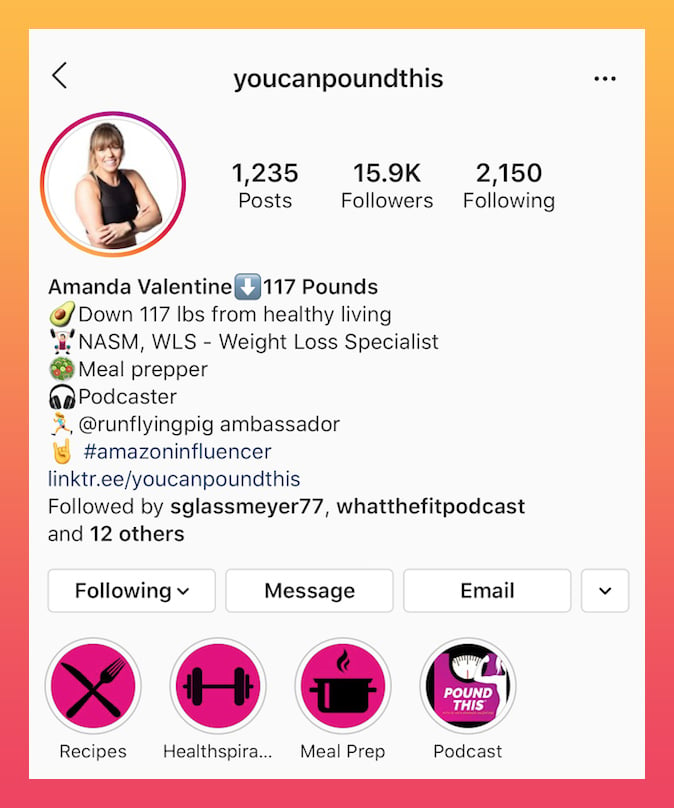 Travel Instagram Bio Ideas
Living my best life…out of my suitcase.
"Not all those who wander are lost." – J.R.R. Tolkien
Life begins at the end of your comfort zone. That's why I travel.
I've always got a bag packed.
Constantly checking for cheap flights.
Checking the countries off my list! ____/195
I only spend money on flights and AirBnBs!
Professional jet-lag fighter.
My favorite place I've ever visited is ______.
Always dreaming of _____
Wishing I was !
You can find me wandering the streets of !
"Don't worry about the world ending today, it's already tomorrow in Australia." – Charles M. Schulz
Travel is the only thing you buy that makes you richer!
Travel buddies for life ❤️
Age is no barrier when it comes to travel.
Your one stop shop for all things travel.
Follow along, let's travel the world together.
My best stories are found within the pages of my passport
I haven't been there yet but it's on my list
✨ wanderlust✨ a strong desire to travel
Work hard, travel harder
Wonder less, Wander more.
Always Ready for take off!
If I can travel on my own, why can't you?
There is a lot more in this world than your 9 to 5 job.
The secret of a happy life is to own a little, see a lot.
Where to next?
Life is too short to stay in one place, so BRB.
On vacation, be back soon.
In a committed relationship with my passport.
It's wine o'clock somewhere, so wheels up.
Onto the next destination.
Connecting people and places since (year)
Let's travel together.
We help you travel internationally at domestic prices and domestically with international flair.
Our team of travel agents is here to make your travel dreams reality!
Inspiring millions to travel since (year)
Following us may cause a moderate to severe case of wanderlust. Sorry, not sorry.
The world is a book and those who don't travel read only one page.
Here to help you flesh out your travel bucket list.
The Earth is what we all have in common.
We travel not to escape life, but so life doesn't escape us.
Oh, the places you'll go!
Helping you get lost in the right direction.
To travel is to live.
It's not where you go — it's who you travel with. Traveling with you since (year)
Life is short, the world is wide.
Travel far enough and you'll meet yourself.
Don't listen to what they say. Go/come see for yourself.
Traveling leaves you speechless, then turns you into a storyteller.
Adventure is always worthwhile.
The world is yours to explore.
Live your life by a compass, not a clock.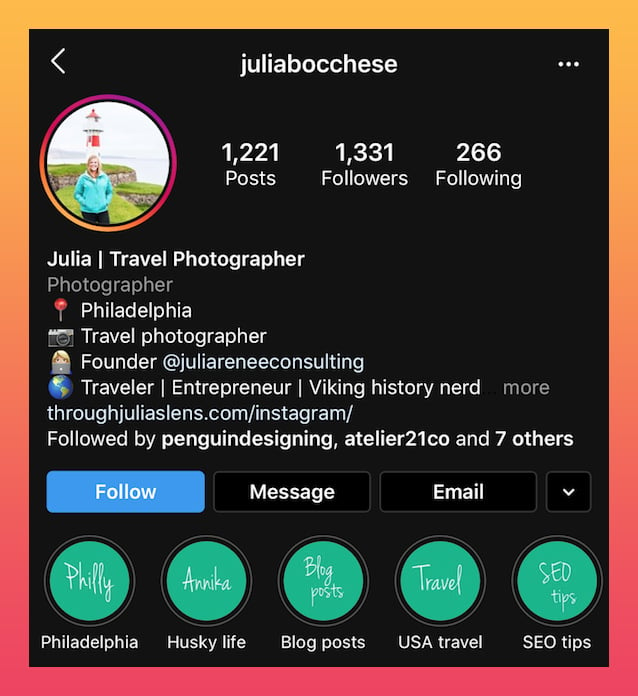 Sports Instagram Bio Ideas
"Every strike brings me closer to the next home run." – Babe Ruth
Information and inspiration for everyday athletes.
Basketball, football, chasing my kids down the street
Being an athlete means taking care of yourself. | Physical Therapist/Sports Medicine
The latest and greatest sports news of ____
Helping run smoothly
"Do you know what my favorite part of the game is? The opportunity to play." – Mike Singletary
Your headquarters for _____ updates. Catch us live every Monday at noon.
Inspiration from the greatest across sports
"If you push me towards a weakness, I will turn that weakness into a strength." – Michael Jordan
Sports can change a life. Teamwork. Dedication. Discipline.
"You were born to be a player. You were meant to be here. This moment is yours." – Herb Brooks
_____ Champions.
"Hard work beats talent when talent doesn't work hard." – Tim Notke
"Practice like you've never won. Play like you've never lost." – Michael Jordan
"You're never a loser until you quit trying" -Mike Ditka
Everyone champion was once a contender that refused to give up
Start Unknown. Finish Unforgettable.
Be a game changer – the world has enough followers.
Do or do not. There is no try. -Yoda
If you can believe it, the mind can achieve it.
If you can't outplay them, outwork them.
We don't have an attitude… we're just THAT good.
Where sports meets culture.
All out. All game. All season.
One team. One dream.
Life is tough but so am I.
The huddle is real.
Hustle, hit, never quit.
Limits, like fears, are often just an illusion.
You miss 100% of the shots you don't take.
Every champion was once a contender that refused to give up.
It's not whether you get knocked down… it's whether you get back up.
Sports don't build character. They reveal it.
Teamwork makes the dream work.
Attitude is everything.
Defend to the end.
Living our life 50 meters at a time.
One spirit, one team, one win.
Reach for the sky or don't even try.
The grind never stops.
Stronger than you think.
Fall down nine times, get up ten.
My best memories are made at practice.
Life is lived for game day.
"A trophy carries dust. Memories last forever." – Mary Lou Retton
There's no crying in .
Won't stop til I reach my goals.
When you can do better, good is never good enough.
You're someone else's example.
There's nothing like that feeling before you step out onto the field.
Talk with your pads. Play with your heart.
11 players, one heartbeat.
Only making snap decisions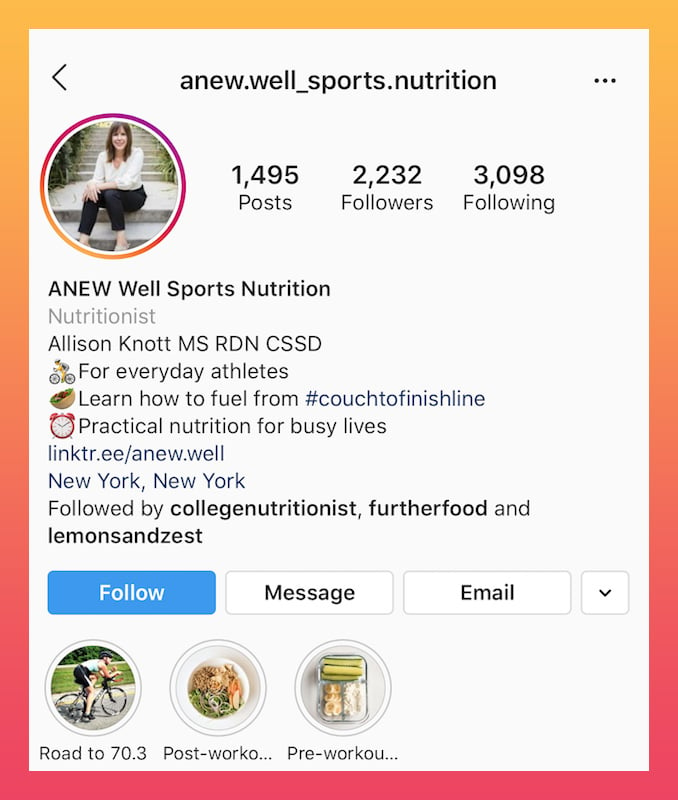 Music & Media Instagram Bio Ideas
"One good thing about music, when it hits you, you feel no pain." ― Bob Marley
The constant stream of music news that you need in your life
If music is what fuels your soul, you've come to the right place.
A collaborative space for artists and musicians. Want to be featured? Send us a DM!
Let the music move you…
"Music acts like a magic key, to which the most tightly closed heart opens." ― Maria Augusta von Trapp
available _____
coming to a city near you
Record Label/Awards/List Achievements
New music on Spotify now! Sharing our favorite behind-the-scenes every week.
"To live is to be musical, starting with the blood dancing in your veins. Everything living has a rhythm. Do you feel your music?" ― Michael Jackson
Your go-to authority for all the pop culture updates you could need. Live everyday at 2.
Highlighting a new artist every day, mixing genres, crossing lines
Making music. Teaching others. Living in the rhythm.
Putting my soul to words through music. Follow the journey.
Let the music fill your bones and the rhythm fill your soul.
Don't stop dancing.
I'm sorry, I can't hear you, my stereo is on full blast.
Listening to something more interesting than you.
Listening to music is the only good habit that I have.
Rocking and rolling.
Sometimes hearing the music is just the best way to ignore the world.
Tuning out the world…
All it takes is one song to bring back 1000 memories.
Music = Memories.
Rocking and rolling.
Music is life itself.
Where words fail, music speaks.
Life's a song.
Without music, life would Bb.
A day without music is like… just kidding, we have no idea.
Shhh, my favorite song is playing.
Download our new music streaming app today.
Your music, your stations.
Unlimited access to (number of) songs
The world's leading music company.
Music for everyone.
Creating musical moments that matter.
If the music is too loud, you're too old.
Serving up the hits since .
Music makes the world spin.
There's something about a song that can take you back in time.
Playing your favorite hits all day long.
Headphones in, eyes closed, stress gone.
All it takes is a little music to make everything right with the world.
Music is a piece of art that goes in the ears and straight to the heart.
Life is a beautiful melody, but the words are a little different every day.
Always ready for a good concert, great friends and cold drinks.
When music hits you, you don't feel pain.
Life's a dance floor and love is the rhythm.
Dance like no one is watching and sing like no one is listening.
Music is the soul of the universe.
Our newest release is now available for preorder. Check it out!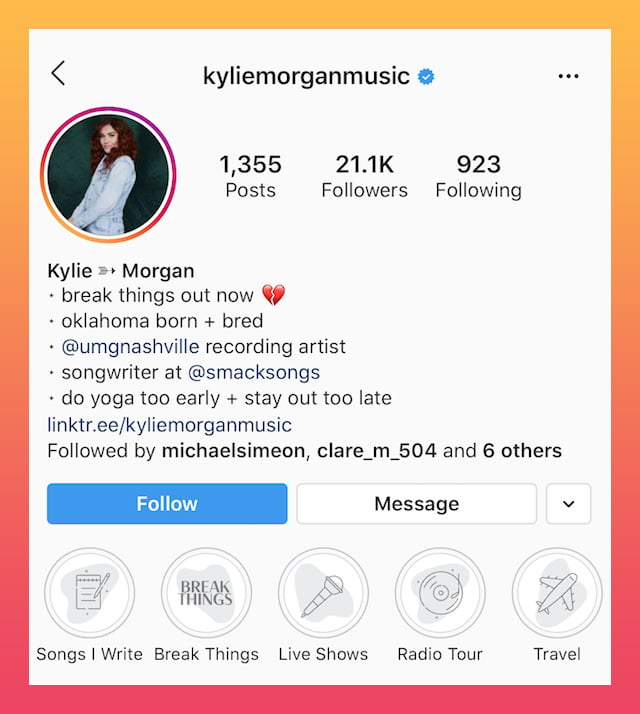 Educational Instagram Bio Ideas
It's never too late to start learning something new!
Finally ready to take the leap? Let us guide you through the world of _________!
You've thought about it long enough. Now is the time. You're ready to learn. Let us help!
Your one-stop shop for all things _________.
Teaching about to improve their lives.
Learning isn't only for children. When's the last time you learned something new?
Bringing learning to the smartphone. We go live every Wednesday at 9am!
"Education is what remains after one has forgotten what one has learned in school." – Albert Einstein
Looking to learn a new skill? Bite-size learning below ⬇️
Who says you don't have time to learn? Teaching in five minutes or less.
Everyone should know how to _______. That's why we're here to help.
I spent 15 years teaching at , but now I want to help you. Learn every day.
Learning without homework. A dream or what you'll find here?
Teaching and coaching the next generation of
Learning never needs to end.
The art of teaching is the art of assisting discovery.
Change is the end result of all true learning.
Want to jumpstart your education? Click the link below!
BRB. Working on the next big thing.
Carpe Diem, seize the day!
Work smarter, not harder.
Your GPA is REALLY telling you to 'G'et a 'P'ersonal 'A'ssistant.
Messy bun and getting stuff done.
End of an era.
Believe in yourselves. Dream. Try. Do good. — Boy Meets World
Out of college, money spent. See no future, pay no rent. All the money's gone, nowhere to go. – The Beatles
This is the beginning of anything you want.
Hey Google, why don't you sit next to me during my exam?
Inspiring students to be fearless learners for life.
Here to celebrate the ideas of teachers and students around the world.
Because learning changes everything.
Providing learning activities to help champion their potential.
Inspiration and information about what works in education.
Trusted by parents and teachers since (year)
Education is power.
Education is the most powerful weapon you can use to change the world.
Education is all a matter of building bridges.
Education: a gift that no one can take away.
School is the path, not the point.
Teaching is all about assisting discovery.
Study well, work hard and the rest will follow
If you want to change the world, start by broadening your mind
Pain is temporary, degrees are forever
Helping students to achieve the next big thing
Believe you can and you're halfway there
Henry Ford: Failure is the opportunity to begin again more intelligently
Challenges are what make life interesting, overcoming them makes life meaningful: Joshua J. Marine.
Every challenge encountered is an opportunity for growth
Your future starts here
It takes courage to grow up and become who you really are
The Instagram home for students
Education is like a bicycle: If you don't pedal, you don't go forward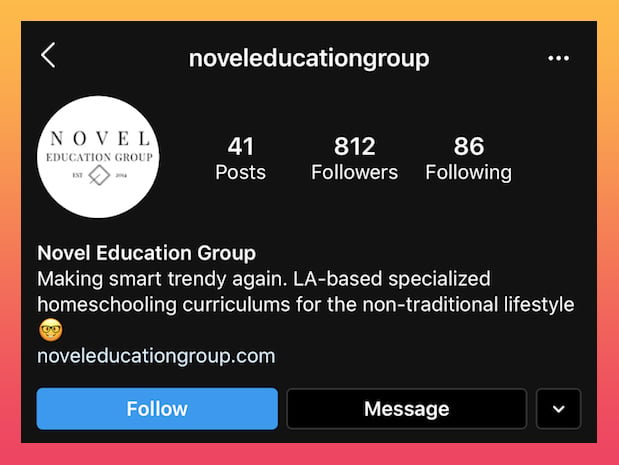 Food Related Instagram Bio Ideas
Sweet, salty, and everything in between
Take a trip with us to Foodie Heaven
Recipe ideas, culinary inspo and all sorts of tips and tricks for your own kitchen
Providing you with a steady diet of food videos and recipes
Caution: this account may make your mouth water
Wish I was a hobbit: I love my second breakfast.
Your destination for Thai-inspired recipes
The complete guide to eating and drinking your way through
Cooking my way through the _____ diet
Simple recipes with 5 ingredients or less. Ready-to-eat in 30 minutes!
Reviews and recommendations of where to eat across America
Eating mindfully can be as easy as 1-2-3. Guiding you to think before you chew.
What a eats in a day. Plenty of . Occasionally .
Food designed to inspire you to cook. And maybe make your mouth water.
recipes anyone will love! Yes, even your picky eaters.
Special talents including licking every plate clean.
Pass the menu please.
Your resident foodie
Perfect Fuel
Good Food, Good Mood
Bliss on a plate
Healthy + delicious
Our famous
goals
Food glorious food
goals
When life throws you a burger, eat it
Burger on the brain
Come for the burger, stay for the fries
Food is always more satisfying after a day's hard work.
I love you to the fridge and back.
Pork-fection on a plate
Come on, hog it out
You're one in a melon.
This might sound cheesy, but we think you're really grate.
In a serious relation-chip.
It's slice to meet you.
Love you, pho real.
You're totally our jam.
Love at first bite.
It's food o'clock.
Calories don't count on the weekends.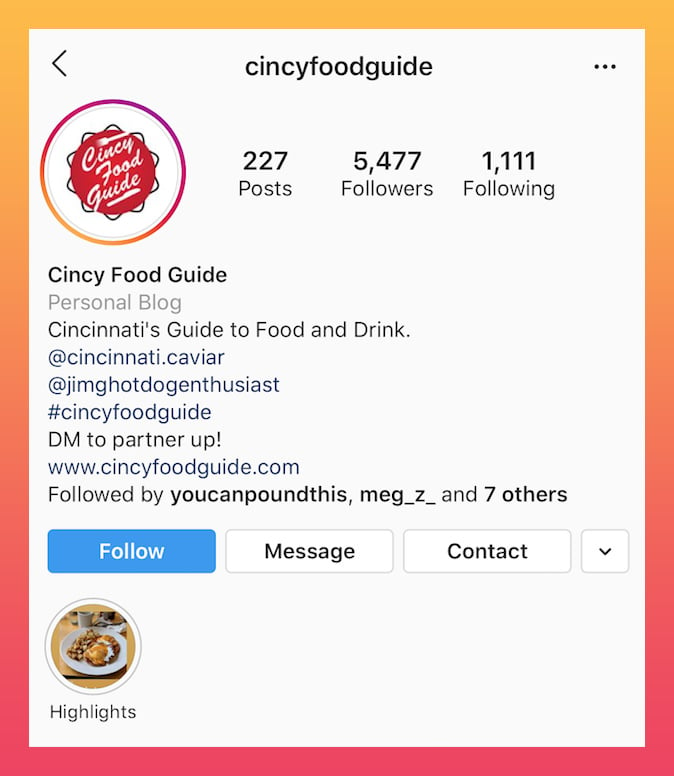 The Best Instagram Bio Ideas For Photography
Seeing the world through my own lens
My camera = your window to the world
My life through pictures
Models, nature and pets, oh my! Want your camerawork to be featured? Shoot us a DM!
Capturing glimpses of life's best moments
Getting into focus with the finest ______
Do you see what I see?
Documenting my life and the things I love to see
Focusing on things that make me happy. Showing them to you along the way.
Experimenting with an iPhone, a tripod and a self-timer
| Started in 2016 | Your biggest fan.
Showcasing memories, love and joy through photography
Your neighborhood photographer, specializing in
Making photography easy. How to take pictures with an iPhone.
Photos around the world: my visual travel diary
"In photography there is a reality so subtle that it becomes more real than reality." — Alfred Stieglitz
"The best thing about a picture is that it never changes, even when the people in it do." — Andy Warhol
Welcome to my photo library in tiny squares. DM for inquiries!
Cinematic & portrait photographer
Southeast Wedding Photographer
Photographer | HI-Cali | Events | Travel | Portraits
Do you see what I see?
Documenting my life and the things I love to see
Passionate about capturing all of life's important occasions.
Making photography easy. How to take pictures with an iPhone.
Photos around the world: my visual travel diary
Wedding Photographer | Local + Destination Wedding
Your neighborhood photographer, specializing in
Photographer and biz educator based in (location)
Wedding photographer based in (location) or wherever your special day is happening.
Traveling elopement and wedding photographer — now taking inquires through DM's
Seeing the world through my own lens
I don't trust words, I trust pictures – Giles Peress
Capturing amazing experiences one snap at a time
Photography is the story I fail to put into words – Destin Sparks
Photos from around the globe: My photography diary
My camera – your event: Let's make it happen
extraordinaire since
Exposing reality one picture at a time
When I have a camera in my hand, I know no fear
Taking pictures is savoring life intensely, every hundredth of a second – Marc Riboud
Immortalizing moments with my camera
A picture never changes, even when the people in it do – Andy Warhol
Me and my camera: a Journey around the world
The story of a and their camera
Your tour guide for stunning spots in
Your world through my lens
Preserving amazing moments forever
Photography is life illuminated
Photograph: A picture painted by the sun – Ambrose in art
Photography is truth – Jean-Luc Godard
Photographer, artist, and creative mind
Your friendly neighborhood photographer23. Want to appear in one of my photos? Get in touch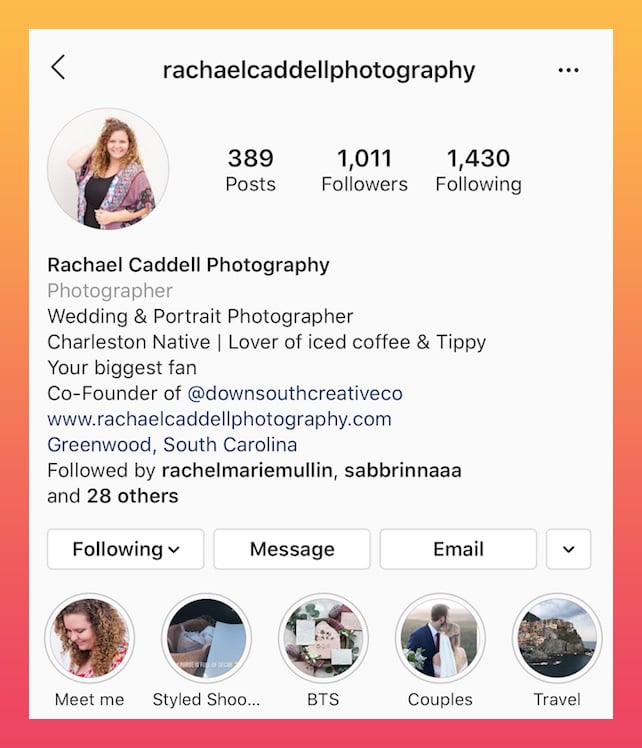 Short & Simple Bio Ideas
Life is short, so be happy
Just living life
Happy, happy, happy
Welcome to my world
Here for a good time
Never a dull moment
Smiling makes everything better
Life is like a roller coaster, so strap in and enjoy the ride
Live life to the fullest
Make each day matter
Everyday magic
Young, wild and free
Born to ____
Too blessed to be stressed
It doesn't get better than this.
Hello, it's me
Instagramming like it's my job.
Wanderlust
This is me
Follow me
Welcome to my Instagram
Check out the link below
This is my life
I got nothing
Screw perfect.
Happy thoughts
Just smiles 🙂
Meet (name)
Stressed, blessed and coffee obsessed.
Rebel with a cause
Nobody does it better
Thinking of you
Oldie but a goodie
Dream big
Making history
Stay classy
Never say never
Just living life
Happy stalking!
Enjoy 2% of my life.
Welcome to the journey.
Congrats, you found me!
So far, so good.
Keeping it real.
Searching for a coffee IV.
Obsessed with the sunshine.
Wanderlust.
Here for today
New goals each day
Rent's due
Sun, snuggles and slippers
Iced coffee is all I need.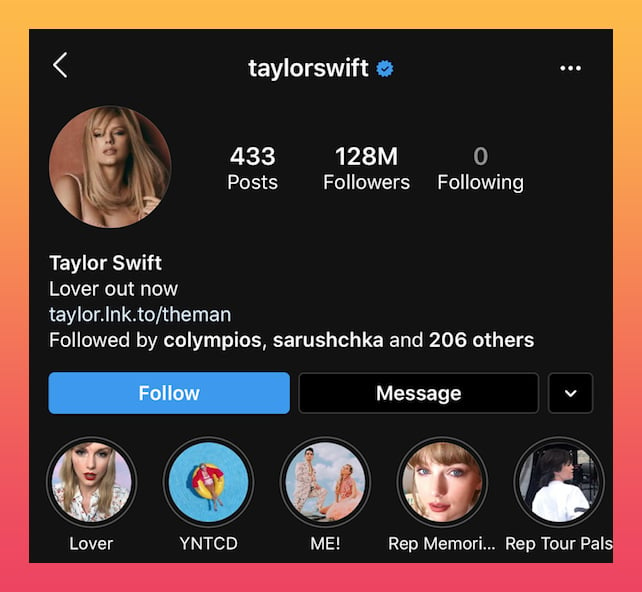 The Best Instagram Bio Puns
Don't be a salty beach.
Never wasting thyme.
Nothing makes me as happy as pi
Orange you glad you're following me!?
You're kale-in' me!
PIC-me-ups to brighten your day!
You shamrock my world!
You can find me at the barre.
Life is gouda.
All I need is carbs.
We are mint to be.
Life keeps giving me lemons. LIME tired of it!
We make quite a pear!
Owl always give a hoot about you.
Ready to wine down for the evening.
Architects are good at coming up with a concrete plan.
How much does a hipster weigh? An Insta-gram.
Puns leaf me smiling.
Trying to stay pawsitive.
I like to stop and smell the rosé.
I'm one in a melon.
Oh kale yeah
Tropic like it's hot.
The snuggle is real.
I love to take time to wine down.
Let's taco bout it.
Have a tea-rrific day!
I'd tell you my pizza joke, but it's too cheesy.
Bearly awake and always in need of hibernation.
I'll always be ~leaf~ in you.
I love bad puns. That's how eye roll.
My puns are koala-tea.
I could never be a doctor. I don't have enough patients.
I love you cherry much!
Waking up in the morning is always an eye-opening experience.
Math doesn't intimidate me. It's as easy as pi.
I lost my mood ring the other day, but I don't know how to feel about that.
I was wondering why the ball was getting bigger and bigger. Then it hit me.
It's hard to explain puns to kleptomaniacs because they always take things literally.
What do you call a bee that can't make up its mind? A maybe.
If everything is coming your way, you're in the wrong lane.
What are the strongest days of the week? Saturday and Sunday, the rest are weekdays.
Sleeping comes so naturally to me, I could do it with my eyes closed.
I used to be indecisive; now I'm not so sure.
I'm reading a book about anti-gravity. It's impossible to put down!
Coffee has a rough time in my house. It gets mugged every single morning!
That baseball player was such a bad sport. He stole third base and then just went home!
I've started sleeping in our fireplace. Now I sleep like a log!
Cactus puns are simply succulent.
Did you hear about the guy who got hit in the head with a can of soda? He was lucky it was a soft drink!
Three conspiracy theorists walk into a bar…You can't tell me that's just a coincidence!
Always remember to romaine calm!
Writing with a dull pencil is pointless.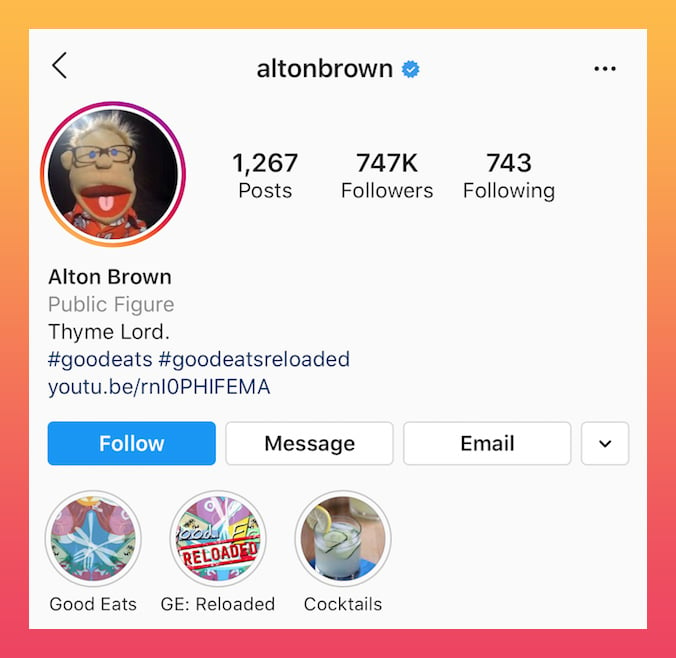 Funny Instagram Bio Ideas
Do unto others…then split!
I'm brilliant – just ask me!
Of course I talk to myself – I need some expert advice.
My wallet is like an onion – opening it makes me cry.
Never ask a starfish for directions.
Never trust a skinny cook!
When in doubt, mumble.
You're bacon me crazy.
If life gives you lemons, return them!
If you can't laugh at your own problems…give me a call – I'll laugh at them!
I'm glad I don't have to hunt for my food. I don't even know where pizza lives!
I'm so stressed that even my hair hurts.
I brainstormed so hard I got struck by lightning.
It's not sarcasm, I just don't like you.
I like to keep my six-pack well insulated!
When in doubt, filter that shit out!
I wish common sense was common.
Namast'ay on Instagram all day.
I apologize for anything I post while hungry
Humble, with just a hint of Kanye
I'd rather steal your dessert than your boyfriend
Sassy, classy with a touch of badassy
One day, I hope to become a grown up
Relationship status: Netflix and ice cream
The bags under my eyes are Chanel
Instagram bio currently loading
I'm a social media guru. No, really, I am.
Life is short. Smile while you still have teeth.
Reality called. I hung up.
The first five days of the weekend are always the toughest
A selfie a day keeps mental breakdowns away
If there was an award for laziness, I'd send someone to pick it up for me
When nothing is going right, go left.
Bus stations are where busses stop, train stations are where trains stop, my desk is a workstation…
Cartoonist found dead at home. Details remain sketchy
Panic, disorder, chaos: my work here is done
I might look like I'm doing nothing, but in my head I'm terribly busy
Dreaming of a 6-month vacation, twice a year
I think I'm having an allergic reaction to the universe
I'm not lazy I'm just in energy-saving mode
I'm so poor, I can't even pay attention in class
Living proof that nobody's perfect
Love might be blind, but marriage is a real eye-opener
Money talks: mine is always saying "goodbye".
Recovering selfie addict: It's not going well
I'm on the road to success, but it's under construction
Where am I and how did I get here?
I used to think I was indecisive, but now I'm not so sure
Home is where the Wi-Fi always connects
Instagram bio currently loading
Gifted gossiper, napper, and ice-cream eater
Don't worry if plan A fails, there are 25 other letters in the alphabet
A lie is just a great story ruined by truth
I only party on two occasions, when it's my birthday, and when it isn't.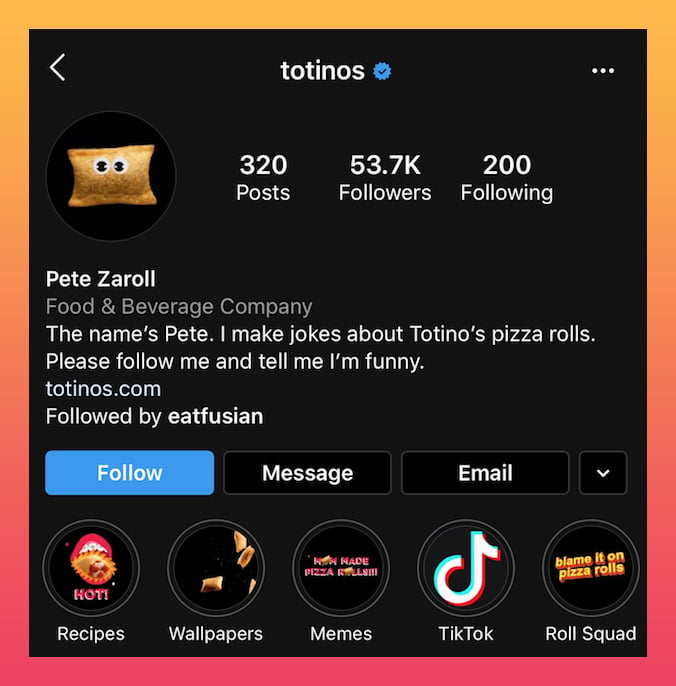 Inspirational Instagram Bio Ideas
Life is tough but so are you.
Pain was made for you to overcome it.
The man on top of the mountain wasn't born there.
Don't let yesterday ruin today.
Be someone else's reason to smile.
Rise above it!
Light the flame but don't get burned.
Life isn't about waiting for the storm to pass, it's about learning to dance in the rain.
If it rains, look for rainbows. If it's dark, look for stars.
If you feel like you've been buried, maybe you've been planted. Bloom.
Sometimes you just have to suck it up and handle it.
It's easy to get caught in the waves, but there's always someone to pull you to shore.
Never be too busy to see the sunrise.
If you're up a tree, enjoy the view.
Never let the size of your dreams share you.
Prove everyone wrong.
Trust the timing of your life.
Impossible is for the unwilling.
The best revenge is massive success.
Eat, sleep, create.
Fill your life with experiences so you always have a great story to tell.
I strive to impress myself.
Everyday I create a life I love
When the world is dark look up to the stars 🌟🌟🌟🌟🌟🌟
Trying to watch more sunsets than Netflix
I'm ready – let's do this
Be a flamingo in the flock of pigeons
Making mistakes is better than faking perfection
Sprinkling a bit of magic
Sharing my happy thoughts
Capture every moment
I'm the rainbow 🌈 on the rainy day 🌧️
Act as if what you do make a difference, because it does.
Believe you can and you're halfway there.
Surrounding myself with people who are going to lift me higher
"Self-esteem means knowing you are the dream." — Oprah Winfrey
Success only comes to those who dare to attempt.
Nothing is impossible. The word itself says, "I'm possible!"
Stay positive, work hard, make it happen.
Great things take time. Don't give up.
Don't give your past the power to define your future
Be the change you want to see in the world
Don't cry because it's over, smile because it happened
Success is the sum of small efforts repeated day in and day out
What you do today can improve all your tomorrows
Your only limit is your mind.
No pressure, no diamonds.
Die with memories, not dreams.
You can totally do this.
You're always one decision away from a totally different life
Make each day your masterpiece.
Prove them wrong.
Add a little confetti to every day.
Focus on the good.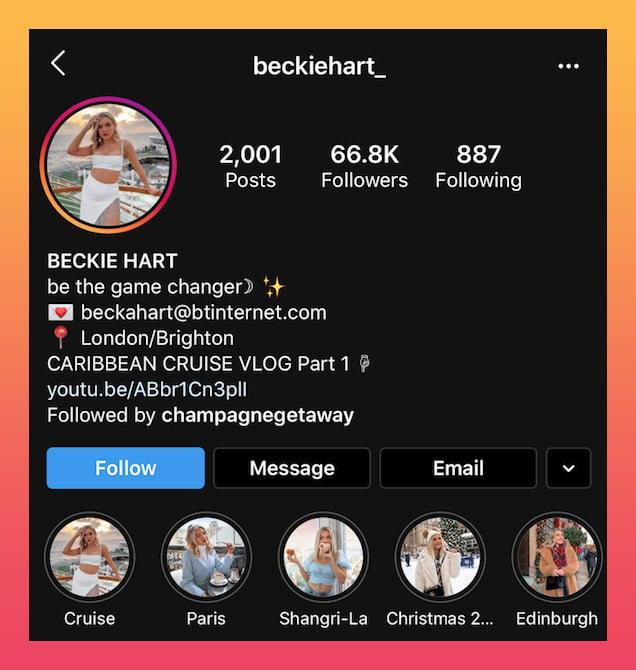 Instagram Bio Quotes
"Life is 10% what happens to us and 90% how we react to it." – Dennis P. Kimbro
"You may find the worst enemy or best friend in yourself." – English Proverb
"Don't worry about failures, worry about the chances you miss when you don't even try." – Jack Canfield
"Speak less than you know; have more than you show." – William Shakespeare
"Optimism is the faith that leads to achievement." – Helen Keller
"Power's not given to you. You have to take it." – Beyoncé Knowles Carter
"If you don't like the road you're walking, start paving another one." – Dolly Parton
"Done is better than perfect." – Sheryl Sandberg
"A good compromise is one where everybody makes a contribution." – Angela Merkel
"In order to be irreplaceable one must always be different." – Coco Chanel
"The best thing to hold onto in life is each other." – Audrey Hepburn
"I do not try to dance better than anyone else. I only try to dance better than myself." – Arianna Huffington
"Act as if what you do makes a difference. It does." – William James
"Believe you can and you're halfway there." – Theodore Roosevelt
"No matter what you're going through, there's a light at the end of the tunnel." – Demi Lovato
Fear is a reaction. Courage is a decision.
If you fell down yesterday, stand up today.
I would rather die of passion than of boredom. – Vincent van Gogh
This above all: to thine own self be true. – William Shakespeare
Often when you think you're at the end of something, you're at the beginning of something else. — Fred Rogers
Stay hungry, stay foolish. — Steve Jobs
The successful warrior is the average man, with laser-like focus. — Bruce Lee
A great man is always willing to be little. — Ralph Waldo Emerson
In order to be irreplaceable one must always be different. — Coco Chanel
Be like water. — Bruce Lee
The greatest glory in living lies not in never falling, but in rising every time we fall. — Nelson Mandela
Spread love everywhere you go. — Mother Teresa
The future belongs to those who believe in the beauty of their dreams. — Eleanor Roosevelt
It is during our darkest moments that we must focus to see the light. — Aristotle
Never let the fear of striking out keep you from playing the game. — Babe Ruth
Life is either a daring adventure or nothing at all. — Helen Keller
Whether you think you can or think you can't, you're right. — Henry Ford
Life isn't about finding yourself. Life is about creating yourself. — George Bernard Shaw
You only live once. But if you do it right, once is enough. — Mae West
Live as if you were to die tomorrow. Learn as if you were to live forever. — Mahatma Gandhi
Be who you are and say what you feel, because those who mind don't matter and those who matter don't mind. — Bernard M. Baruch
Be yourself. Everyone else is already taken. — Oscar Wilde
This above all else: To thine own self be true. — William Shakespeare
If opportunity doesn't knock, build a door. — Milton Berle
A journey of a thousand leagues begins beneath one's feet. — Lao Tzu
Everything has beauty, but not everyone can see. — Confucius
It is never too late to be what you might have been. — George Eliot
To live is the rarest thing in the world. Most people exist, that is all. — Oscar Wilde
The only thing we have to fear is fear itself. — Franklin D. Roosevelt
If you want the rainbow, you gotta put up with the rain. – Dolly Parton
You can't use up creativity. The more you use, the more you have. – Maya Angelou
The purpose of our lives is to be happy. – Dalai Lama
You are enough, just as you are. – Meghan Markle
It's okay to struggle. It's not okay to give up. – Gabe Grunewald
Make each day your masterpiece. – John Wooden
If you can dance and be free and not be embarrassed, you can rule the world. – Amy Poehler
Doubt kills more dreams than failure ever will. – Suzy Kassem
The best way to predict the future is to create it. – Peter Drucker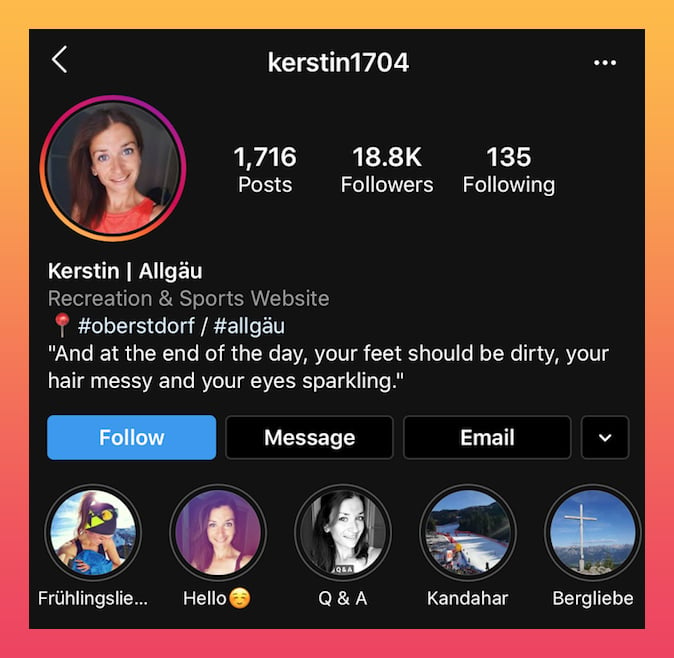 Instagram Bios With Emojis
🏋️ Never skip leg day 🏋️‍♀️
Life is better by the shore 🌴
❤️ Loving life ❤️
👑 Never drop your crown, queen 👑
☀️ You are my sunshine
When life rains on your parade💧, grab an umbrella ☔️
🍩 A donut a day keeps the sadness away 🙂
🙁 Turn that frown upside down 🙃
When life gives you lemons, 🍋 you know what to do 🤓
💋 xoxo 💋
Just roll with it 🙂🙃🙂🙃🙂🙃🙂
You're a gem 💎 Never let anyone tell you otherwise 🙅‍♀️
😁 Just keep smiling 😁
Never forget the beauty of dancing in the rain 🌧🩰
🎨 Your life is your own to create – paint it well 🧑‍🎨
My life in tiny little squares 📸
When in doubt, dance it out 🕺
Welcome to my exciting life on the gram 💥
Welcome to my 👑dom
👇 Check out my latest blog post 👇
🐦: (twitter handle) 👻: (snapchat handle) 🎥: (youtube handle)
Traveller ✈️ Book Lover 📖 Obsessed with tacos 🌮
We love all animals 🐶 and donate a percentage of sales to marine life 🐠
Cancer survivor 🎗️
Personal Trainer 💪 Dancer 💃 Meditator 🧘
Currently hanging out in 🇵🇹
❤️ Lover not a fighter spreading ✌️all over the 🌎
Entrepreneur ➕ Globetrotter ➕ Motivational Speaker
Hit the follow button for all the ☕️ you can imagine.
In my head I'm at the 🏖
Aloha 🌴🌴🌴🌴🌴🌴
Sweet like honey 🍯, sting like a bee 🐝
Life is short. Eat the ice cream 🍦
Life's a 🏝 Good thing I make a mean pina colada.
👇 FLASH SALE THIS WEEKEND ONLY – 50% 👇
Free shipping worldwide 🌎
We could all use a little more sparkle in life ✨
In desperate need of a dose of vitamin sea 🌊
🍟 foodie+moody 😄
📷 Like Photography✔ 🍬 Chocolate Lover ✔
💯 Official account 🔐
No Money 📂, No Car 🚙, But I'm Still Happy 😊
L💖 VE is in the air
Laugh while you have teeth 😀
Saving trees by not doing my homework ✏️📚📖
Recovering cake addict 🎂
Be🍁 ing in myself.
My life with the 🐶 🐕
You know I'm a 🌟
👇 Check out my life👇
🐦: (twitter handle) 👻: (Snapchat handle) 🎥: (youtube handle)
📷 Selfieholic
Finding paradise wherever I go 🏝
One life, one 🌎: Let's explore it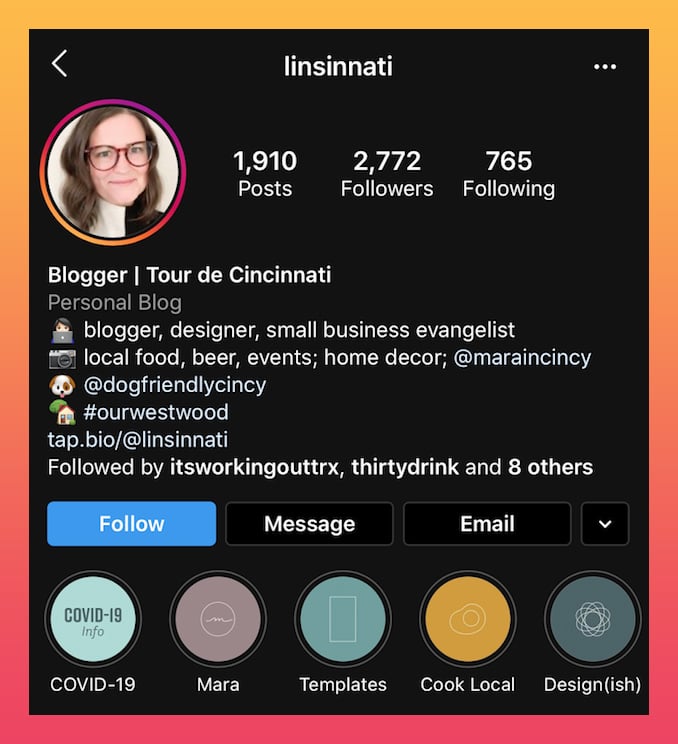 Good Instagram Bios For Your Pet's Account
PAWsitively the cutest _________ in all of _________
The fluffy life of _________
Tail: wagging Fur: fluffy Face: cute
Wagging my way through life
Did someone say TREAT?!
Just living a simple life of treats, walks, and naps
Eat, sleep, purr, repeat
Is it yappy hour yet?
Currently dreaming of walks and treats…
Hi, I'm ________ and my hobbies include taking long walks in the neighborhood, eating everything I can get my paws on, and getting into trouble 😊
The life of a cat is simple…all I do is take naps and get whatever I want
When you're this cute, you just can't help your tail from wagging! (But why would you want to?!)
Welcome to my life of belly rubs and adventures to the park!
Just find me an open sunbeam and I'll be happy…Piles of clean clothes also do the trick for nap-time
Don't bother following if you don't like playing fetch and having snacks!
Everyone calls me Buddy.
Will wag my tail for treats.
Walk it like I talk it 🐶
I am the mother to a kitten and two pups, and trust me when I tell you that being their mother gives me more joy than I could have anticipated!#petlover.
Animals are the most agreeable of all friends any day! They have no criticism!
What the pug?
I shih tzu not.
My therapist has four legs and a tail.
"Sometimes, your pet picks you." –Julie Wenzel
Who says pets aren't part of the family?
Giving my cat the platform she deserves.
The only person who understands me is my dog.
I'd rather be hanging out with my dog.
Every dog must have his day.
I work hard so my dog/cat can have a better life.
Warning: Cuteness overload ahead.
Sharing the paw-fection with the world.
Hit that follow button and join the pawty!
Don't stop retrievin'.
What's up, dog?
Stop trying to make fetch happen. — Mean Girls
Life is ruff when you're this cute.
The road to my heart is paved with paw prints.
Pass the Milk-Bones, please.
Bad to the bone 🐶 🐕
Life can be ruff, but I make the most of it.
I live for the appaws
Thanks fur the memories
And they called it puppy love…
The purrfect Instagram influencer
I labradore spending time with you
Proving that anything is pawsible
Likes: Long walks on the beach, playing fetch
You must be my backyard because I dig you
Hard-working dog for two adorable humans
The puggle is real
All you need is love, Instagram, and a cat
Who said influencers had to be human?
The number one pupper in #
Instagram Bios For Men
Live to lift. Lift to live.
| |
Pizza. Beer. Sports.
Currently eating. Waiting for the game to start.
You can find me at ______.
I answer to no one but my .
I work to travel. Next up: _____.
Monday-Friday: in the office, Saturday-Sunday: hitting the trails
Two wheels and the open road
I'm just here to raise hell
"You miss 100% of the shots you don't take. – Wayne Gretzky – Michael Scott" –
Work hard. Play hard.
I'll love you if you make me a sandwich.
When in doubt, call the boys.
It's boys night, every night.
To infinity and beyond 🚀
The road to success is always under construction.
Eat, sleep, regret, repeat.
I'm here to avoid friends on Facebook.
Probably the best meat eater in the world.
Just another pape rcut survivor.
A nomad in search for the perfect burger.
Professional procrastinator.
I'm not a player, I'm the game.
People call me "Mike, but you can call me tonight ;)
Instagram bio is loading…
Bro codes last forever
Hold my beer and watch this.
Saturdays are for the boys.
You can find me on the field.
Music. Craft Beer. Video games.
Forget making Dad jokes, I'm just waiting for my World War II phase to kick in.
Always ready for the weekend.
Here for a good time, not a long time.
I'm full of Vine references if you'd like a good laugh.
Business in the front. Party in the back.
I'm a great wedding date.
Who's ready to get some wings?
Current reigning beer pong champ.
Graduate of , forever a .
Avid gamer, but I can also hold a complete conversation.
Living vicariously through myself.
I'm unique, just like everyone else around here.
Living life on my own terms.
Responsibilities kill the fun of adulthood.
Don't care what they think. They don't know what it means to you.
Hi, my hobbies include breakfast, second breakfast, lunch, semi-lunch and dinner.
The extra mile is never crowded.
My blood is 80% coffee.
I whisper to my WiFi, "be strong."
Single and ready to get nervous as soon as I find someone attractive.
Instagram Bios For Women
Britney made it through 2007, you can make it through this.
Thank God I take better care of my children than I do plants!
Life is short, and so am I!
Chocolate: it's not an option.
| |
Coffee until happy hour.
Family first.
| |
Life is made in the details.
Don't talk to me until coffee.
Blessed and grateful for it.
Catch me at the _______.
Keeping my head, heels and spirits high.
I don't need a crown to be royal.
Be your own kind of beautiful
Single, focused, blessed. Living life.
My standards are high. Just like my heels
A messy bun and having fun
Voice of the wild within every woman
Sassy, classy, and bad-assy.
Pour yourself a drink, put on some lipstick, and pull yourself together.
Leave a little sparkle everywhere you go.
Just like my eyeliner, I always wing it.
If you need a brunch buddy, I'm always down.
Turned my dreams into vision and vision into reality.
In a world full of worriers, always be a warrior.
Your life won't get better by chance. It will get better by change.
Humble with a hint of Kanye.
My favorite hobbies include eating, talking and napping.
But first, coffee.
I'm sunshine mixed with a little hurricane.
Stronger than you think I am.
Fabulous ends in "us." That can't possibly be a coincidence.
Bad news: time flies. Good news: you're the pilot.
In a world where you could have anything, be a giver first.
I've got a cup of ambition and a heart of gold.
Over here doing my part to run the world.
Never give less than 100%…unless you're giving blood.
Sweet as sugar, tough as nails.
Working on my path to self love. Then I'll figure out the rest.
One bad day doesn't mean it's a bad life.
I'm fluent in gossip and sarcasm.
I'm the hero of my own story. There's no need for you to save me.
Join me on my journey of self-discovery.
I'd rather beg forgiveness than ask permission.
I gave up trying to make people happy when I realized I wasn't a jar of Nutella.
I'm like the Target-exclusive deluxe edition. Get me while you can.
Enjoying my lifetime supply of free trips around the sun.
Currently planning my next vacation.
Stress doesn't match my outfit of the day.
I'm always up for a new adventure.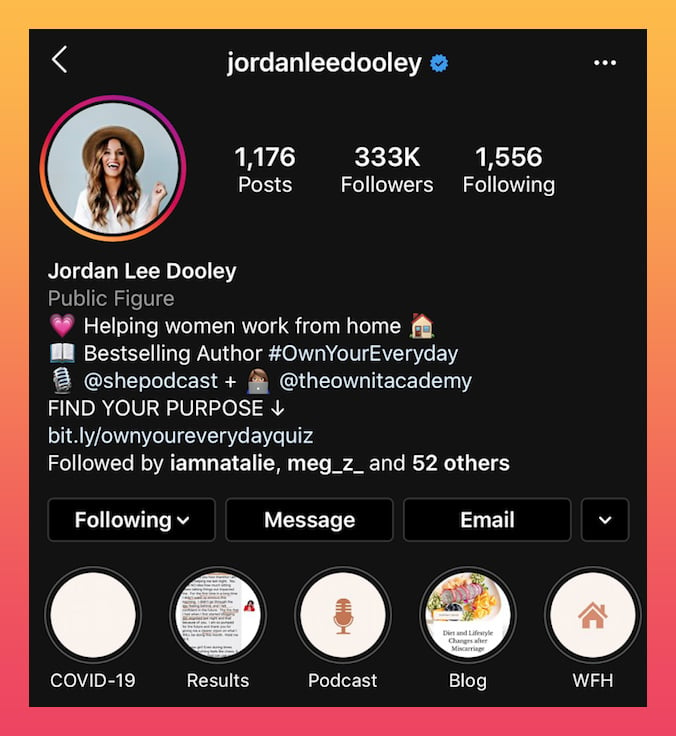 Cute Instagram Bios
I smile because of you.
You are my happiness.
It's a good day to have a good day.
Be the good in the world.
Every journey begins with a single step.
"If you can dream it you can do it." – Walt Disney
Add a little sparkle to your everyday.
Rainbows add color to life, and so do you.
I don't mind the journey: at the end of the rainbow is you.
Everything worth knowing I learned from my ____.
Life is better with my ___.
Make time to enjoy the simple things in life.
If ______ had a face, it would be yours.
Find a little joy in each day.
You're worth more than gold.
Be yourself, there's no one better.
My life is better than my daydreams
I love my followers more than life itself
Throwing kindness around like confetti.
Be a pineapple: Stand up straight, wear a crown and always be sweet on the inside.
Recommended by 4 out of 5 people who recommend things.
By the way, I'm wearing the smile you gave me.
Well, here I am. What are your other two wishes?
When emotions start pouring…I start typing.
Let everything go, see what stays back. That's yours.
So many of these smiles are because of you
Grateful to be sharing my world with you
Live in the sunshine where you belong!
I hope my pictures make you smile
Sprinkling a little love wherever I go
Trying to be a rainbow on a cloudy day
Bringing a bit of sunshine to your week ☀️
Sharing happy thoughts and good vibes
Fabulous ends in "us" – that's no coincidence!
Be the sort of person you want to meet
In dark times, don't forget to look at the stars
Don't ever be afraid to shine!
Believe in yourself! Or I'll do it for you!
Cotton candy, daydreams, and ice cream floats 🍨
A little glimpse into how I create my own sunshine
You is kind, you is smart, you is important
God bless this mess
Hi, my hobbies are breakfast, lunch, and dinner
Chocolate understands, chocolate doesn't ask questions
Be your own kind of beautiful
Like flowers, we all have seasons to blossom
I collect smile and share them with others 😊
In a world where you can be anything, be kind
Looking for inspiration and working to give some back
Single and ready to be nervous around anyone I find attractive
Just a cupcake looking for their stud muffin
Don't quit the daydream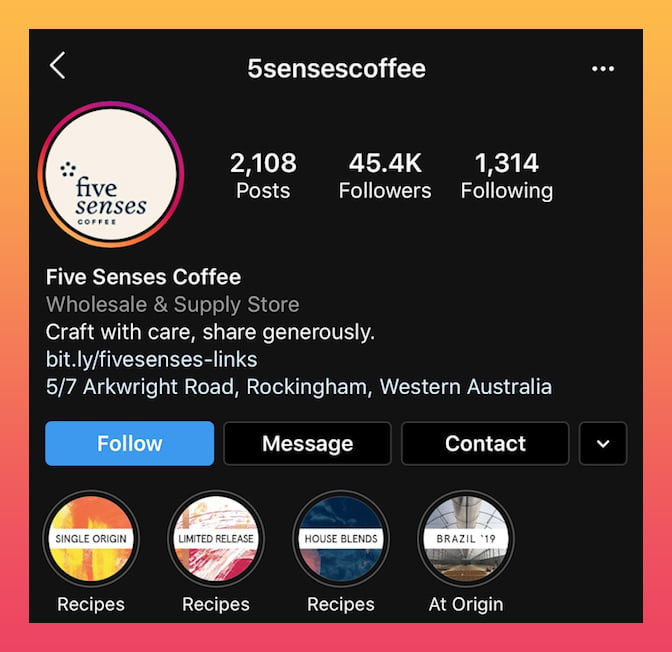 Creative Instagram Bio Ideas
Push will get a person almost anywhere…except through a door marked "pull."
Moving from succeeding to exceeding.
Laughter makes everything better.
If the grass really is greener somewhere else, turn on your sprinkler.
If you think I look confused, I probably am.
If all the world's a stage, I want the lead role.
I don't need to measure success: I'm already past it.
If you're feeling blue, grab a can of paint!
Let positivity energize you!
There's always time for ______.
No matter where you go, there you are!
Whether you think you can or you think you can't, you're right!
Trust your gut, you're either hungry or right!
To handle yourself, use your head. To handle others, use your heart.
The risk I took was calculated, but wow, I'm really bad at math.
I need a six-month holiday, twice a year.
I make money in my sleep 🛌
It took me __ years to look like this
Currently saying yes to new adventures
It's hard to find someone who's smart, funny, adorable and a total badass. My only advice for you is, don't forget to follow me.
In a world of average, I'm savage.
Be young. Be dope. Run the show.
Please cancel my subscription to your issues.
I'm out here hustling to claim what's mine.
Believing in yourself is the first secret to success.
I only use Instagram to stalk.
Scratch here to reveal my bio.
Don't be so quick to judge me. You only see what I chose to show you.
We live in a society where pizza gets to your house before the police.
Making (Insta) story.
I'm not the jealous type, but what's mine is MINE.
Who else are you going to follow? Really!
Stay a mystery, it attracts more curious people.
Don't try to change me.
Good girl with a good playlist.
You're just jealous cuz I got swag.
Living vicariously through myself.
Status update: currently
Toss kindness like confetti.
Just another wannabe influencer building the dream.
Just out here turning my dreams into reality.
Any ideas for a good Instagram bio?
I'm not perfect, but stories are always better with a touch of imperfection.
Glitter is always an option.
Live life being anything but predictable.
The bags under my eyes? They're Louis Vitton.
Smile – I love you. Yes, you.
Hi. Hello. Hola. Ola. Bonjour. Ciao. Guten Tag. Namaste. Salaam.
I regret nothing. Well, almost nothing.
I know I'm awesome, and so are you.
I'm a fan of making mistakes rather than faking perfection.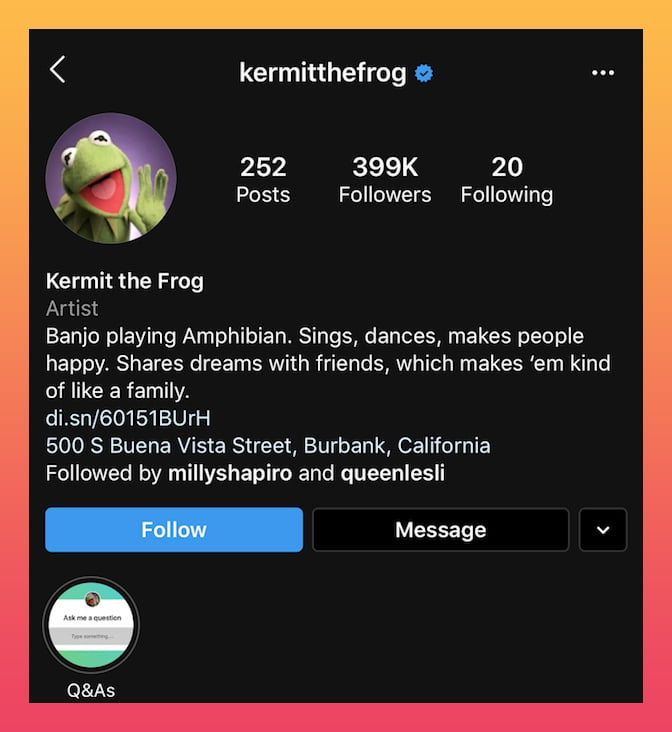 So now that you got to see some great examples, let's go over everything that goes into good Instagram bio.
What Is An Instagram Bio?
Your Instagram Bio is your calling card, company portfolio, and website home page in one easy-to-access space. It gives your potential customers an instant insight into your company and what you stand for in a matter of seconds.
That's why knowing how to create good Instagram bios is so important.
If the first glance that a customer gets of your Insta presence is boring or unprofessional, you risk losing that follower forever.
While there's no one-size-fits-all guide to the ultimate bio, yours should always include:
An introduction: Your name, username, and who you are
What you do: The basics of your business
A glimpse into your personality: What makes you human?
An aesthetic: What kind of visual content will you be posting?
Your bio exists within your Instagram profile.
You can edit your Instagram bio on Android, iPhone, or mobile browser by tapping your profile picture in the bottom right of the screen to go to your profile. Click Edit Profile, then Bio to work on your bio. On a computer, you'll find your profile picture in the top right corner. Click that, then Edit Profile, and Bio to get to work.
Why Do You Need A Good Bio?
When a potential follower visits your account, they're going to notice a few things. They'll look at your profile picture (which they may have already seen), they'll look at the beginning of your feed, your highlights, your number of followers and following, and they'll look at your bio. While different things are important for different people, nearly everyone will pay attention to your bio.
A good Instagram bio is the best way for people to get to know you and who you are. Whether you're a business owner using Instagram for marketing, influencer, or just a casual user of Instagram, your bio shares what's most important to you, and what your page is about with your followers.
How To Make A Good Instagram Bio?
A good bio does a few things: it lets your potential followers know a little bit more about you, showcase your personality, and (hopefully) make people want to follow you. Creating a bio can be a lot of work, and needs some creativity, so it's important to make sure you know what you need to create your profile.
Start With A Photo & Username
We're going to assume you already have both of these, but believe it or not they actually tie into having a good Instagram bio. Your username is a key part of your brand, because it's the absolute first thing people will see about you. It should be descriptive and clear. Your photo, too, should connect to your username. Both of these elements should connect well with your bio. Here, Jenna Kutcher's podcast is called The Goal Digger Podcast, so having a handle of @goaldiggerpodcast makes sense. The profile photo is the same as her podcast photo, which creates brand consistency. Both of these tie in with her bio, where she talks about her podcast.
You'll also want to think about your name – not your handle, but the words that are directly under your photo. This is one of the searchable parts of your bio, so think about whether you want to include just your name or your business as well. Jenna does both here, which is a good decision for her. Many people know her name, so they might search "Jenna Kutcher" to find her podcast, but they could be just as likely to search directly for "Goal Digger." For your business, it might be a good idea to add what you do, briefly, to that line.
Include A Link
If you have a business profile, Instagram lets you include a single link in your profile. This is one of the best ways to further your brand message, so make sure you include a good one.
The best way to do this is by using a link-in-bio tool such as url.bio. Currently offered as a free tool, url.bio allows you to have multiple links through a single URL in your Instagram bio. You can link to your e-commerce page, lead generation page, other social media profiles or any other page you'd like to promote. This should be the go-to approach as you get to maximize the power of that single URL in your bio, and get access to analytics (available in the url.bio dashboard) to monitor the performance of your links. Services like SendPulse allow you to create a landing page, a link page for your Instagram bio or even an online store.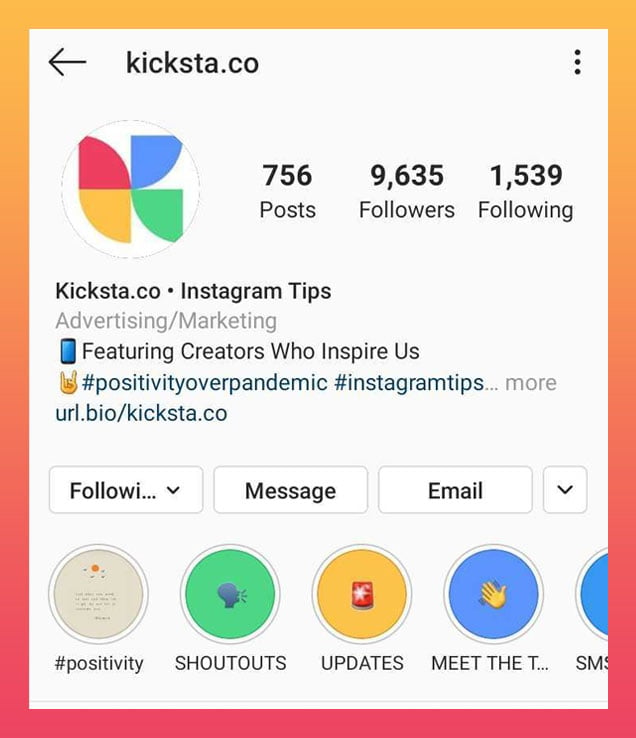 Jenn at Nash Franks Creative takes a different approach. She links to a page on her site that offers the same type options: work together, downloads, freebies and blog links. This way, though, her brand consistency stays stronger because her link includes her website.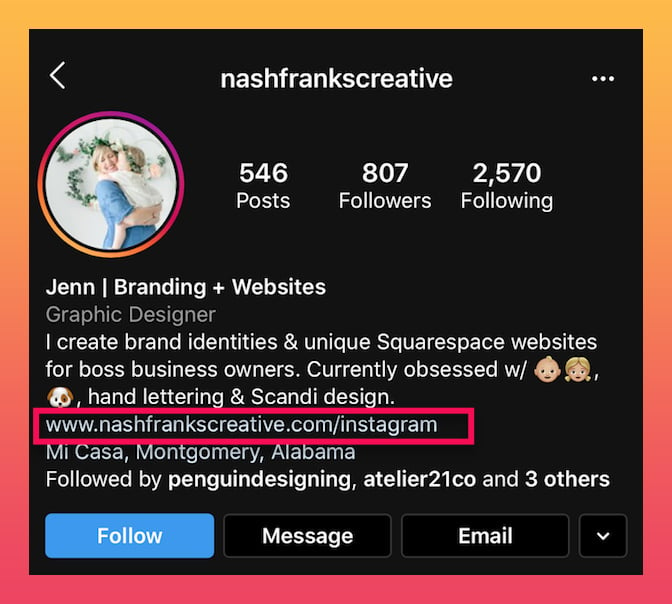 Add A Call-To-Action
Every good Instagram bio should have a call to action. This can easily be something like "check out my latest blog post" with an arrow to your URL. Or, you can take advantage of the call to action buttons and add something like 'email', 'call', 'text', 'reserve', or 'contact' so your potential followers can reach out to you immediately.
Instagram Bio Description
This is what we'll be focusing on primarily in this article. You can be informative or funny. You can talk about yourself or your business. You can make a joke or be serious. The most important thing here is to stick with what's natural for you and your business. Your description should fit with the theme of your whole profile.
It can be a good idea to use hashtags in your description if they fit. Don't go out of your way to use them, and only include hashtags if they're highly searched! Hashtags are an important part of any Instagram strategy, but you need to do your research before putting one in your profile description.
Your description can only be about 150 characters, so space is limited. Add emojis if you need to save space or to break up the text. You can even customize your fonts with a site like lingojam. If you choose to add a different font, don't overdo it or your bio could become hard to read.
Choose A Business Category
Pick a category for your business. It doesn't have to be exact, but this is another great way that potential followers can search for and find your profile within the app. By choosing the most accurate category, you could get in front of highly targeted accounts without extra work on your part.
Remember Your Story Highights
Once you start posting to your stories, consider adding to your story highlights. You can save your most popular stories for your followers to revisit, and your potential followers can see a quick overview of who you are when they first visit your profile. Some great highlight categories are products/services, my story, testimonials, events, and any free training you might do via stories.
Good Instagram Bios: Frequently Asked Questions
What should I write in my Instagram bio?
Your Instagram bio should tell people a little bit about you. For businesses and brands, this is where you can showcase who you serve and what you do to help them. Your bio should also showcase your personality. If you're funny, sassy, serious, or caring, try showing that in your bio.
How do you make your Instagram bio attractive?
You can add emojis or different, unique fonts to make your Instagram bio attractive and help it stand out from the crowd. That might be enough to make someone want to follow you. At the end of the day, the best thing your Instagram bio can do is showcase who you are. That way, you'll attract the best possible followers who want to see your content and hear from you.
What checklist do I follow in creating an Instagram bio?
Start with your username and photo – these are your most recognizable elements on Instagram.
Include a link if you have a business profile so your audience can connect with you off Instagram.
Add a call-to-action with one of Instagram's built-in buttons.
Write your actual bio – capture your personality! This is where fun fonts and emojis can come into play.
Choose a business category so potential customers can find you more easily.
Instagram Bio Fonts
Fonts are an often overlooked, but valuable part of creating good Instagram bios.
Just like emojis, #Branded hashtags, and the all-important link on your bio, your fonts are a way to grab attention, and tell your customers something about you.
With such limited space to really make an impact with your Instagram bio, it's difficult to stand out from the crowd. Remember, there are more than 1 billion people on Instagram, and you need to make sure that your profile doesn't blend in with the crowd.
Fonts can give you another way to draw the eye of your target audience. However, you'll need to make sure you're using the right fonts. You don't want the typography to be difficult to read or seem childish. It's also worth noting that too many fonts can be a little overwhelming. Be careful not to go over the top.
How To Find Fonts For Instagram
To use unique fonts on your Instagram bio, you'll need a font generation tool.
Fortunately, there are plenty on the web to choose from, and most of them work in the same way. You type your text into a supplied box and hit a button to translate it into your chosen font.
You can cut and paste the customized text from your app into your Instagram bio, then double-check to ensure it works. Most of the fonts available for Instagram are pretty simple because they use something called "Unicode" – a formatting symbol intended to work in every device.
Keep in mind that some Unicode might not work perfectly in every browser. When that happens, you might just see boxes instead of fonts.
That being said, these are some of the leading font generators for Instagram, just keep in mind that there's no guarantee every font generator will work.
1. Meta Tags Font Generator
The Meta Tags font generator allows you to see exactly what your new font is going to look like in Instagram, by adding it to a mockup profile. This is a great alternative to other Instagram font tools that forces you to copy/paste and experiment with your own profile.
With this tool, you can preview how your font is going to look on Twitter or Instagram, without having to change elements of your profile (until you know it's going to work). Once you're happy with the look you've got, just click "copy".
2. Instagram Fonts
Instagram fonts, or IGFonts.io is a simple solution for creating Instagram fonts, but it works. This is a browser based application where you can simply add text to the top of the page, then scroll down to choose the Unicode option you want.
Once again, you just copy-paste the kind of font you want to use into your Instagram profile. Be careful with this app, as a few of the fonts are a little less readable than others.
3. LingoJam
The LingoJam "Fancy Text Editor" aims to create unique text for a range of environments, with absolutely no complexity. Like most of the font creators available for Instagram bios today, you just type your content into the available box, and a variety of Unicode fonts will appear on the other side.
The fun thing about LingoJam is that it comes with the option to use various unique emojis in your bio too. Plus, there's an extra option to create your own font from scratch, using different components from a variety of typography choices.
The Benefits Of Using Different Fonts In Your Bio
Unique Instagram fonts have pros and cons to consider. On the one hand, there's always a risk that the font you choose won't show up perfectly on every browser. However, since most people use their smartphones for Instagram anyway, this shouldn't be much of a problem.
The benefits far outweigh the downsides. With the right Instagram font, you can appeal to your target audience, differentiate your brand, and improve your chances of making the right impression too. The biggest benefits of using unique fonts on your Instagram bio are:
Differentiation
Instagram is one of the most creative and popular social media platforms out there. It's a place for designers and artists to showcase their work. That means you're going to be fighting for attention with a lot of creative people. Having something unique on your Instagram bio makes you more memorable than your counterparts. While plenty of people use emojis, highlights, and hashtags on their Instagram profiles, fewer are leveraging fonts.
Creativity
Speaking of creativity, the use of unique fonts in your Instagram bio is also a great way to show your audience that you'll go above and beyond to deliver a unique experience. You can prove that you're in-line with the latest trends, and even change your font regularly to accompany different events happening in your industry.
Personality
These days, followers on social media are searching for companies that they can connect with on a deeper level. Your fonts can be a way to show your personality in a way that grabs attention and tells people what you're all about. Just like typography on your website can inspire emotions and tell a brand story, it's the same for font on Instagram.
Tips On How To Use Instagram Fonts (With Examples)
Unique Instagram fonts can be a fantastic way to make your Instagram bio stand out in a competitive marketplace. However, like anything else, you'll need to make sure that you're using them correctly. Here are some tips (and examples) to guide you.
1. Keep Your Aesthetic In Mind
Think about the kind of image you're trying to build on social media. How will your font choices enhance that picture of your brand? Remember that even the most basic typography will create emotional responses in your target audience. Sans serif fonts are often seen as more informal and modern, while serif fonts are professional and sophisticated.
Italicized scripts are generally seen as romantic, luxurious, or feminine, while modern and blocky fonts might be more tech-friendly. In some cases, you might even be able to find a font that conveys your brand or profession, like in this bio for a writer/journalist:
2. Use Fonts Sparingly
Unique fonts can be a lot of fun on Instagram, but they can also be difficult to read on smaller screens – which is where your customers will do most of their time browsing. A great way to use custom fonts effectively is to simply add emphasis to specific words with the right fonts.
You might use a specialized font for your name, to give a bit of extra personality to your bio, then use standard type under that so it's easier for customers to read. In that way, even if the font you use for your name is difficult to view on a small screen, people will still have your username to find you, and a description of what you do.
3. Be Consistent
Finally, once you choose a custom font that's easy to read and fits perfectly with your brand, stick with it. Just like your brand colors and the designs on your logo, your typography choices should consistently highlight the unique nature of your brand.
If possible, try to use similar fonts in some of your Instagram captions to emphasize certain words, or think about how you can add the same fonts to other social media profiles.
Remember, creating a consistent image also means that your social media fonts should align well with the typography you use in your emails, website, and other brand assets too.
So there you have it: All the tips you need to create a bio for yourself, plus 1,050+ good instagram bio ideas you can use today to update your profile and start converting visitors into followers.
Instagram Growth Hacks
Join over 100k+ marketers and influencers who get the latest Instagram tips & tricks sent to their inbox every week