Socialfollow Reviews: Is It Better Than Kicksta?
post
Businesses, brands and influencers on Instagram are always looking for ways to increase their following, and today we want to look at another follower growth platform called Socialfollow. There are so many different tools, platforms and companies that claim to help you grow your following. Some are free, some are cheap, and some are an investment. When you're evaluating which tool will be best for your account's growth, it's important to ask yourself a few things. First, are these followers good quality? Second, is this helping grow my business, not just my follower count? Finally, is this a good marketing practice?
What Is Socialfollow?
Socialfollow is a platform that boasts that they help you gain free Instagram followers. In fact, they say you could gain up to 1,500 free followers in a month. While this is excellent marketing on their part, we'll discuss a little later why this might be too good to be true. They list the benefits of growing your following as having a larger following to impress others and to promote your profile as a popular account. While both of these things are great, it's more important to turn followers into actual customers.
What is Kicksta?
Kicksta is an Instagram growth service that uses engagement marketing to automate getting new followers for your account. Through real engagement, they'll attract real, quality followers that your brand can nurture and eventually convert into customers. Kicksta uses cutting-edge artificial intelligence to use the information you provide to inform their process so you're always getting the best possible followers.
Account Setup
While it may seem basic, how you set up your account with an Instagram follow platform can actually be a major endeavor. Let's take a look at how you can create an account on these two platforms as part of our Socialfollow review.
How To Set Up A Socialfollow Account
To set up your account, you begin with your name, email address, and a random password (not your Instagram password). Then you'll need to share your Instagram username and select a few categories you're interested in seeing posts about on your feed.
How To Set Up A Kicksta Account
Setting up a Kicksta account requires a few basic things: your Instagram login information, a credit card, and a list of target accounts whose followers are similar to those you'd like to have following you. This ensures that Kicksta's AI will be able to find the best potential followers for you that will actually help you grow your business, not just your follower count. You don't need to download anything or provide any information about your personal interests. Instead, by providing quality targets, you're setting yourself up for success as you begin attracting new followers through automated engagement marketing.
Features
No matter what you're in the market for, it's always important to check and compare the primary features across the board. Let's take a look at the Socialfollow Instagram features, as well as Kicksta's main features to see how they compare.
Main Features Of Socialfollow
The primary feature they tout is getting free followers every single day for your account. Their app is another interesting feature, but they don't really focus on promoting it on their site. There's a download button on the homepage, but they don't really talk much about it otherwise. They also talk about how you can begin getting free followers instantly, which can certainly seem like an attractive selling point.
The way Socialfollow grows your following is by creating a "like train" essentially. You have to go into their platform and select 10 people to follow every single day. Then, you'll get up to 50 followers each day in return. However, these may or may not be quality followers, since they're likely following you just so they can get followers in return. They might not really care about your brand, product, service or what you have to say. You also aren't allowed to unfollow any of the accounts you follow through Socialfollow, otherwise the followers you've gained will get a notification telling them to unfollow you. So, chances are you could have a lot of unengaged followers who are sticking around because they feel like they have to, not because they actually like your content or your product.
Main Features of Kicksta
Kicksta's strategy for generating new followers is engagement marketing. The idea here is that when your account engages with someone, they'll be interested in learning more about your account and checking out your page to decide if they want to follow you. This can take a lot of time, so it's not always a feasible option for brands. Kicksta automates this process for you using their main feature: auto-likes.
The Kicksta AI can find and target your ideal followers and automatically like one or two of their posts on your behalf. Then, hopefully they'll be intrigued by your engagement and come to check out your page. This is where your quality content comes into play. If they like what they see, they'll be more inclined to hit follow. Then, they'll be looking forward to seeing your content and they'll be ready to engage with it. As time goes on, they might even be ready to become customers, which is the end goal for any business or brand on Instagram.
Targeting
As with any marketing or advertising venture, you want to be able to target your efforts to ensure you'll be appealing to the right people. After all, you don't want to put time, energy or money into something that's not going to land in front of people who matter to your brand.
Socialfollow Targeting Options
There's not really a solid way to target your ideal follower demographic with Socialfollow. When you join, you're asked to add at least three of your interests. Your handle is then added to a list of others with similar interests. So, if you sell dog beds, you might list dogs as one of your interests. You might end up gaining followers who love looking at photos or videos of dogs, but don't actually have dogs themselves. Similarly, if you run a service-based business offering graphic design, it can be hard to determine categories that would help you land in front of people who would actually be interested in your offerings.
Kicksta Targeting Options
With Kicksta, you have many different ways you can target your automated engagement marketing efforts. You begin by listing various accounts whose followers are people you'd want to have following your page. These are often businesses that are related to yours, influencers in your industry or even competitors in some cases. Within your dashboard, you can also add specific targeting parameters and filters to make sure you're getting the best possible followers. You can filter by gender or you can avoid non-English speaking accounts, business accounts or accounts that use profanity. With all of these options, you can rest assured that you're targeting the best possible people. Because you're working with Kicksta's AI, you can also know that it'll change its approach as it learns what type of account is more likely to follow you.
Dashboard/Analytics
When you're doing any kind of marketing, analytics are important so you can see if your efforts are working, especially on Instagram. So, having a way to see what's happening with your account is a great feature you should look for when evaluating Instagram growth services.
Socialfollow Analytics & Insights
This is an important piece to include in our Socialfollow review: they don't seem to have any sort of analytics or insights platform. So, in order to monitor your growth, you'll just have to watch your follower count on Instagram and see how much it changes.
Kicksta Analytics & Insights
With Kicksta, you have access to a dashboard that will show you your trends of growth over time. You can also see which of your targets are performing best in terms of driving new followers to you. Then, you can use this information to remove lower-performing targets and find additional targets that are more like your best accounts. Being able to see these differences on a daily and long-term basis is a critical part of investing your time and money wisely. You can rest assured that you're generating a high-quality ROI in terms of real new followers.
Pricing
As with any business decision, it's important to look at pricing. But, it's also good to remember that price isn't everything. That the old saying, "You get what you pay for" is often correct.
Socialfollow Pricing
Socialfollow is one of the rare free platforms that offers you Instagram growth. You can join their program without ever putting in a credit card or firing up your PayPal. However, when you aren't paying with money, you're typically paying with something else. You'll need to manually go into Socialfollow everyday to follow your required 10 accounts per day in order to get your followers. If you forget or if something more pressing comes up, you've just lost out on your followers for that particular day.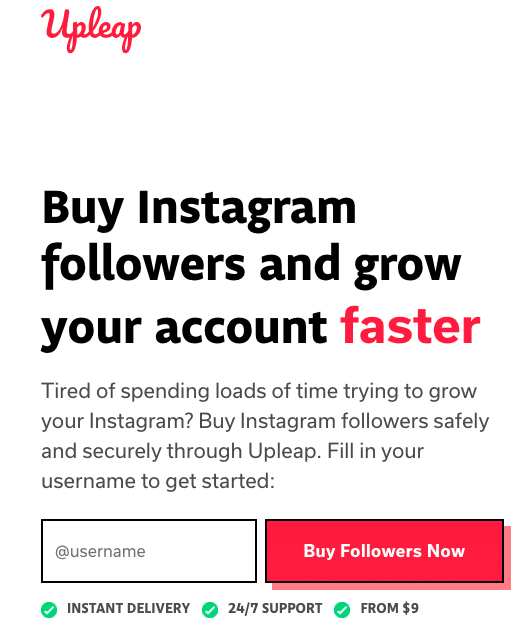 However, they also have a pop-up link that says if you want to grow faster, you can purchase followers through Upleap. We have a whole review dedicated to Upleap, so if you're interested in that route, that could be a good resource for you.
Kicksta Pricing
Kicksta offers two levels of pricing, a standard and a premium plan. They're fairly similar, but obviously premium offers more features for a higher price. The standard plan offers moderate account growth, video onboarding, and up to 10 ideal targets. Of course, the standard plan also comes with the 14-day money back guarantee. The standard plan comes in at $49 per month.
The premium plan offers maximum growth, video onboarding, and up to 40 ideal targets, as well as that 14-day money back guarantee. Then, the premium plan also features VIP email support, live chat support, advanced targeting, and the ability to blacklist any accounts you specifically want to avoid. The premium plan costs $99 per month.
Support/Customer Service
When you invest in anything, you want to know that you'll be taken care of if you have questions or concerns at any point in the process. Good customer service is crucial to an excellent customer experience, so it's worth seeking out before you commit to a platform.
Socialfollow Scope of Customer Support
Socialfollow has a fairly limited customer support platform. First of all, they have a help center that they try to direct everyone to when you click "contact" on their website. This help center has five "Getting Started" articles and 12 "Troubleshooting" articles, which isn't a lot overall. Then, they list the name and email address for their main developer (Markus) as the only contact person for customer problems, media inquiries, developers, or anyone else who might have a question for their team.
Kicksta's Scope Of Customer Support
Kicksta understands the importance of customer service, and they're always ready to help out their users. First of all, the contact button on the Kicksta site leads to a contact form that you can easily fill out to reach someone on the Kicksta team. All customers can reach out to the Kicksta team via a direct email, and of course the premium subscribers have VIP access, as well as a chat option for service. The Kicksta team is always here to support you along the way to answer any of your questions.
Reviews
Obviously anyone can say anything about their own service. That's why we love hearing reviews from our customers. Check out what people had to say about their service with Socialfollow and with Kicksta.
Socialfollow Reviews
The reviewers on Trustpilot give Socialfollow 1.5 stars. Reading through the reviews, there's an overwhelming majority who say that the service is a scam. Some people even say the app brought viruses to their computers, so download that at your own risk.
Kicksta Reviews
Kicksta has 3.4 stars on Trustpilot and plenty of 5 star reviews from happy customers sharing their stories of growth. Kicksta also showcases case studies on their website of companies and influencers in various industries who share their experiences and how Kicksta has helped them.
Socialfollow vs. Kicksta: Main Differences
There are a few primary differences between these two platforms. First of all, Socialfollow is free and Kicksta is a paid service. However, judging by the reviews, you really do get what you pay for in this case. Socialfollow seems to be a problematic platform that doesn't deliver what they say they will.
Kicksta also uses automated engagement marketing to attract real, organic followers to your page. Socialfollow claims to generate followers for you through their network. When you follow accounts, others will come to follow you.
Finally, Kicksta has a dashboard to show you the progress your account is making, while Socialfollow doesn't offer any sort of analytics for you to see.
Which Option Is Best For You?
We'll leave you to decide which option is best for you, but hopefully this Socialfollow review has been helpful in providing information you can use to make your decision. If you want to know more about Kicksta and if it's the right platform for you, contact us. Our team would be happy to chat with you and answer any questions you may have.
Instagram Growth Hacks
Join over 100k+ marketers and influencers who get the latest Instagram tips & tricks sent to their inbox every week