Social Envy vs. Kicksta: Picking the Right Instagram Growth Service?
post
Social Envy is another big name in the Instagram growth service niche that we get asked about a lot.
One of the most important things in today's digital world is your social media presence. Do you have a lot of engaged followers? Does your account have legitimacy?
As social media plays a more pivotal role in our lives, many tools have emerged to help you manage your social media presence most efficiently.
Social Envy is a service that helps improve the marketing of your brand across the web, increasing your sales and brand exposure.
An alternative for Social Envy is Kicksta, a tool that helps you grow your Instagram organically, and connects you with real followers that have an interest in your brand.
We are going to compare the two and highlight the key features of each, so you can decide which one is right for you!
How Does Social Envy Work?
Both of these products are focused on helping improve social media presence, but offer different services.
Social Envy offers a wide variety of digital services, with a suite of tactics meant to improve sales.
They offer data analytics, which analyzes opportunities for growth, as well as web development for clients with the need of a mobile app.
Other services, listed below, can be viewed on their website.
Social Envy also offers separate services focusing on social media marketing, such as content creation, a social media audit, growth strategy, and off-page promotion.
How does Kicksta work?
Kicksta offers several services meant to increase reach and gain you real followers for Instagram.
They will help you identify your ideal target audience, then drive those users back to your page.
This gives users the chance to check out and engage with your content, and follow you if they decide.
SOCIAL ENVY PRICING
Social Envy requires you to reach out for a consultation in order to determine pricing.
If you are interested in content creation services, they offer two different pricing tiers. The Regular plan costs $15 per week, and the Pro plan will cost you $25 per week.
They both include a dedicated Account Manager and the option to cancel at any time.
KICKSTA PRICING
Kicksta's Instagram growth service offers two different pricing plans.
The Creative is $49/month and includes basic level of support and growth.
The Professional plan is $149/month and offers higher-level support, customization, and filters.
Depending on your Instagram marketing goals, and how much customization and support you want, you can decide which plan is right for you.
Both plans include an exclusive onboarding video as well as smart filters to protect your account from spam.
SOCIAL ENVY REVIEWS
Social Envy has a couple of testimonials on their website that showcases their work. These onsite Social Envy testimonials praised the service for helping them increase ROI, page speed, and link building.
However, when we went looking for Social Envy reviews, they only had a 1-star rating on Trustpilot.
In fact only one review of 18 was more than 1 star and that review warned about problems they had had with their billing.
The rest of the reviews were pretty negative and questioned: "Is Social Envy a scam?"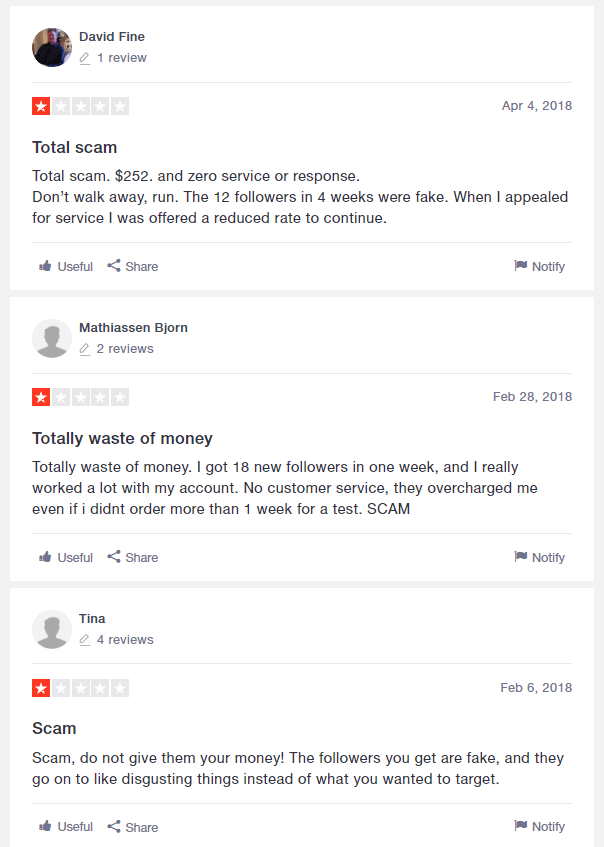 KICKSTA REVIEWS
We not only have several testimonials on our site, but we also have numerous in-depth case studies that highlight different client's Instagram success.

From Marketing Agencies to photographers, there are a wide variety of industries reviews that thank Kicksta for helping grow their Instagram accounts.
You can also find Kicksta reviews on TrustPilot and G2Crowd, where we have a 5-star rating to see how people have liked our service.
CONCLUSION
While Social Envy offers a wide variety of services, ranging outside the realm of social media, Kicksta focuses on Instagram growth alone.
If your goal is to increase your Instagram followers and reach organically, while using a safe automation tool, Kicksta would be a good fit for you.
It is important to have a well-rounded brand image with social credibility, and Kicksta makes this easy for you, so you can focus on quality content creation.
Want to sign up for Kicksta? Click here to sign up.
Instagram Growth Hacks
Join over 100k+ marketers and influencers who get the latest Instagram tips & tricks sent to their inbox every week